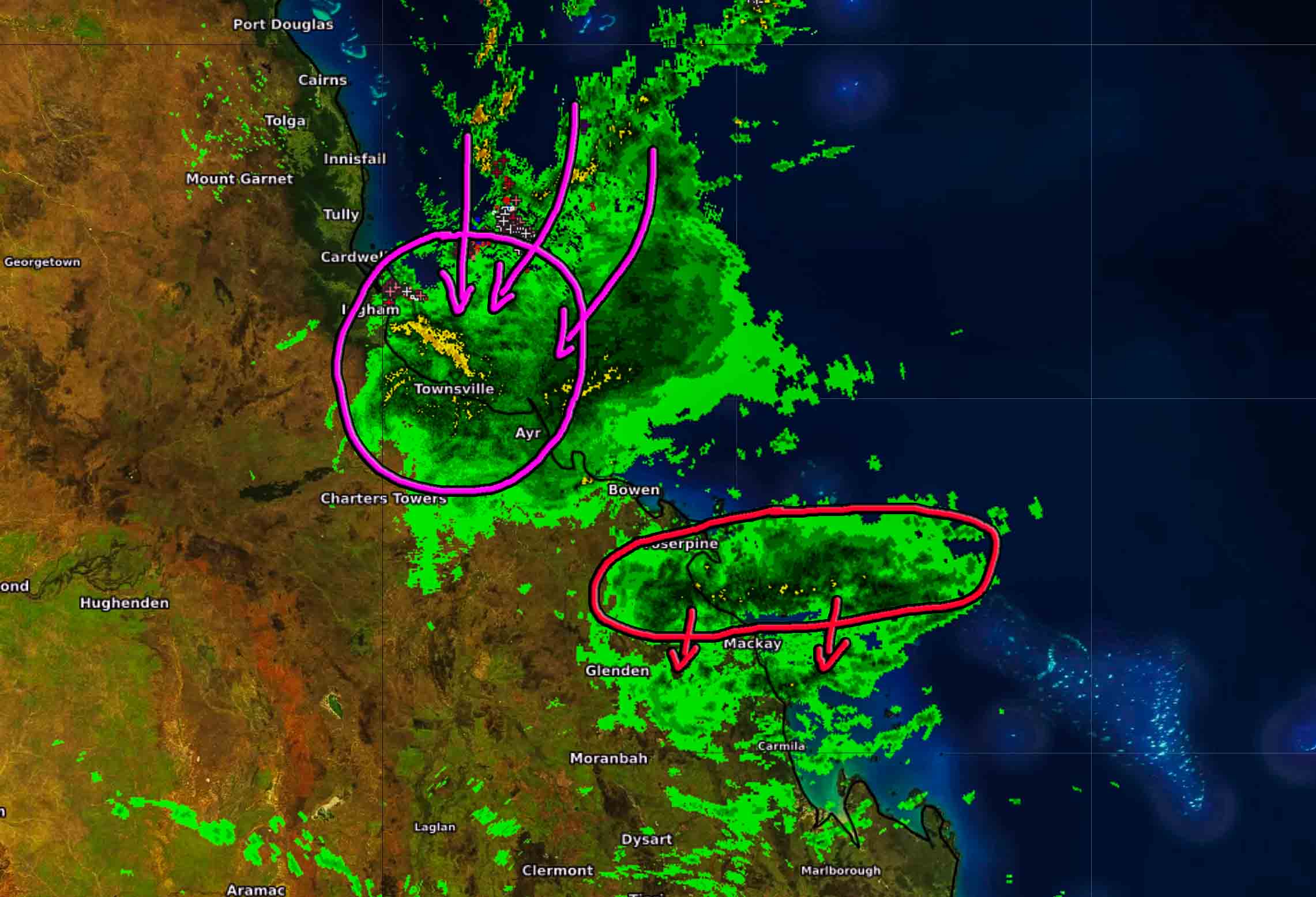 28 Jan

10AM 28/1/19 Heavy Rain Update for CQLD & NQLD
Residents between Cardwell and Mackay should get used to the rain for a while as multiple convergence zones are being detected on radar leading to a high chance of some heavy falls over the course of the next 6-12 hours along with some localised flash flooding. Above image via Weatherzone
[wp_ad_camp_1]
The main convergence zone appears to be over the Greater Townsville area, or more broadly… the Cardwell to Ayr region. Winds are veering from the North and North East, bending back around from the East across this region. This is leading to rain areas moving onshore and remaining fairly stationary once they hit land. Falls across this area in the past 24 hours of 100-200mm have been observed and a further 50-100mm is likely over the coming hours, with 100-200mm possible in some isolated areas within the next 12 hours if the system doesn't budge. If the system starts to budge, then the risk of high end rainfall totals will reduce. Flash flooding is a high chance, especially through areas North of Townsville where the immediate threat is due to some heavier rain areas being indicated on radar along with the fact the heaviest past-24 hour totals have been in this area. Townsville itself isn't out of the clear either, with 50-100mm in the past 24hrs and another day of continuous rain expected.
[wp_ad_camp_4]
A small convergence zone, indicated by the red circle, is slowly moving South across the Whitsundays. This may enter Mackay over the coming hours. Due to the fact this is actually moving, albeit slow, there is a chance the rainfall totals won't be too extreme. Although hourly falls of 15-30mm leading to accumulative totals of 50-100mm are likely over the next 12 hours and isolated higher falls under any storms are also possible.
In the past 24hrs we've seen falls of 169mm at Hamilton Island, 153mm at Oconnell, 150mm at Stafford Crossing, 149mm at Preston, 144mm at Jubilee Pocket, 116mm at Proserpine and 50-110mm over the general Greater Mackay region.
[wp_ad_camp_3]