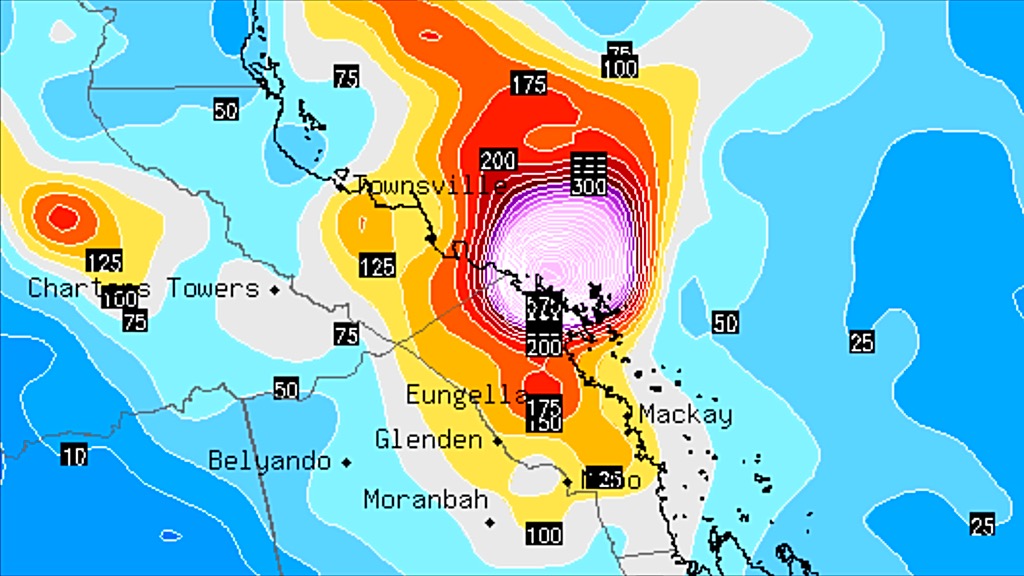 17 May

200-400mm Forecast For Townsville, Mackay & Whitsundays

[wp_ad_camp_2]

Latest live update for CQLD / NQLD at 11am on Thursday can be found here!

The Central Coast of Queensland is forecast to be lashed with heavy rain and strong winds on Thursday and Friday with rainfall totals of 200-400mm expected. This wild weather comes as the area continues to rebuild after TC Debbie caused significant destruction to the Whitsundays and Central Coast just 7 weeks ago. While Townsville almost completely missed out on rainfall from TC Debbie and has a very poor wet season, this heavy rain will be welcome… Not so for those further South! Above image via BSCH/GFS showing forecast rainfall totals.

A Flood Watch has been issued by BOM for coastal areas between Tully and Gladstone with widespread totals of 100 to 200mm and isolated falls up to 400mm possible. Below image: 4 day rainfall forecast totals via BOM//PME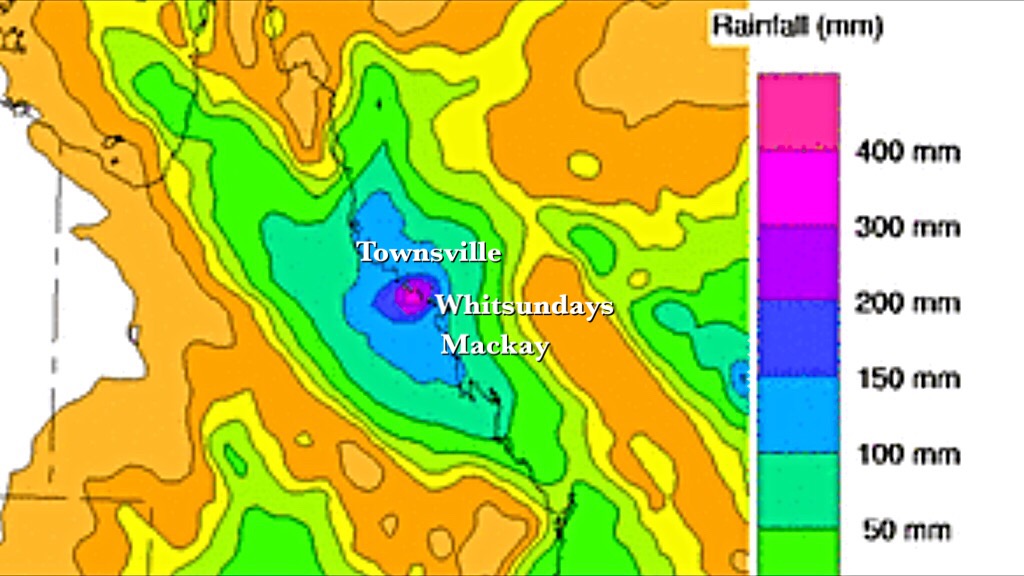 [wp_ad_camp_4]
Global model data is continuing to focus the heaviest rainfall between Townsville and Mackay just 24hrs out ahead of the system. While the widespread 100 to 200mm shouldn't cause any issues apart from some local flash flooding, the higher amounts of 400mm + could lead to some bigger flood problems. Areas such as the Whitsundays, Airlie Beach, Bowen and Proserpine still have repairs being carried out after TC Debbie. This heavy rainfall should it fall is likely to cause further issues especially with flash flooding, road closures and leaking roofs.
Strong East to South East winds with gusts to 90km hr are possible across the Whitsundays and Central Coast during Thursday and Friday. Again any houses or properties with temporary repairs may have further issues from these winds should they develop.
The weather will start to turn wet late Wednesday as a trough approaches the North Tropical and Central Coasts with scattered showers increasing. During Thursday conditions will deteriorate as the system intensifies along the Central Coast and Whitsundays districts.
Widespread rain is forecast to develop on Thursday between Rockhampton and Tully including inland areas to Clermont, Moranbah and Charters Towers. Widespread moderate 24 hour falls of 50mm are likely with heavy falls of 100mm likely from Townsville to Mackay. The Bowen and Whitsunday areas could see local 24 hour falls up to 200mm at this stage. Strong East to South East winds with up to 90km hr gusts may also develop along the trough through the Whitsundays during the afternoon and evening.
[wp_ad_camp_4]
During Friday similar widespread moderate to heavy rainfall and totals are forecast across the same regions. The strong winds are expected to peak before lunch then slowly ease during the afternoon. Rain should begin to ease late Friday afternoon as the system slowly moves East offshore.
By Saturday the wild weather will be all over with just the chance of a few showers.
This type of weather is not unheard of at this time of year but is certainly out of the normal wet season. The river flooding will be considerably less than TC Debbie though areas under the heaviest rainfall are likely to see flash flooding develop.