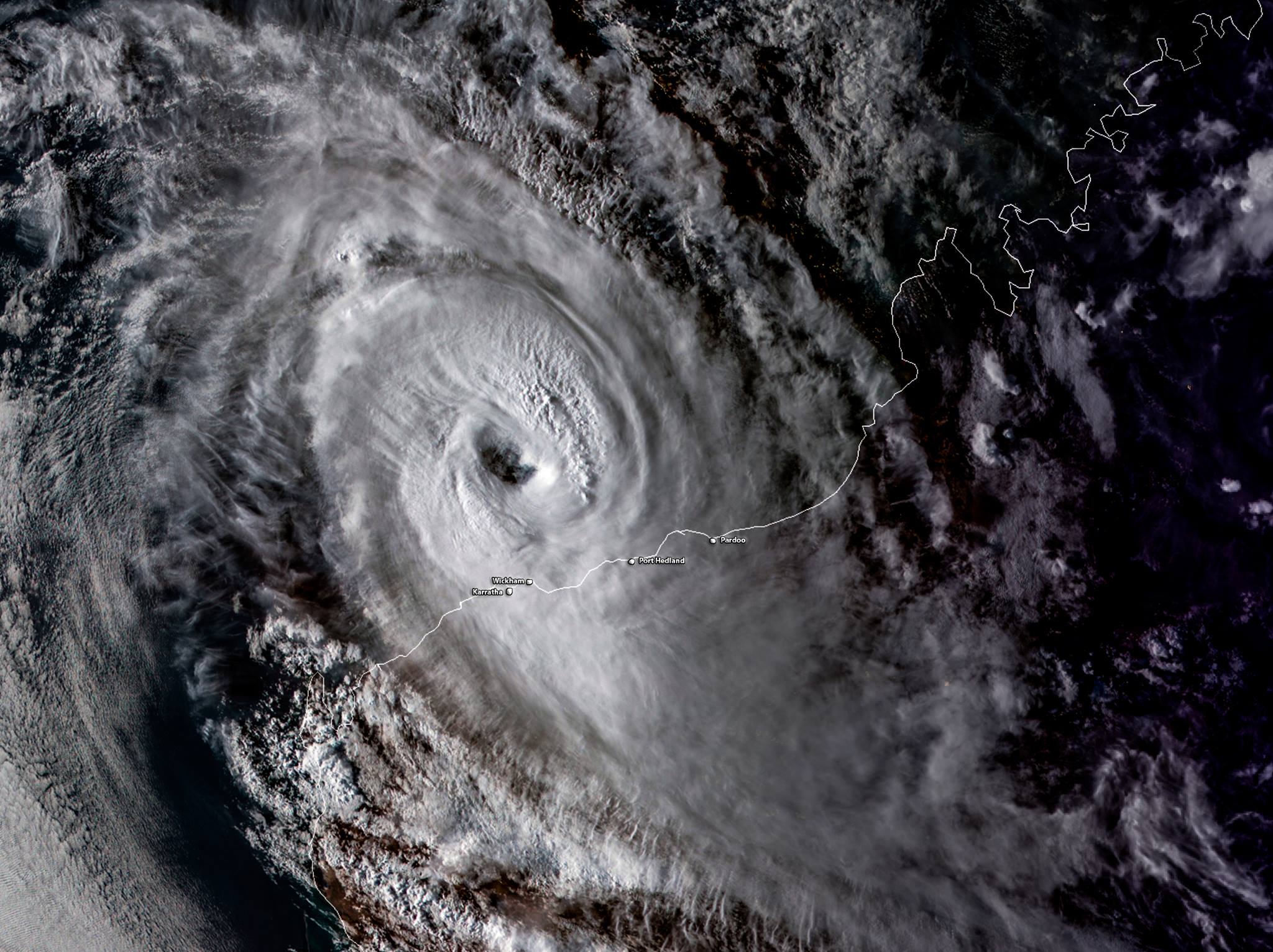 22 Apr

2018-19 Australian Tropical Cyclone Season Summary
The 2018-19 Cyclone Season has come to an end across the Australian forecast region and its been an interesting season to say the least as we saw multiple systems become "severe" and also make landfall, whilst delivering much needed but also in the same sentence, very devastating, floods across large parts of Northern and Western QLD as well in pockets of WA. Above image was Cyclone Veronica (the strongest 2018-19 system) at peak strength off the WA Coast. Image via RAMMB / CIRA
[wp_ad_camp_1]
For the 2018-19 season (October 1st to April 30th), we (Higgins Storm Chasing) analysed the upcoming long range climate indicators along with the timing of early season tropical waves in particular, and came to the conclusion that the atmosphere was going to favour either a borderline or weak El Nino climate pattern. Historically, El Nino years have favoured below average tropical cyclone numbers. Due to this, we predicted 9 tropical cyclones which is down from the average of around 11. El Nino years however also tend to favour an increase in severe tropical cyclones due to warmer oceans being present. As a result of this, along with previous failed tropical cyclone seasons, we erred on the side of caution and went on the lower side of 50% severe strike rate with 4 severe systems. 
[wp_ad_camp_3]
So how did the season pan out??

"Normally" Western Australia is the first region to go before New Year. While the season is October to April, there is usually very little activity prior to New Year, with only 1 maybe 2 systems developing and for 14 of the pas 15 seasons, its been WA to take first honours. This year it was Queensland that went first with Tropical Cyclone Owen developing in the Coral Sea and meandering around open waters before making landfall, entering the Gulf of Carpentaria, then crossing back over and back into the Coral Sea. If that wasn't enough, around New Year Cyclone Penny decided to copy Owen which gave Queensland the first 2 systems of the season. Cyclone Riley then developed mid January over the Timor Sea and surged West, becoming the second severe system, but thankfully not making landfall over WA as it pushed into the open waters of the Indian Ocean.
[wp_ad_camp_4]
While it wasn't a named system, there was a significant tropical low during the start of February over North West and Northern QLD which never reached cyclone strength. This system produced unprecedented rainfall across the Greater Townsville region where falls of 2000-3000mm were recorded over a 10-13 day period. Further significant rainfall of 500-1000mm occurred over Northern and North West QLD which lead to significant cattle losses and devastating flood heartbreak for a very drought stricken area. 
The much talked about Oma was next on the list, developing in Fijian waters before Australia took responsibility later in its life cycle. It didn't produce much, but it was yet another prolonged Queensland system. By this stage, all 3 Queensland systems had lasted more than 10 days, with Oma and Owen both pushing the 2-3 week marks. There was then a lull for a month before Mid March does what Mid March does… and thats show off as the peak of the cyclone season. First it was Savannah in the Indian Ocean that reached Category 4 strength. Then it was Trevor that went Category 4 as well before making landfall over the Southern Gulf (NT) and then flooding Western and South West QLD. Next it was Veronica who went Category 4 as well – 3 Category 4 systems in the space of a week. Veronica made landfall over the Pilbara and produced historic rainfall and flooding across the region as well. Wallace then came in a week later and didn't do much, but added to the season tally.

Across the season all up, there were 8 tropical cyclones (9 if you include Kenanga which happened earlier in the season, but I believe thats questionable as to whether or not it moved into Australian waters). Of those 8, 6 of them became severe with 3 Category 4 systems, 3 Category 3's and then Penny / Oma both at Category 2. Queensland and Western Australia both tied for 4 systems each in the end (this was 1 up on our QLD prediction and 1 down on the WA prediction) while the NT also recorded 2 systems (both crossing in from QLD).
[/fusion_text][/fusion_builder_column][/fusion_builder_row][/fusion_builder_container]