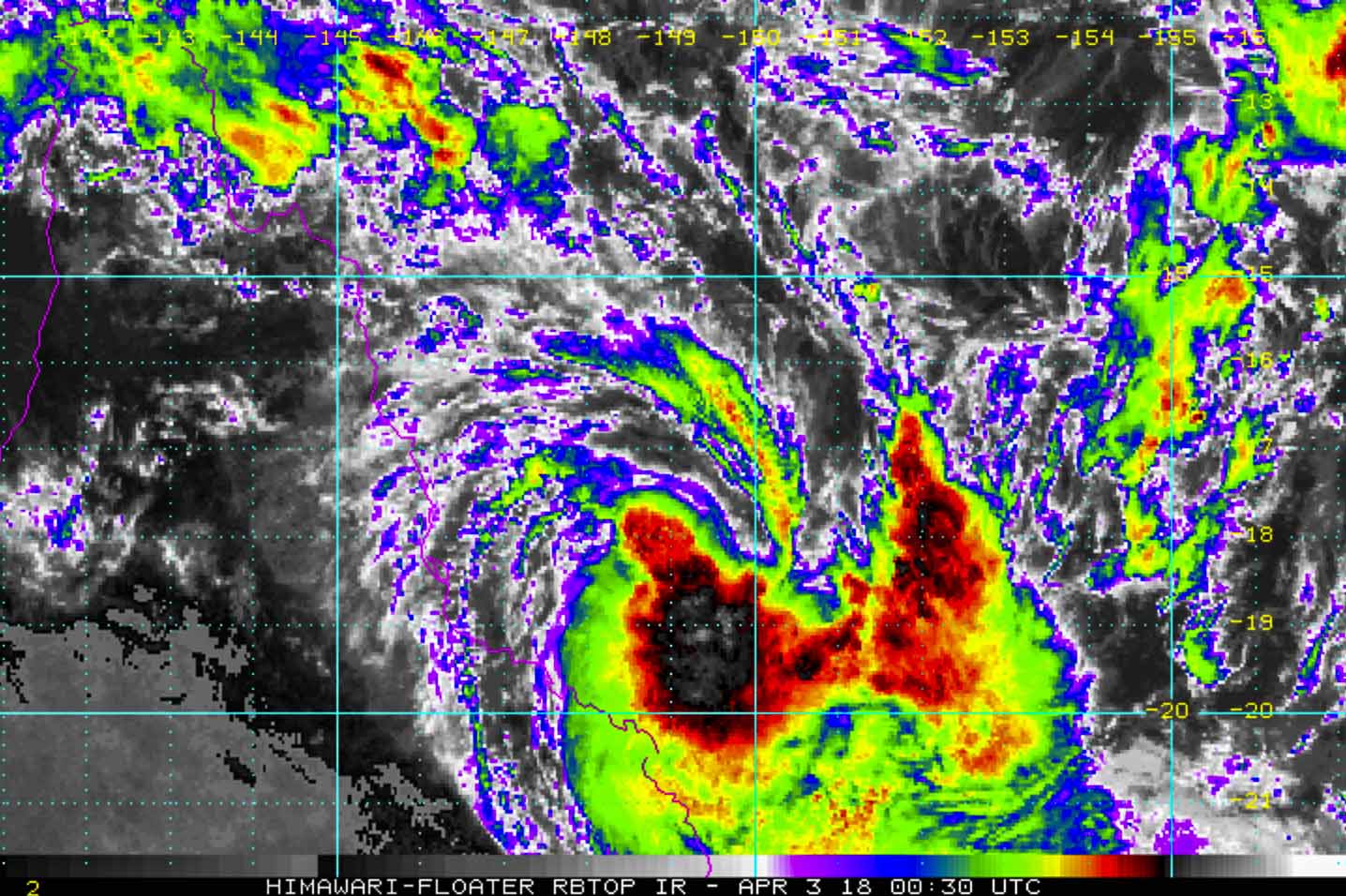 03 Apr

3pm Tropical Cyclone Iris (Category 2) Update
Tropical Cyclone Iris is starting to gain some forward momentum as she begins to track South East, parallel with the Central QLD Coast. Above image via NOAA
[wp_ad_camp_1]
As of 3pm, Tuesday April 3rd. Tropical Cyclone Iris was positioned approximately 250km North East of Townsville over the Coral Sea. The system after being mostly slow moving towards the South for the past 12-24 hours has now completed the shift towards the South East and is starting to pick up some speed, moving now at (a still slow) 6km/h. Models and live data are both indicating that Iris should maintain this track for the next 24hrs or so, running parallel to the Central QLD Coast and Whitsundays.
[wp_ad_camp_3]
Some things to note are water vapour and infrared satellite imagery is picking up some increased convection over the Southern side of Iris, between the system and Bowen / Whitsundays. This convection likely contains the strongest gusts within the system that are likely exceeding destructive thresholds of 125km/h. The other thing would be that there is a severe lack of convection over the Northern periphery of the system which has suppressed the intensification process. This would be partially due to dry air intruding most likely, or possibly a slight increase in vertical wind shear. Never the less, this has lead to Iris maintaining a 130km/h peak gust range, rather than the 150km/h winds she was packing much earlier this morning.
[wp_ad_camp_1]
Despite Iris being somewhat closer to the Coast, rainfall totals have significantly dropped. Falls of 50-100mm were widespread around the Central Coast with isolated falls of up to 200mm over the Eungella Ranges to 9am this morning… however since 9am, maximum rainfall totals of less than 20mm have been recorded. Conditions should start to deteriorate with damaging to destructive winds gusts over the Central Coast & Whitsundays tonight and tomorrow morning.