Issued 6th August 2019. Four multiple complex low pressure systems are forecast to form into a very large polar low that will impact South East Australia from Tuesday through until Sunday this week.
The first low (10S) with a pressure of 985hpa will move East across the Southern Ocean to the South of Tasmania on Tuesday and Wednesday bringing strong winds and showers to South East SA, Tasmania and Victoria. Bloew image via Weatherzone.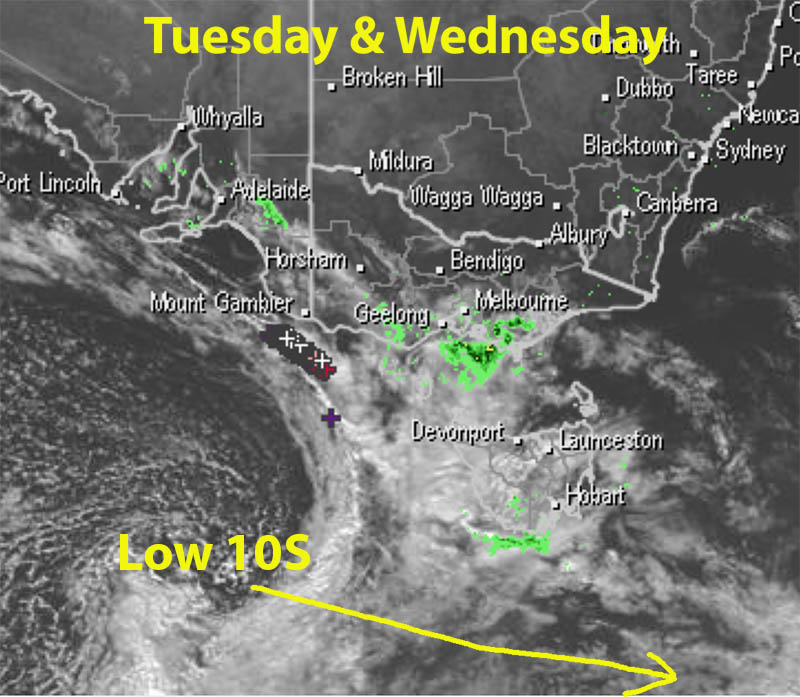 A second low (10B) 1005hpa develops over South East SA near Adelaide on Wednesday and slides South East across Victoria and into Bass Straight then across Tasmania on Thursday deepening to a pressure of 985hpa. The system will produce rain and storms with hail across South East SA, rain and possible storms with hail across Victoria with moderate snow on the Alps. Rain and snow also across Tasmania. Below image via Windy.com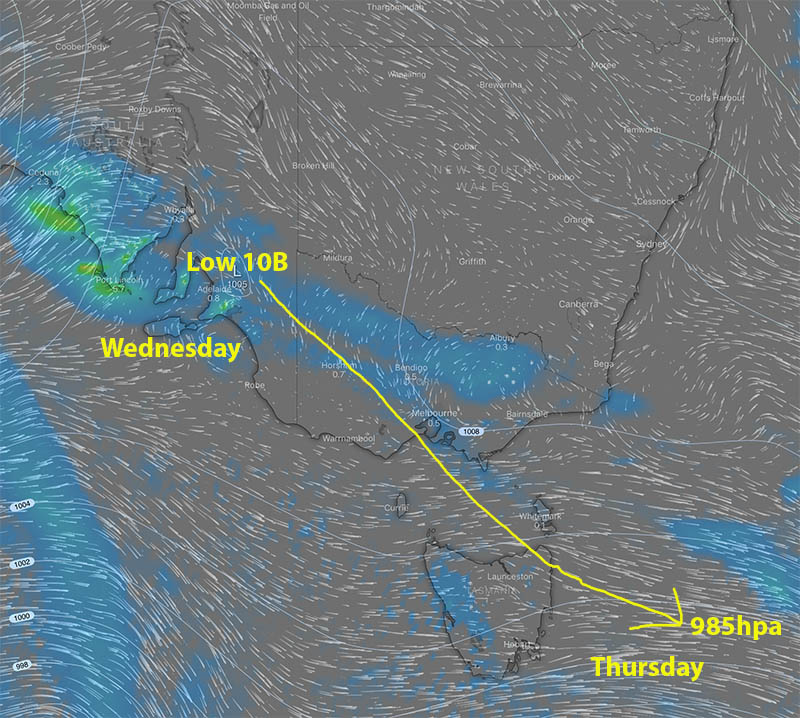 A third stronger low (11B) 979hpa approaches South East SA on Thursday then moves East into Bass Straight on Friday. This low will produce damaging winds to 110km hr across South East SA, Victoria and parts of NSW. Rain areas, scattered showers and storm with hail is also expected. Heavy snow and blizzards are forecast across the Alps with snow in the ACT and Central Tablelands of NSW. below image via Windy.com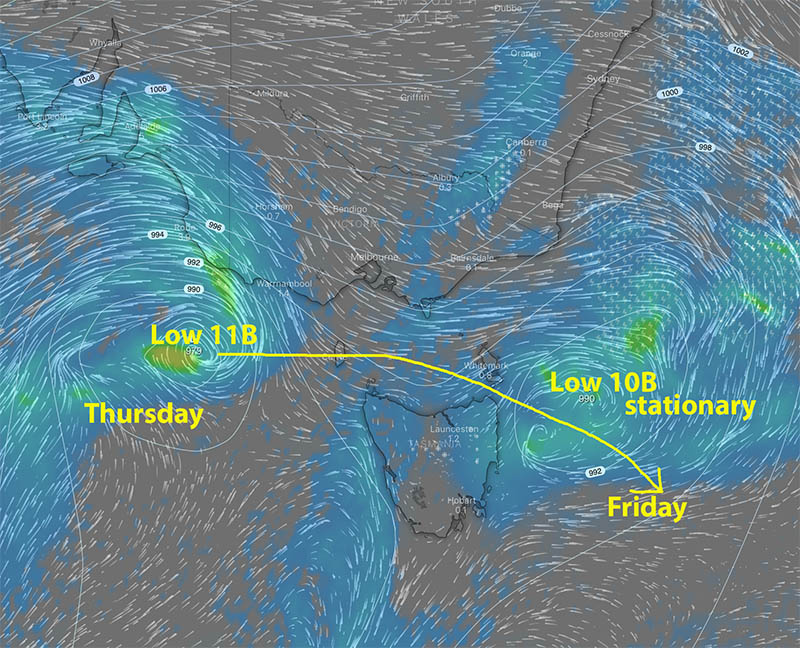 This is where things get serious…
The second low 10B is forecast to be located just East of Tasmania and merges with the third low 11B on Friday to produce a very large dominant low pressure system (10T) 970hpa. The new low remains slow moving East of Tasmania during Friday, Saturday and Sunday and eventually drifts East towards New Zealand as a new high 1030hpa builds in the Bight.
The very strong pressure gradient between the large polar low near Tasmania and the large high in the Bight will project a 100km hr polar airmass Northwards across the Southern Ocean impacting South East Australia during the 3 days. This weather system will then produce another round of strong to damaging winds, showers with hail, rain areas, storms with hail and low level snow across South East SA, Tasmania, Victoria, the ACT and NSW. Below image via Windy.com

Our Higgins premium weather service offers detailed forecasts and maps across NSW, the ACT and Victoria. These include daily rainfall and snow forecasts. Become a subscriber here to gain access and support our business. Or click on the image below to find out more details!