Issued 7th June 2019. After the second driest May since 1874 in Perth, the first of 4 Winter storms has moved through. Widespread rain has fallen over the past 24hrs across South West WA with 3 more intense system to follow during the next 4 days. Above image: ECMWF rainfall forecast totals for the next 4 days via Windy.com
As wet conditions start to ease on Friday, the next much stronger system in the Southern Ocean is aimed at South West WA. On Saturday a strong cold front will hit the South West and Central West Coast during the afternoon and evening. The front is forecast to contain winds up to 85km hr from the South West with a burst of heavy band of rain. Showers and some isolated storms with hail are also likely to develop. The front will push North East into inland areas overnight. Below image: ECMWF cold front and low during Saturday via Windy.com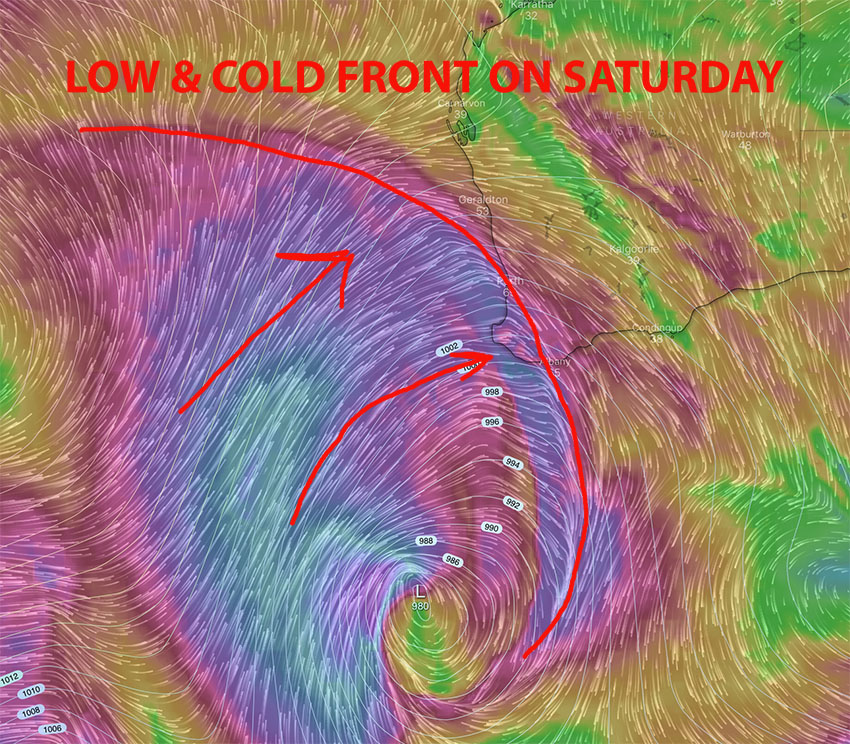 On Sunday strong cold Westerly winds will be maintained across the South West quarter of the state along with showers. SNOW is likely to fall on the Sterling Ranges especially on Bluff Knoll down to 1000 meters on Sunday morning as a very cold upper low moves overhead. Below image: GFS upper cold pool for snow on Sunday morning.

During Monday a third wave of strong winds to 90kmhr will move through the South West quarter of the state along with a round of scattered showers, isolated storms with hail and rain. A low pressure system is forecast to develop just offshore from south West and Southern Coastal districts.
Tuesday will see the low pressure system continue to produce showers and storms with hail across the South West quarter. Winds strangely enough will ease.
Overall it will be a very wet wild cold and windy period for Perth and the entire South West quarter of Western Australia during the next 4 days. Widespread 50-100mm of rain is expected along South West and Central West coastal areas and the adjacent inland. Widespread 20-40mm through inland parts.
Wind damage is possible but these won't be the most powerful systems to hit this Winter. Very cold conditions with top temps of 13 to 18C expected during Saturday, Sunday, Monday and Tuesday. The rain will be very welcome by many!
Are you prepared for tax time? Let Complete Tax and Financial Services handle it for you. They know exactly what your entitlements are!