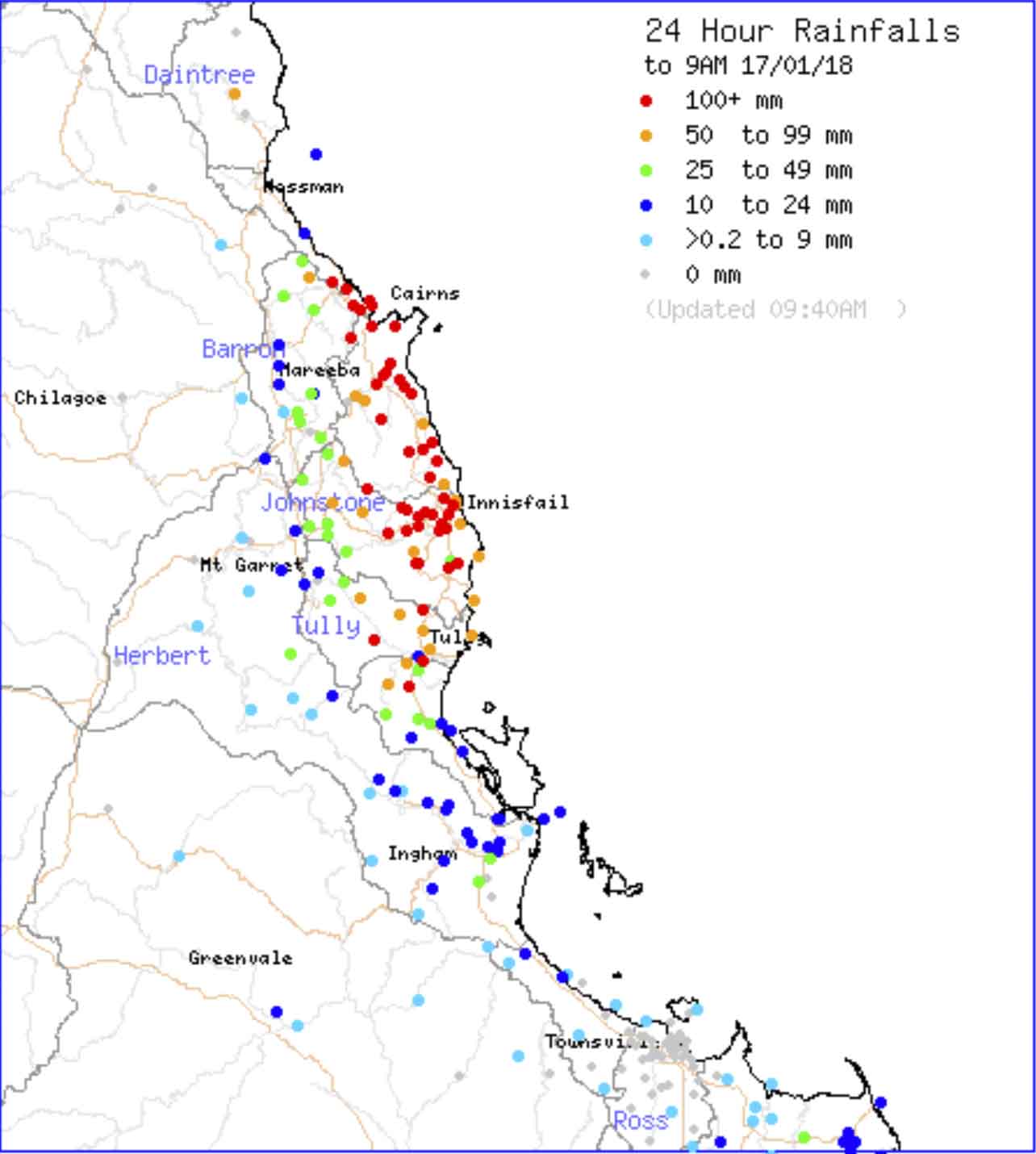 17 Jan

Up to 400mm in 48hrs kicks off the NQLD Wet Season
Over the past 48hrs the evidence has become clear that the wet season has finally arrived in the Northern tropics of QLD following a dry December and start to January. Above image: 24hr rainfall for Wednesday via BOM
[wp_ad_camp_1]
Over the past several days, models have been hinting at the return of the monsoon with widespread good instability leading to heavy storms and rain areas expected. It hasn't been until the past 36 to 48hrs however that this has become confirmed as overnight storms both Monday into Tuesday and Tuesday into Wednesday have dampened the tropics and brought some of the best rain (if not the best) for the wet season so far.
Overnight last night (Tuesday into Wednesday), we saw widespread falls of 100mm+ brought on by severe overnight storms hit the Tropical North Coast from about Tully to Cairns. Isolated falls of 300mm+ occurred around Innisfail too. The night before it was more isolated with falls of 100mm+ and scattered falls of 50mm+ but it impacted the same areas and has lead to falls of up to 400mm across the 2 nights, bringing some areas very close to their January average already. 4 stations including Cairns Airport and Cairns City were lucky enough to record back to back 100mm nights!
[wp_ad_camp_3]
Some of the high 24 and 48hr totals include:




24 hours:


• The Boulders 320mm

• Mt Sophia 294mm
• Babinda 287mm
• Tung Oil 270mm
• Marco Street 255mm
• Clyde Road 244mm
• Vohland 230mm
• Bucklands 228mm
• Central Mill 219mm
• Fisher Creek 211mm
• Morgan Road, Gordonvale 208mm
• Aloomba 205mm
48 hours:
• Tung Oil 380mm

• The Boulders 361mm
• Mt Sophia 326mm
• Marco Street 316mm
• Clyde Road 300mm
• Cairns Airport 294mm
[wp_ad_camp_1]
Luckily, the general area is expected to continue seeing good falls over the next several days with all models hinting at 7-10 day totals of 100mm+. So while the individual days may be hit and miss, the overall weekly accumulation should add up!