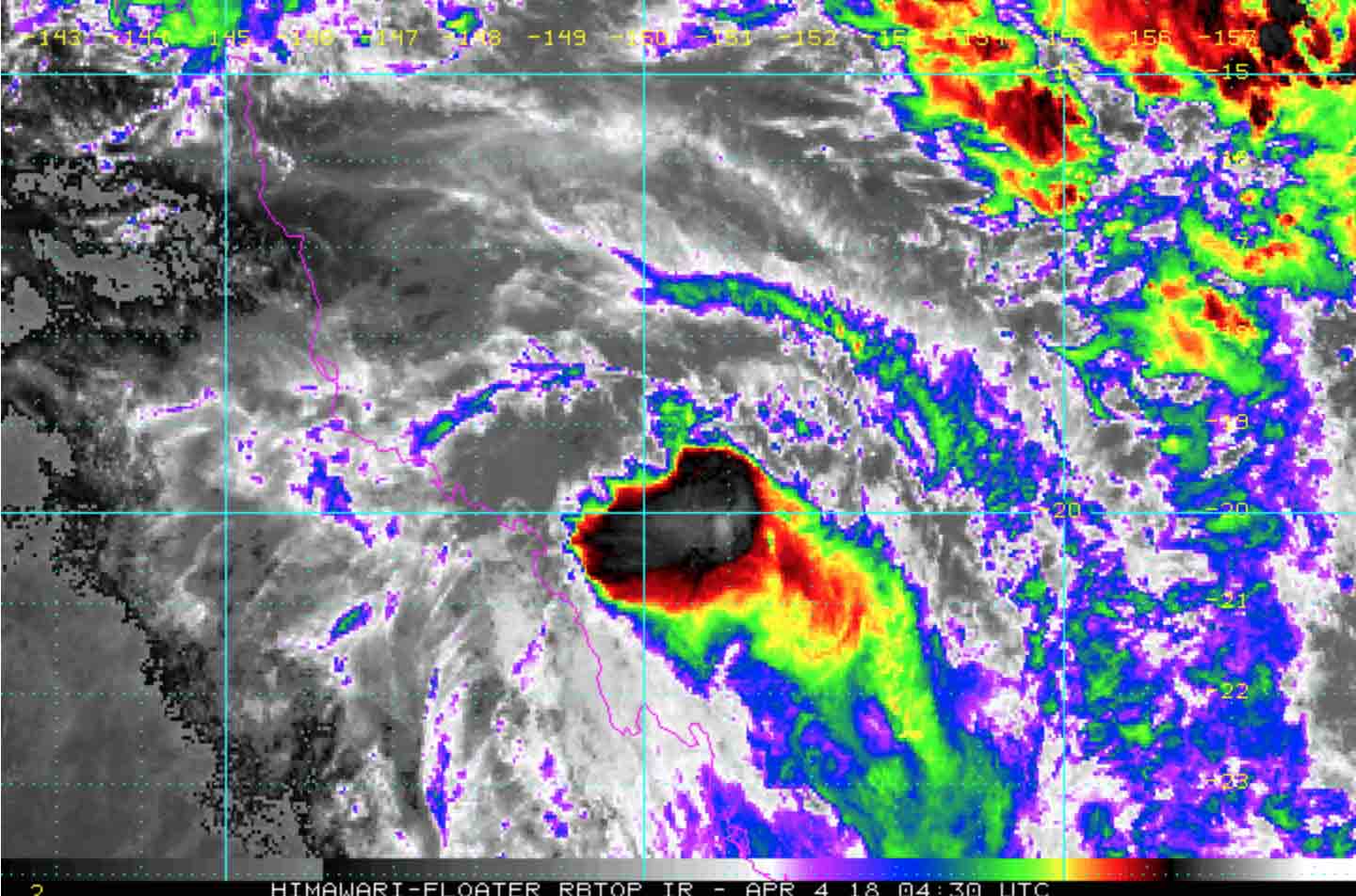 04 Apr

4PM Tropical Cyclone Iris (Category 2) Update 4/4/18
Iris is not well and truly starting to undergo a weakening phase as the system becomes situated off the Central Coast and Whitsunday region. Above image via NOAA
[wp_ad_camp_1]
Throughout the course of Wednesday, Tropical Cyclone Iris has continued to track towards the South East. She is now situated around 240km East of Hamilton Island or 250km North East of Mackay and maintaining that South East track. The system is also starting to lose intensity, and rather quickly. While there is good convection still evident over the Southern periphery of the system, the Northern periphery has become as good as useless in terms of the system's longevity as increased vertical wind shear starts to take control.
[wp_ad_camp_3]
Over the rest of Wednesday, the system should maintain a South East track as she rides along the leading edge of the subtropical ridge situated over QLD. However, she is expected to weaken back down to a Category 1 system this afternoon / this evening and then eventually a tropical low overnight with the vertical wind shear becoming increasingly stronger. This will inevitably cause the system to no longer be steered by the subtropical ridge but instead become steered by the deep and dominating South East onshore flow. This will cause the system to stall for a while during that weakening phase, then transition into an Ex-Tropical Cyclone and push back North West.

Right now, models are split on whether or not she will make landfall as an Ex Tropical Cyclone over areas North of Bowen. It won't realistically matter too much, as minimal rainfall is expected and winds will only be moderate to strong at best… but models are split between a weak tropical low or nothing crossing the Coast.
[wp_ad_camp_1]
***Note: Copyright material NOT for media use, broadcast or republishing without express permission from Higgins Storm Chasing***