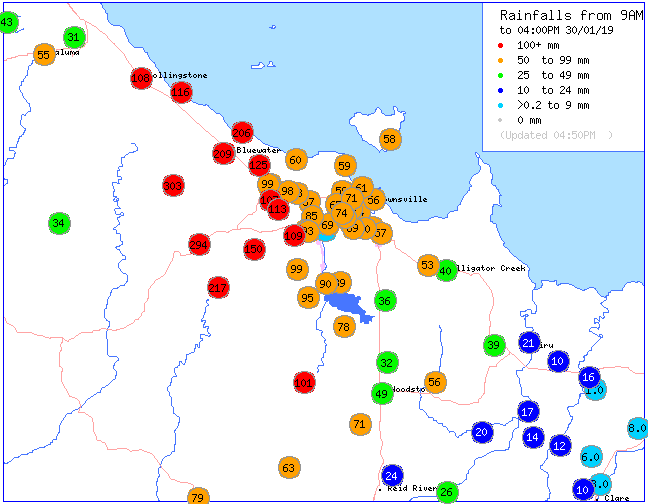 30 Jan

5PM QLD Rain & Storm Update – January 30th 2019
By 5pm Wednesday afternoon, heavy rain areas had momentarily eased across the North QLD Coast. Rain areas are continuing, but the immediate threat of dangerous flash flooding is over with falls of just 10-20mm over the past hour and 30-40mm over the past 3 hours in the Greater Townsville region. Above image via BOM showing the rainfall since 9am across Greater Townsville.
[wp_ad_camp_1]
So far today we've seen totals in excess of 300mm since 9am over the Bluewater, Toolakea and Black River region West of Townsville. This was brought on by heavy rain areas converging and training over the region for an extensive period of time – similar to what happened a few days ago in the Daintree. These falls caused catastrophic, life threatening flash flooding where sheds, shipping containers, cars and other possessions have been washed out. There have been reports of houses also being washed away. The water inundated many houses, completely submerging bottom levels and leading to the requirement of immediate and urgent assistance from authorities in the form of swift water rescues. While the threat has eased, rain areas are still expected to continue to impact the area for the remainder of today and overnight tonight as the converging remain near stationary. This will lead to constant rainfall occurring where we should see totals of 100-150mm becoming likely from 5pm to 9am tomorrow morning and overall totals in excess of 200mm from the period of 9am today to 9am tomorrow. Localised higher falls of 300-400mm are also likely given what has already fallen. This rainfall so far today has lead to the Ross River Dam reaching 100% capacity for the first time since 2014!
[wp_ad_camp_4]
Across the Peninsula and North West / Northern Inland QLD. Some scattered showers, heavy rain periods and storms are firing up. These are being brought on by the widespread tropical moisture creating large areas of weak to moderate instability across the region. Some of these storms could become severe over the next several hours, especially in the Mount Isa to Richmond area including Winton, Cloncurry, Julia Creek, Cannington, Myola and surrounds. This is due to the rotation of a broad tropical low creating slow movement for storms which will enhance the risk of heavy rain. Locally heavy falls are possible under these storms as well as storms over the Gulf Coast and Peninsula.|
[wp_ad_camp_3]