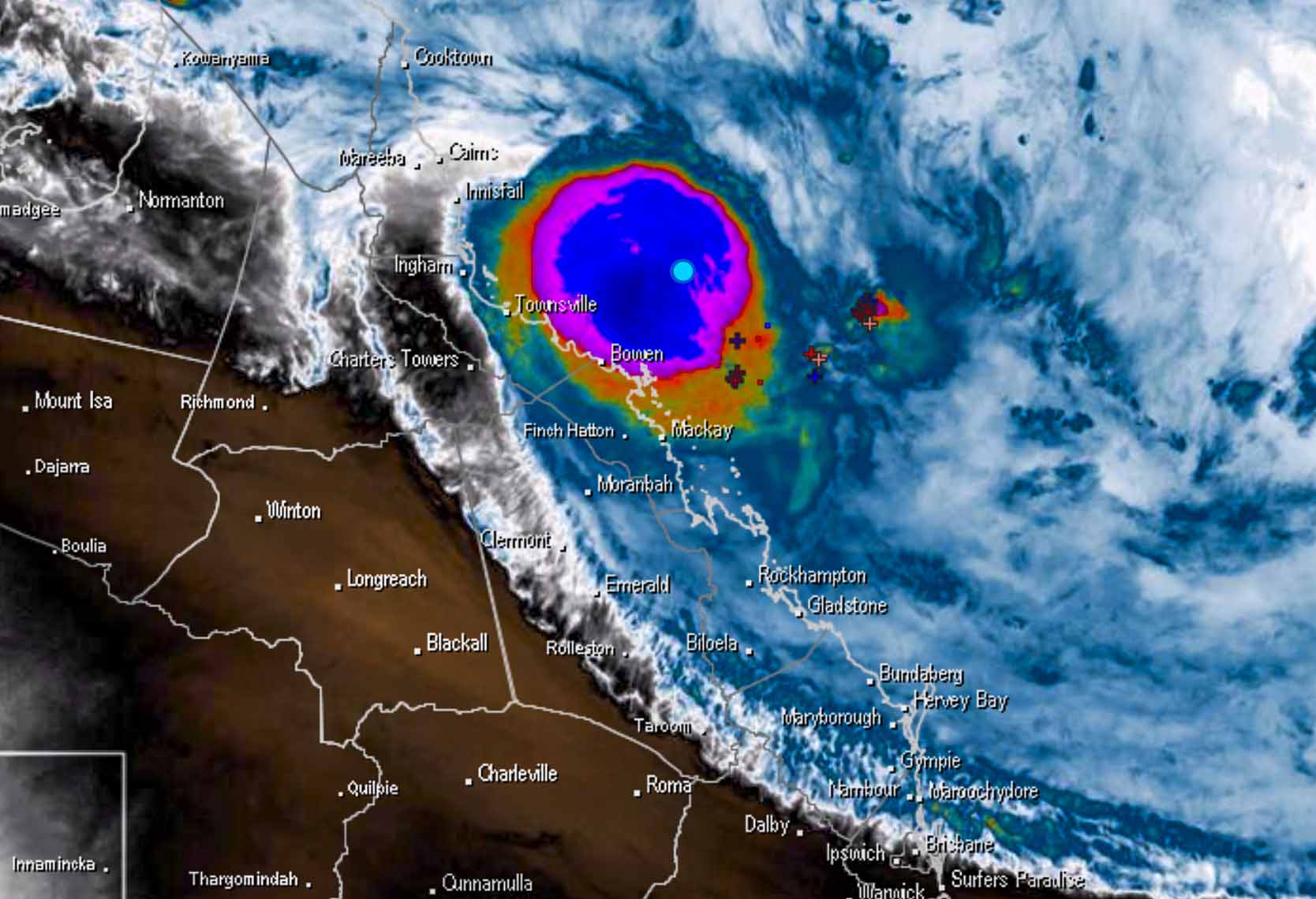 03 Apr

8pm Tropical Cyclone Iris (Category 2) Update
Tropical Cyclone Iris is looking fractionally better over the past few hours and could enter a period of slow intensification overnight tonight (Tuesday into Wednesday) as moisture content increases. Above image via Weatherzone showing water vapour.
[wp_ad_camp_1]
During Tuesday afternoon, Tropical Cyclone Iris was looking a little worse for wear as a weak Category 2 system located East of to North East of Townsville. Over the past 6 hours or so, Cyclone Iris has further increased her forward momentum and is now moving at 14km/h towards the South to South East (this is up from 4km/h earlier on). The system throughout the day had reasonable convection over the Southern periphery, with lightning being detected in powerful convective cloud tops… these cloud tops remain active over solely the Southern periphery of the system but the change now is that Iris has much better moisture content.
[wp_ad_camp_3]
The large blue and purple area on the cover image is representative of high water vapour levels in the atmosphere. This is a positive thing for the system as it can help the system further intensify. The only troubling factor for Iris is that she is encountering increased vertical wind shear caused by a subtropical ridge… this ridge will continue to push East across Queensland and cause Iris to enter a more unfavourable environment towards the end of the week. While the system has good moisture content, there is a chance she could slowly intensify into a high-end Category 2 system, but after that she will begin to weaken.
[wp_ad_camp_1]
Despite rain areas hanging around the Central Coast from Sarina to Ayr for much of the day, rainfall totals have been modest at best. Falls of 25-50mm have occurred around Bowen and Airlie Beach + surrounding areas with very light falls elsewhere. Overnight tonight and into tomorrow, conditions are expected to deteriorate over the Whitsunday's with damaging to possibly destructive winds impacting the Islands. Rainfall totals however should remain fairly modest.