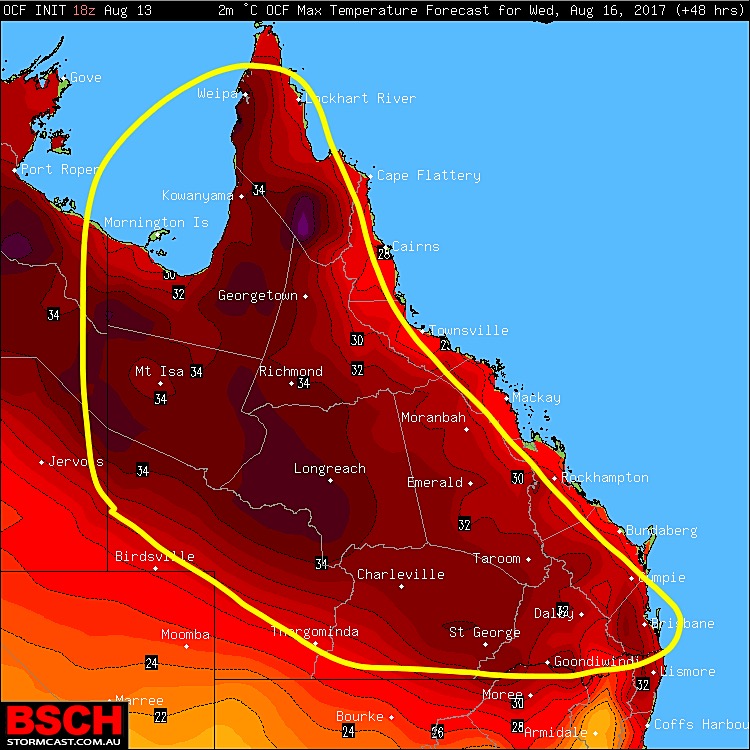 14 Aug

95% Of Queensland To Hit 30 – 35C By Wednesday!

[wp_ad_camp_4]
Issued 14th August 2017.

The crazy weather is going to give Queensland a friendly reminder of what Summer was like this week with a Winter type heatwave! "Normally", the August Winter maximum temperatures across Southern and South East QLD are between 18 – 23C but over the next 3 days the mercury will crack into the 30's. If this is a precursor to what the coming Summer is going to be like it will be an absolute shocker.
In the South East, Toowoomba could be as high as 10C above average on Wednesday with a top of 28C forecast. Brisbane, Ipswich and Gympie all going for around 32C on Wednesday and Thursday though an afternoon sea breeze may just keep the river city closer to 30C if it kicks in early enough. Very strong Westerly winds with gusts up to 65 km/h are forecast to develop across the South East during Friday. These may also reach as high as 80 km/h along the ranges.
Southern inland districts will roast up to 34C due to Northerly winds which turn strong North West to Westerly on Wednesday and Thursday. High fire dangers are forecast through South East, Southern and Central inland which increase to SEVERE on Thursday across the Maranoa and Warrego. Below image: Fire danger ratings from Tuesday to Friday via QRFS.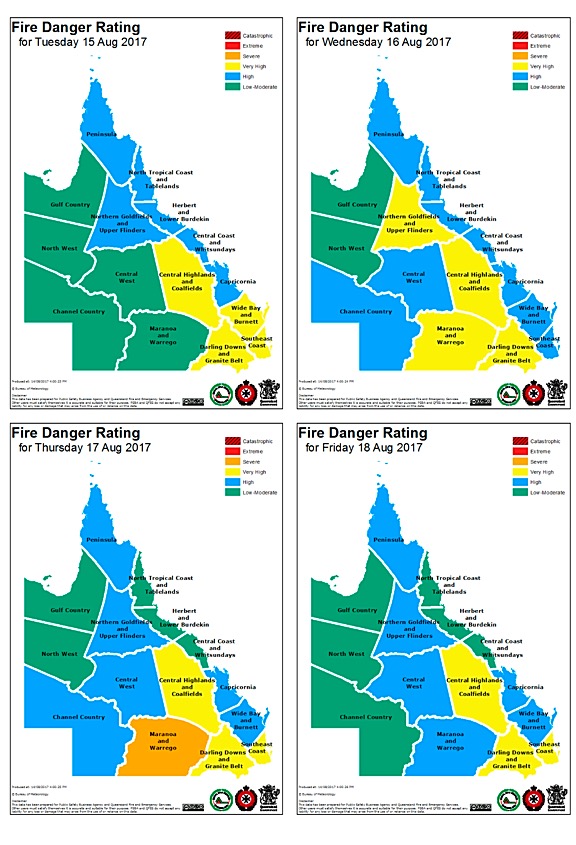 [wp_ad_camp_2]
Anywhere along the direct east coast of QLD this week will get up to between 28 and 30C with a nice cool afternoon sea breezes kicking in.
All Central and Northern parts of the state will also be very warm to hot until Saturday before the cooler southerly winds arrive.
The Northern inland, North West, Central West and Gulf regions will be the hottest with 34 to 36C expected.
By Saturday the run of high heat will come to an end across all Southern and Central districts as a much cooler South Westerly air mass pushes though from down South.
There is absolutely no rain forecast across the state during the next 7 days and very little out to 14 days ahead. Yet another period of well above average temps are forecast across the state next week!
[wp_ad_camp_4]