Issued 23rd November 2018.

Large parts of Central and Northern Queensland including coastal districts are facing a week of extreme heat starting this Sunday. Inland areas will reach 43C while coastal locations will be in the high 30's with high humidity levels. Above image via BSCH maximum temps on Sunday.
A series of low pressure systems are forecast to move across Southern parts of QLD next week which will cause a Western to South West wind flow across the state. These winds push a very hot dry airmass from Central inland Australia across to the Central and Northern coasts.
A prolonged and extreme heatwave is forecast by the BOM due to temperatures being up to 10C above average for 6 days. Below image: 3 day heatwave via BOM.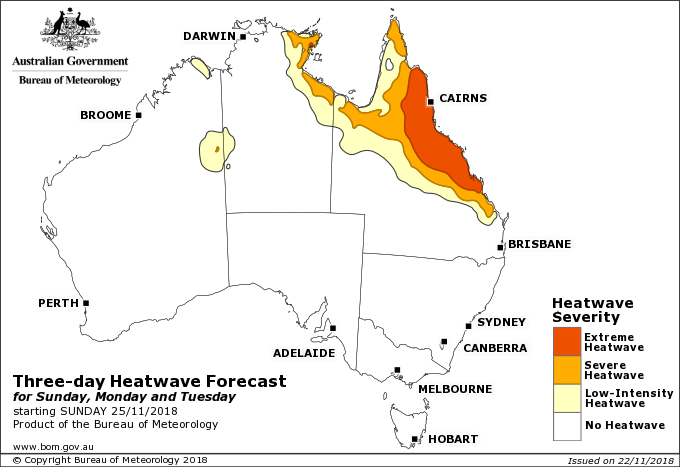 Long standing temperature records are likely to fall with the hottest ever days ever in recorded history for November being forecast for many locations.
At this stage the highest heat will be North from about Gladstone, Emerald, Longreach to Mt Isa. Inland areas will have very dry heat over 40C with relative humidity levels below 20% however this will also significantly raise the fire dangers to Severe.
Coastal parts will feel like a sauna! With forecast tops of 36 to 37C in Cairns, Townsville and Mackay and a relative humidity of 50%, the "feels like" temperatures will exceed 40C and could reach 45C. It going to be a knife edge balancing act of wind direction along the coast with a definitive boundary between very hot Westerlies and very warm humid North Easterlies or Sea Breezes.
Is this a health risk? Yes indeed it is… people bodies become accustomed to our hot climate however when a heatwave of this magnitude and length hits even the most fittest and heaviest people can suffer heat related stress illness.
Infants, elderly, pregnant women, and people who work outside will be at risk of heat exhaustion and stress.
Pets and Wildlife will also come under heat stress so please consider offering extra shade and ample water.
Remember this is NOT normal for November, its something that would be more likely to occur during mid Summer. Yes it gets hot and yes it's our job to let you know 🙂
Stay safe and be prepared everyone. Below image: Fire Dangers for Sunday.