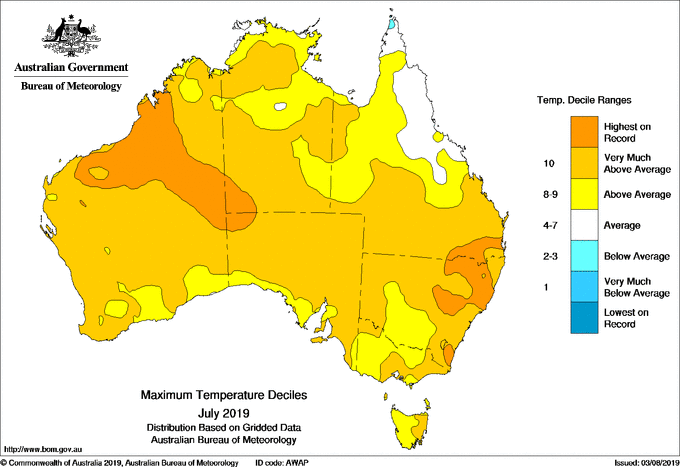 05 Aug

A Winterless July Across Australia Breaks A New Record
All we ever seem to hear about is how hot its getting. Well, here is another post as a new record falls across Australia following the results of July's extremely warm month. Above image – Temperature deciles for July via BOM.
Its seeming to be the Winter that hasn't arrived for Australia, despite a powerful polar blast likely to impact large populations towards the end of the week. Queenslanders are complaining about the typical "we had 1 day of Winter this year", NSW is dry and warm. Canberra is struggling. Melbourne hasn't been cold. Adelaide and Hobart are barely seeing a Winter either for their standards. Well, July 2019 has gone down as the 4th warmest July in 110 years of record keeping. It sat at around 1.62ºc above average across the entire national platform and more notably – the only area that wasn't average or above average was the Northern Tropics of QLD, the NT and WA which host very few data recording locations. While there are many factor for this, it was largely brought on by continuous blocking high's across the mainland which prevented cold fronts extending over the mainland from the Bight and Tasmania – this also helped Tasmania remain wetter than normal. 
The significance of this is that July 2019 has become the 33rd consecutive month in a row above average when looking at a national scale. This breaks the previous record of 32 consecutive months spread between August 2012 and March 2015. That also means since November 2016 it has been warmer than normal across the country. 
What has added insult to injury for those who are severely drought impacted is July 2019 was the 12th driest on record. This number is also somewhat skewed as parts of Western Tasmania have had their wettest July on record locally, which has subsequently bumped the rest of the country average up. So by removing Tasmania from the equation, this could've been one of the driest and warmest July's on record…. a tune that has been played for the past x amount of months now. 
Maybe August can be different.. this polar blast will certainly help that when it places half the country below average for around 3-7 days (depending on the exact location).
[/fusion_text][/fusion_builder_column][/fusion_builder_row][/fusion_builder_container]