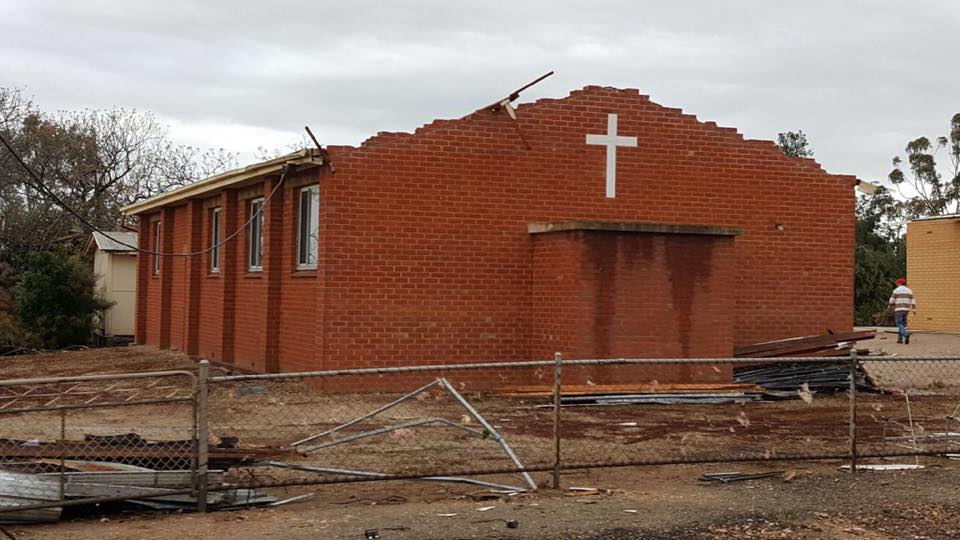 04 Oct

The aftermath of South Australia's wildest Storm – the Supercell Outbreak

Wednesday, September 28th 2016 will go down as one of the most significant weather events not only Australia in 2016 but for South Australia's entire recorded history. The combination of a vigorous cold front and close range very deep low pressure system triggered a swath of violent weather leading to hundreds of millions of dollars worth of damage. While the low produced hours upon hours of treacherous wind, rain, seas and flooding – this is focused on the Tornadoes.

To this stage, there are 4 confirmed tornadoes which touched down in South Australia, 2 of those over the Flinders region, the other over the Lower Eyre Peninsula. The day started out a little more intense than expected with a cluster of severe storms moving through and impacting most of the forecast area. It was behind this cluster where dangerous Supercell thunderstorms developed and wreaked havoc.
CUMMINS TORNADO:
The Cummins Tornado will go down as the most innocuous tornado of the bunch. A line of violent Supercells were marching into Spencer Gulf and this took much of the focus, while to the South-West of them a storm cluster with an embedded Supercell dropped a tornado over the Cummins region causing significant localised damage. 2 very large football sized industrial sheds were blown apart with pieces landing in the surrounding trees, trees of which were shredded, twisted, debarked. Farming equipment was left in ruins around the farming country. Depending on the integrity of the sheds, this tornado will most likely be rated as an EF-2.
MELROSE TORNADO:
As the line of violent Supercells crossed into Spencer Gulf, conditions become favourable for further development to occur and the line to expand. An additional 4 Supercells based off radar imagery developed between Port Pirie and Woomera, with the one responsible for the Melrose Tornado occurring near Miranda and heading straight for Melrose. It developed an instant hook-echo on radar before directly hitting Melrose with force. Producing large hail, torrential rainfall and a confirmed Tornado. It downed powerlines and HV lines leading to instant blackouts while significant damage was noted on farming estates. Its expected this tornado will be rated as either a high end EF-1 or low end EF-2.
WILMINGTON TORNADO: 
While the Melrose Tornado was occurring, another Supercell developed directly on top of Port Augusta producing significant wind damage and large hail. This Supercell tracked South-East and developed a hook-echo also which later was confirmed to be yet another Tornado, this one directly over the town of Wilmington (approximately 15 minutes North of Melrose). Significant damage was observed through farming estates, with one property owner having her shed obliterated into hundreds of pieces and thrown over the paddocks, all trees stripped, debarked or uprooted and her trailer flipped and thrown further down the yard. Its expected this will be rated as an EF-1.
BLYTH MULTI-VORTEX TORNADO:
Arguably the most famous of the lot, the town of Blyth – located between Snowtown and Clare. A very violent Supercell showing extreme rotation and multiple hook echo signatures on radar directly hit Snowtown producing tennis balls size hail and destructive winds. It then continued to intensify and hit the town of Blyth directly. Residents in the town ran for cover as dozens of reports came through of 2 tornadoes on the ground at the same time – which turned out to most likely be a large multi-vortex wedge tornado. The tornado lifted between Clare and Blyth, but the Supercell still went on to cause significant damage in the town of Clare. 
In the aftermath it was noted significant building damage had occurred with roofs torn off multiple buildings, some walls had caved in, cars and trucks had been flipped, trees debarked and uprooted and then used as missiles. The clean up bill will be massive for the town and surrounding regions. Its expected this tornado will be rated as a high end EF-2 or EF-3.
Its also worth nothing that violent Supercells were observed off Port Broughton where a likely Tornado was occurring over water, and another Supercell was showing very dangerous signs of producing a Tornado to the West of Yunta. The town was directly hit with 113km/h winds and large hail. The wall of Supercells (approximately 6-9 simultaneously) moved across the Flinders and directly hit and downed 23 HV lines leading to the entire State being blacked out for many hours. The winds these lines were subject to would've been ferocious and very sudden. It wouldn't be surprising that in the coming weeks if more tornadoes were confirmed from this event. Thankfully, and we cant be happier about this enough – not only did nobody die, nobody was even injured!