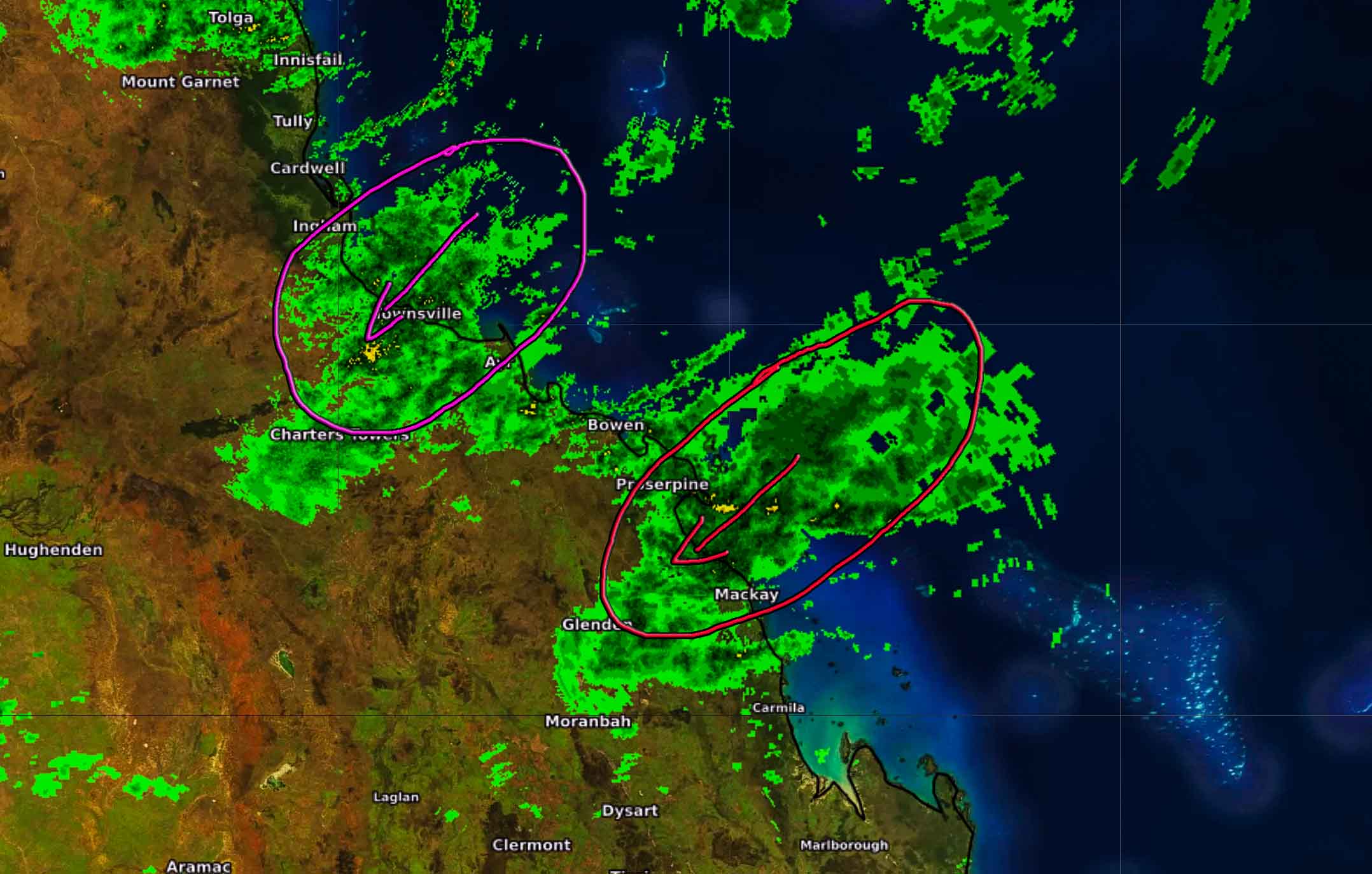 29 Jan

Almost 500mm falls in 48hrs over Whitsundays, 400mm near Townsville!
Almost like a carbon copy of yesterday, we are seeing 2 convergence zones over the Northern and Central QLD Tropics which is indicating yet another day of widespread continuous rain across the region with heavy falls likely to develop as a result. This comes after almost 500mm has fallen in 2 days across areas between Mackay and Proserpine and up to 400mm South East and North of Townsville! Above image via Weatherzone Layers
[wp_ad_camp_1]
In the past 24 hours we've seen some very heavy rainfall totals occur over the Mackay to Proserpine region as well as both South East and North of Townsville. It was these same areas that took a hit the day before as well, and now they might do so for yet another day. A severe storm over the area South East of Townsville overnight dumped 141mm in 6 hours and this lead to Upper Major Creek recording 261mm in the 24 hours to 9am Tuesday. Converging rain areas over Paluma dumped another 230mm to add to their 160mm the day before. While across the area North of Mackay, we've seen some mammoth 24 hours. This includes Sandy Plateau 373mm, Stafford Crossing 299mm, Forbes Road 299mm and O'Connell 256mm.
[wp_ad_camp_3]
Over the past 48 hours some of the big totals include:
• Stafford Crossing 462mm

• Sandy Plateau 458mm
• O'Connell 431mm

• Forbes Road 399mm

• Paluma 390mm

• Jubilee Pocket Alert 383mm

• Hamilton Island 355mm
• Upper Major Creek 340mm
[wp_ad_camp_4]
Now for today, we are seeing rain areas loosely converge over the Paluma to Bowen region again, this includes Townsville. This will likely lead to further continuous rainfall where falls of 100-200mm are likely once again. Another area of convergence seems to be stubborn over the Whitsunday Coast and North of Mackay. This may lead to yet another day of 100-200mm occurring with locally heavier falls being possible. This could bring some 3 day totals up to the 600-700mm mark depending on where the heaviest falls occur.