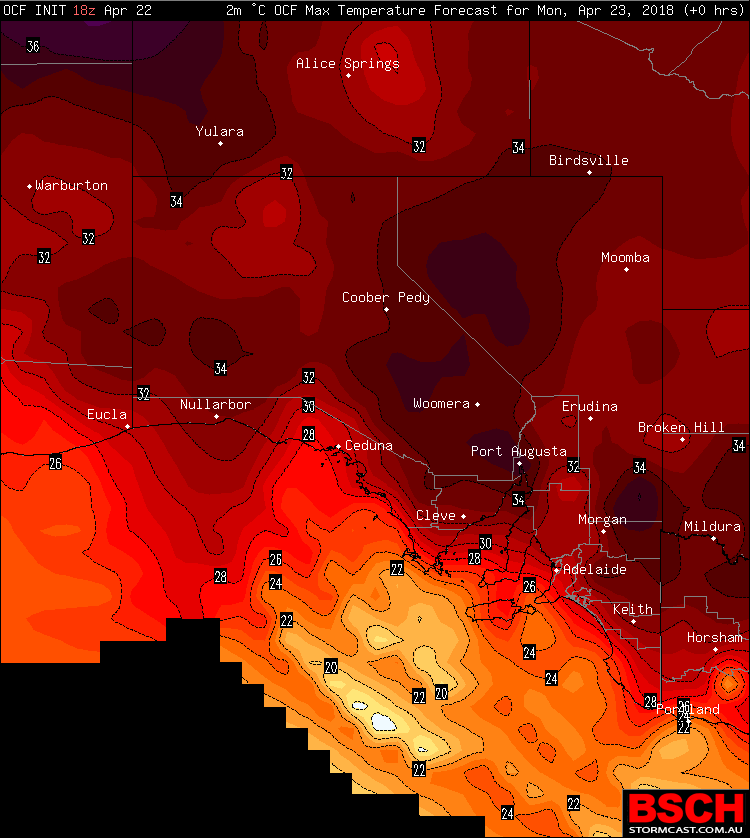 23 Apr

Another very warm April day in SA

[wp_ad_camp_2]
Issued 23rd April 2018.

Yet another very warm to hot day well above average temperatures is expected across South Australia today. Above image via BSCH.
A surface trough will drag very warm to hot North West winds down across the state on Monday. Maximum temperatures are forecast to be up to 10C above the April average across the state. Adelaide is headed for a top temp of 31C while further inland widespread temps between 33 to 35C are expected.
A cooler change will push East across the Western half of the state during the afternoon producing some showers and storms. The change is forecast to reach Adelaide at around 5pm.
During Tuesday the cooler Southerly winds will spread through the Southern half of the state but temps will remain high through the North East. Some showers and isolated storms are forecast across the Southern half due to the trough. Adelaide will cool to 26C on Tuesday then 21C on Wednesday.
[wp_ad_camp_4]