Issued 29th January 2019.

Parts of the Central Coast and North Tropical Coast of Queensland are forecast to receive widespread rainfall totals of 250 to 500mm and up to another 1500mm over the next 5 to 10 days! Some locations have already recorded 500mm of rain and record flooding. Conditions are saturated now and with these very high forecast total widespread flooding is becoming a high risk. Above image: Next 10 day rainfall forecast totals via ECMWF and Windy.com Red = 250+, Black = 500+, Purple = 1000mm+. NOTE: A separate forecast blog is currently HERE
for inland areas!
A Tropical Low is currently located in the Gulf district which is forecast to remain very slow moving. A monsoon trough is located across the Southern Tropics between Mackay and Townsville which is near stationary. A very deep and moist onshore tropical wind flow extends along the Northern and Central coasts of Queensland. This pattern is expected to remain relatively unchanged during the next 3 days.
From Friday onwards the North West monsoon flow is forecast to strengthen significantly across Northern QLD in response to a positive MJO phase across the Western Pacific. In fact the MJO is expected to stall over the Western Pacific for over a week which is rare. A combination of these 2 factors will ensure the Tropical Low across Northern QLD (In the Gulf vicinity) grows in size and intensity. There is a greatly increased risk of tropical Cyclone development in the Gulf and Coral Sea. In the meantime the Monsoon trough to the east of the Tropical Low is expected to traverse between Townsville and Mackay, possibly as high as Cairns again. Below image: Madden Julian Oscillation via CPC phase 6 is over North QLD.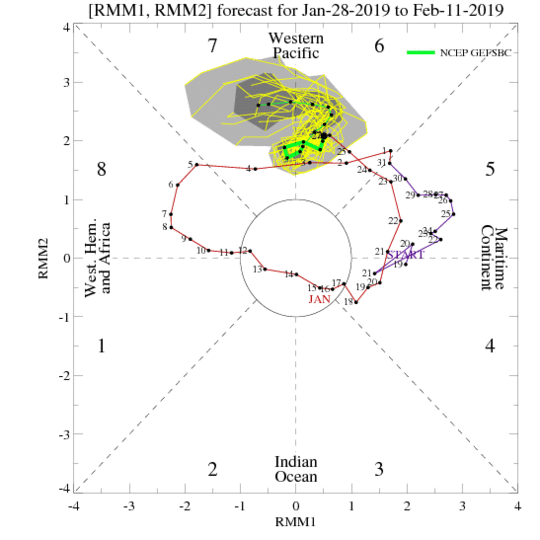 RAIN RAIN AND MORE RAIN!
Every day for the next 10 days rain and storms are forecast across the Peninsula, North Tropical Coast and Tablelands, Herbert and Lower Burdekin Central Coast and Whitsundays districts. DAILY rainfall totals of 100mm likely and up to 250mm under the monsoon troughs location which may lead to flash flooding. 5 day rainfall totals of 250 to 500mm from Proserpine to Cairns with falls as high as 1000mm possible which is likely to lead to flash flooding and river flooding – we could include inland areas such as Collinsville, Georgetown and Charters Towers. 10 day rainfall totals of 500 to 1000mm from Mackay to Tully with falls as high as 1500mm is cause for a high risk of river flooding possibly MAJOR flooding.
While this is not a cyclone with the extra risks wind and surge, the rainfall forecast figures are double to triple the amount. This system has the potential to become life threatening due to severe flash flooding and major river flooding. We are advising the people of Central and North QLD to remain vigilant during this time. Keep a VERY close eye on daily forecasts and live warnings as critical situations can unfold in just a few hours!
We will continue to pass on live updates through our facebook page, group, website and app. Please stay safe everyone there is a long way to go yet…