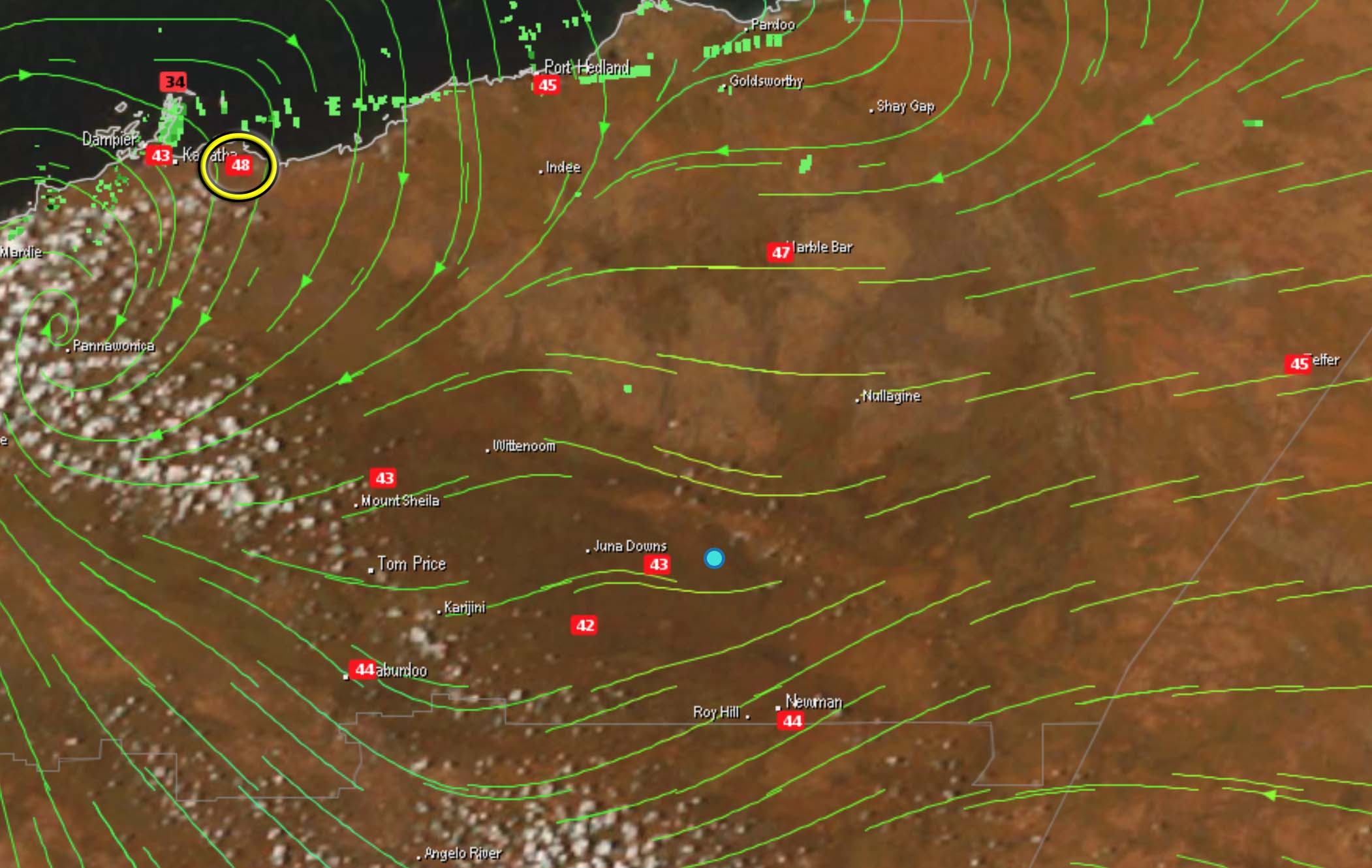 10 Mar

Australian March Record Broken In The Pilbara
The Pilbara has copped some absolute furnace-like heat today with temperatures scorching to those normally experienced in the peak of Summer! This was all brought on by a surface trough located near the Pilbara Coast drawing in hot, dry, desert heat across the region for an extensive period of time which allowed temperatures to continuously scorch. Roebourne was the pick of the bunch though, breaking the Australian March Record of 47.8ºc set back in 2007 and 1998! Above image via Weatherzone, the yellow circle shows the 48ºc captured at Roebourne during the afternoon.
Top Temperatures:
• Roebourne 48.1ºc – New State & Australian Record!
• Marble Bar 47.4ºc – New March Record
• Onslow 47.2ºc – New March Record
• Port Hedland 47.0ºc – New March Record
• Telfer 46.3ºc – New March Record
• Wittenoom ~46.0ºc – New March Record
• Karijini North 45.8ºc
• Christmas Creek 45.7ºc
• Paraburdoo 45.7ºc
• Karratha 45.5ºc – Second hottest March day
• Mandora 45.5ºc – 0.1ºc off the March Record
• Fortescue Dave Forrest 45.3ºcLearmonth 45.2ºc
• Newman 45.2ºc – New March Record
• Warburton 44.8ºc – New March Record


• Degrussa Aerodrome 44.6ºc
Notes:
• 4 of the 12 recordings of 47ºc+ in March for Western Australia have occurred today.
• Roebourne has broken its March record of 47.8ºc with records dating back to 1957. Roebourne has also broken the State and Australian record of 47.8ºc set by both Carnarvon, WA in 2007 & Roebourne itself in 1998!
• Marble Bar (118), Port Headland (109) both have records dating back over 100 years, Onslow over 75 years, Telfer over 50 years, Newman and Warburton around the 40-45 year mark.
• A side note worth mentioning, Marble Bar has now officially recorded 107 consecutive days above 100ºF (37.8ºc). Their world record of 160 consecutive days will take some beating, but another 7 days above 100ºF are expected to stretch the run to 114+ days and it wouldn't be a shock to see the 122 day run a few years ago get a run for its money.
[/fusion_text][/fusion_builder_column][/fusion_builder_row][/fusion_builder_container]