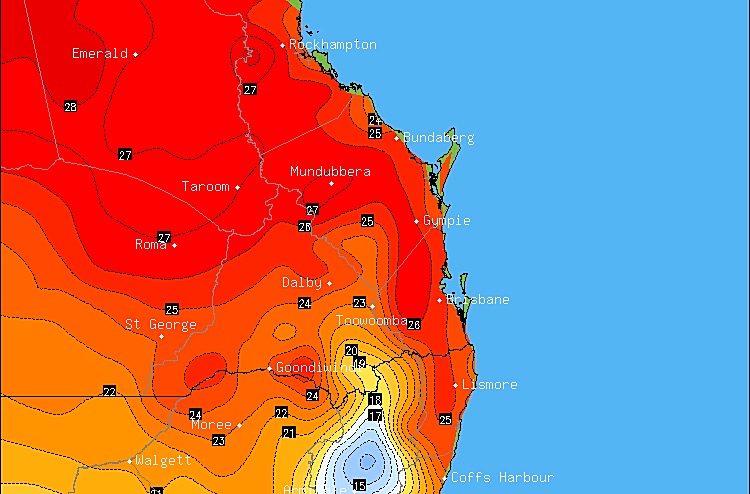 17 Jul

Above Average Temps In QLD Before A Cool Change Wednesday
Issued midday 17th July 2017.
Queensland, more specifically the Southern half of Queensland is about to see Summer temporarily return on Tuesday. A North-Westerly breeze is expected to flow through parts of Southern and especially South-Eastern QLD which is expected to produce well above average temperatures across the region. These temperatures, which are likely to reach the mid 20's for most areas are expected to be around 5-6ºc above average. These kinds of temperatures, especially with a warmer breeze in place, will make it feel more like Summer (even compared to the rest of Winter so far). Above image via BSCH / OCF – forecast maximum temperatures for Tuesday.

[wp_ad_camp_1]
In addition to the well above average temperatures, a weak surface trough across South-East QLD may also help trigger some isolated to possibly scattered showers through areas South of Brisbane, Toowoomba and Dalby during the afternoon and evening. There is a good chance of these showers occurring, although they are expected to be hit and miss, and also quite brief and light (resulting in falls generally of less than 5mm). There is also the potential for a few brief storms to develop in amongst the shower activity, however the overall setup is far less favourable than what was experienced on Saturday just gone. Any storms that do develop should only produce locally moderate to heavy brief falls. Areas North of Brisbane, Toowoomba and Dalby and are expected to be left high and dry with next to no shower activity expected
[wp_ad_camp_3]
On Wednesday, Winter is expected to return to Southern QLD with a cool change pushing through drawing a South-Westerly wind change behind it. These South-Westerly winds, notorious for producing much cooler conditions are expected to drop temperatures by as much as 7ºc for most areas and up to 10ºc in Northern NSW. The temperatures expected on Wednesday are likely to be below average for most areas South of Longreach to Bundaberg for this time of year and especially over the Darling Downs and Granite Belt where places like Dalby and Miles could see temperatures of 2-3ºc below average and Stanthorpe up to 4ºc below average. Despite the colder temperatures, conditions are far too dry for snow to occur. There is the chance of some light frost over the Southern Downs and Granite Belt on Wednesday morning also.
[wp_ad_camp_4]
CLICK HERE TO BECOME A HIGGINS STORM CHASING SUBSCRIBER