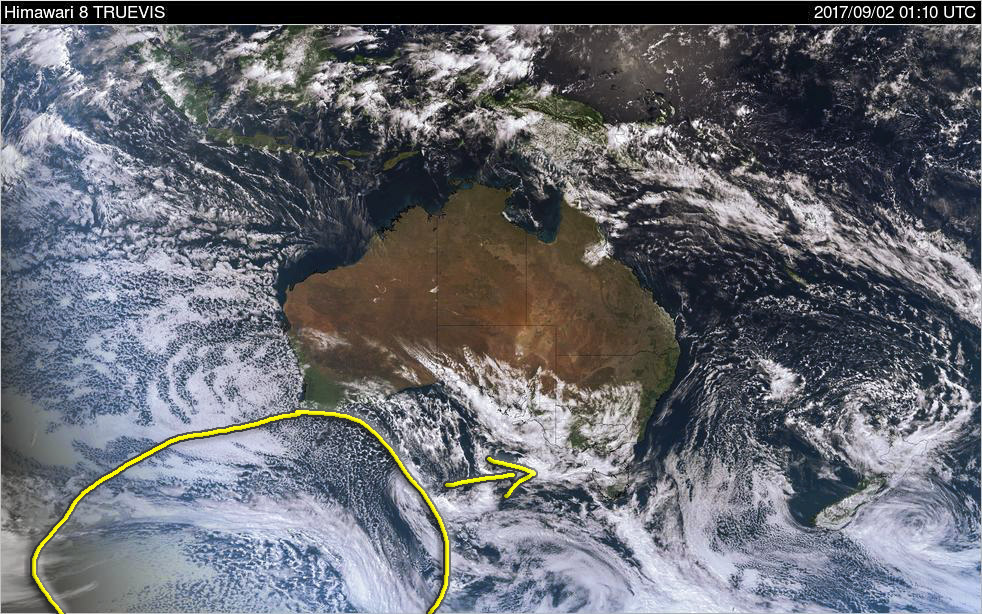 02 Sep

This could be the biggest snow dump for 2017!
Issued Saturday, September 2nd 2017.

A cold front is expected to move through South Eastern Australia this weekend making way for potentially the biggest snow dump of the 2017 Season. Above image – Current satellite via BSCH of the cold pool moving across the Bight.
[wp_ad_camp_1]

As of Saturday midday, a low pressure system is situated over the Central / Southern Bight, South of the WA / SA Border. This cold front is expected to push towards the South-East and push South of Tasmania during Sunday and Monday. A cold front linked to this low is expected to sweep South Australia on Saturday & Sunday, and through VIC / TAS and Southern NSW on Sunday and Monday bringing widespread strong winds to damaging winds, showers and hail. Its the activity behind it though that is of interest…
[wp_ad_camp_3]

Behind the cold front, an extremely large area of very cold Antarctic air (-39ºc at 17,000ft) is expected to push through and produce cover all of TAS, VIC and Southern NSW from late Sunday until Tuesday. The system is likely to produce low level snow down to 300m across TAS, 400m across VIC and 500m across Southern NSW during the peak of the system, with flurries possible 100m lower in all regions, along with likely heavy snow and blizzard conditions across the Alps. In Victoria, snow is expected to fall in Ballarat where up to 5cm is forecast, while up to 10cm is expected over the Otway's South-West of Geelong. Snow is also likely over the Dandenong Ranges.
More than 100cm is likely across the NSW Snowy Mountains between Sunday and Thursday as residual snow showers continue between Tuesday and Thursday, while 80-100cm is expected over the VIC Snowy Mountains. Falls of 50-70cm are likely across the Cradle Valley in Tasmania with widespread good falls of 25cm+ covering the Western half of TAS. All areas may also see higher totals.
[wp_ad_camp_1]