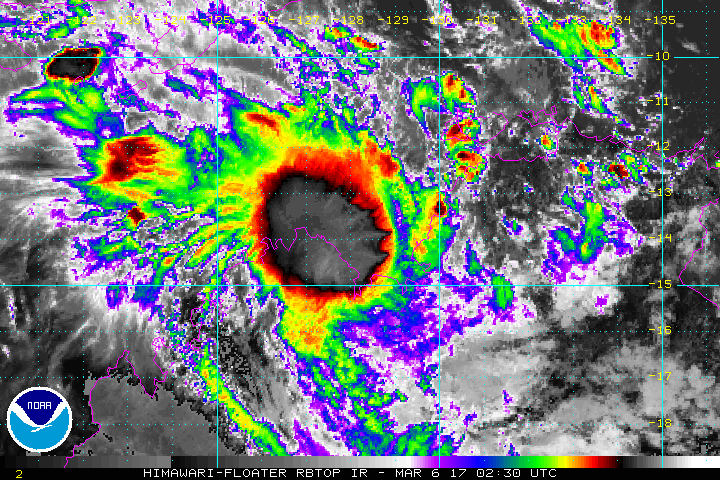 06 Mar

Blanche makes landfall!
Tropical Cyclone Blanche just before 11am officially made landfall on the Northern Kimberley Coastline as a Category 2 system between Wyndham and Kalumburu bringing damaging to destructive winds and flooding rain. Above image – Rainbow satellite imagery via NOAA
Tropical Cyclone Blanche became the first system of the 2016/17 Season to make landfall as a Cyclone based system with both Yvette and Alfred making landfall as Ex-Tropical Cyclones. Blanche made landfall late on Monday morning approximately 150km NW of Wyndham in the Northern Kimberley.
[wp_ad_camp_3]
The system is continuing to produce heavy rainfall with potential flooding associated with it. Damaging winds with localised destructive winds are also associated the system near its core, this thankfully is in a fairly remote area and will remain fairly remote for a considerable amount of time as it tracks South-West through the Kimberley this afternoon and rapidly weakening.

Over the next 24-36hrs, Blanche and Ex-Blanche are forecast to track towards Broome, with onshore flow wrapping into the Eastern side of the system producing further rain areas and thunderstorms to the Kimberley where falls of 200-300mm are forecast and this is likely to bring further flooding to an already saturated region after heavy rain in December and January brought floods to the region. Blanche is already responsible for producing more than 500mm of rainfall over the Tiwi Islands and falls of 100-250mm over the NW Northern Territory, Darwin itself has largely escaped the deluge of rain with 120mm in the last 3 days.
[wp_ad_camp_1]