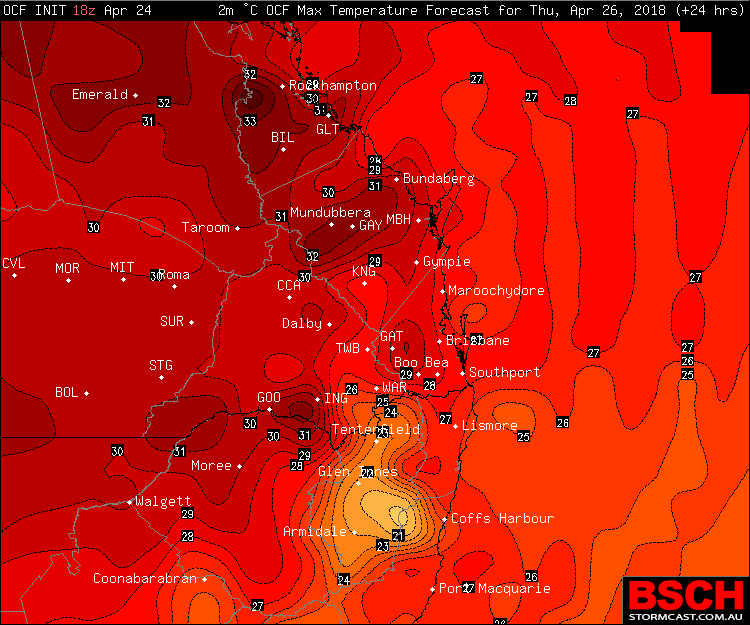 25 Apr

Brief Warm Period for SEQLD Before Temps Cool Down
After a brief taste of what Autumn should be like, temperatures are expected to warm back up again across South East QLD before cooling down over the weekend. Above image – Maximums for Thursday via BSCH.
[wp_ad_camp_1]
Over the past week, temperatures have been pretty normal for April across South East QLD with Brisbane averaging 26.7ºc (just below the April average of 27.1ºc) and Ipswich sitting right on its April average of 27.2ºc. This is about to change through as a surface trough becomes positioned a little off the Coast and allows the winds to draw in some extra warmth temporarily. This should lead to maximums on Wednesday becoming slightly above average by about 1-2ºc and then further on Thursday by a few degrees more as maximums potentially push the 30-31ºc mark in some areas. Its essentially expected to be the best of both worlds, as the daytime maximums heat up, clear skies should keep minimums to slightly below average for this time of year (sitting around the low to mid teens depending on your exact location).
[wp_ad_camp_3]
This as stated above though is just temporary. During the weekend, a fresh South to South East breeze is expected to dominate once again and draw in much cooler conditions over the region. The majority of South East QLD is expected to sit around the 24-25ºc during Saturday and Sunday which is 2-3ºc below average for April. Along the Ranges, the temperature may even struggle to exceed 20ºc at Stanthorpe. Night time minimums should remain similar and sitting around 1-2ºc below average also. There is the addition of some very isolated showers becoming possible over parts of South East QLD and the Wide Bay Coast (not all areas though). If any showers were to occur, they should drop the temperature briefly and produce nothing more than a few mm at best.
[wp_ad_camp_1]