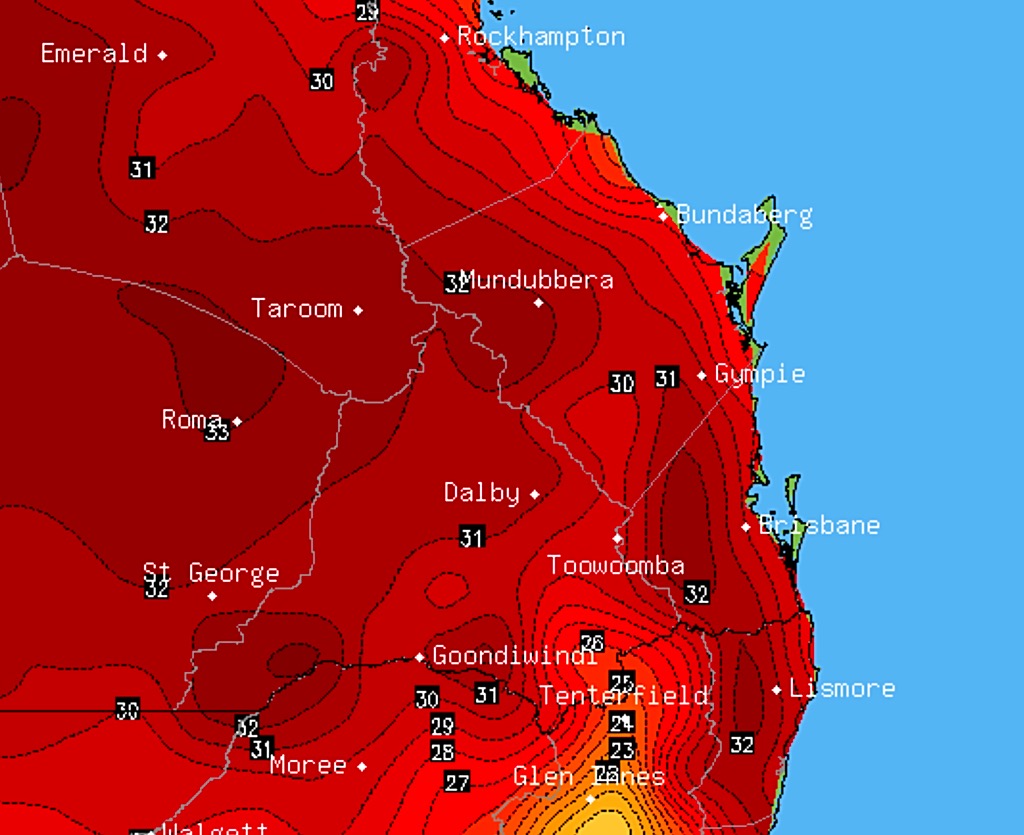 10 Aug

Brisbane Ekka Set To Sweat This Year With Max Temps To 31C!

[wp_ad_camp_4]
Issued Thursday 10th August 2017.

The Brisbane Ekka is typically known for its cold August Westerly winds but not this year with well above average temperatures forecast! A high pressure system will become anchored over the South East this week and well into next week. This high blocks any cold fronts from pushing up from down South while producing fine sunny conditions with mostly light winds. Above image: Max Temps mid next week via BSCH.
The opening days on Friday and Saturday will be fine and sunny with very warm maximum forecast temperatures of 29C. This is 7C above average for this time of year! On Sunday and Monday temperatures drop back a few degrees to 27C while remaining fine and sunny with light winds which will mean perfect conditions.
Some cooler relief will come each day in the form of afternoon North East sea breezes which should kick in any time after about 1pm. Late afternoon and evening temperatures will still be around the 18 to 20C mark.
Tuesday warms back up to 29C but Wednesday and Thursday next week look set to see a peak in the temperatures. Both days are going for a near record top of 31C which is massive 9C above average! It will actually feel hot during the middle of the day especially given its supposed to still be Winter.
[wp_ad_camp_4]
Its hard to say if the afternoon sea breezes will make it in as far as the show grounds on Wednesday and Thursday but winds will be strengthening out of the North to North West ahead of a trough on Friday. Late afternoon and evening temperatures will be a warm 24C. Below image: Max temps up to 11C above average by mid next week via Tropical Tidbits.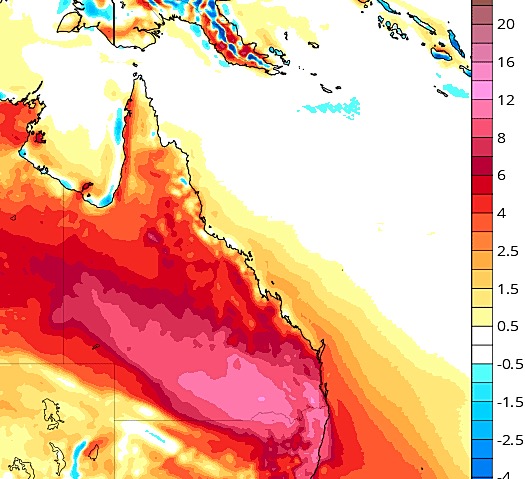 T shirts n shorts for the boys or crop tops n skirts for the girls will be the most popular dress standard at the show this year given the warmer conditions. Remember these temperatures are forecast for in the shade so don't forget to slap on the sunscreen and wack on a hat as the UV or sunburn index will be high!
From Friday through until Sunday next week during the last 3 days of the Ekka, temperatures are forecast to return to normal with around 22C expected at this stage.

[wp_ad_camp_2]