UPDATED 6pm 9th March 2018 Tropical Cyclone Hola has weakened from a category 4 to a category 3 system and is forecast to maintain this intensity during the next 24 to 48hrs. TC Hola is expected to pass close to New Caledonia and over the Loyalty Islands. Above image satellite via NOAA.
TC Hola impacted Vanuatu on Wednesday as an intensifying category 2 system with destructive winds, heavy rain and flash flooding. Significant damage to crops and some property has been reported. It then rapidly intensified into a category 4 system before weakening again during Friday.
Right now Hola has turned towards the South East which will bring the system near to the East Coast of New Caledonia and over the top of the Loyalty Islands.
TC Hola on current forecast track as a category 3 is expected to bring destructive wind gusts to 185km hour, heavy rain, flooding and storm surge to the Loyalty Islands late Friday night and during Saturday. Below image via JTWC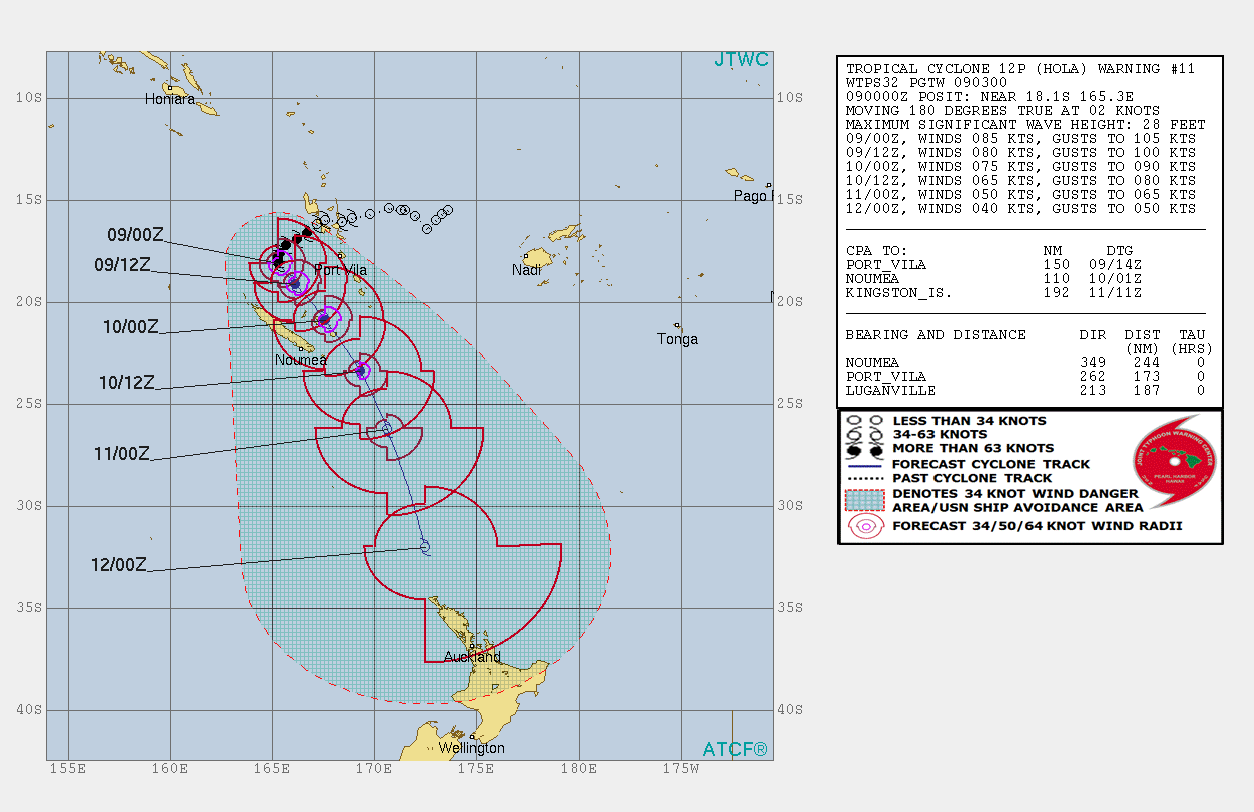 The entire stretch of New Caledonia's East Coast is forecast to receive damaging winds up to 100km hour, heavy rain and some flooding from the system due to being in very close proximity.
ALL people living in New Caledonia need to prepare for possible Tropical Cyclone impacts.
ALL people living on the Loyalty Islands need to prepare for likely severe Tropical Cyclone impacts. Seek shelter in a very sturdy structure preferably made from concrete. Evacuate to the higher ground away from the ocean foreshores due to storm surge and waves which may cause coastal inundation.
Any direct impact with the cyclones core will result in damage. We are urging people to stay up to date with the latest warnings via meteo New Caledonia here.