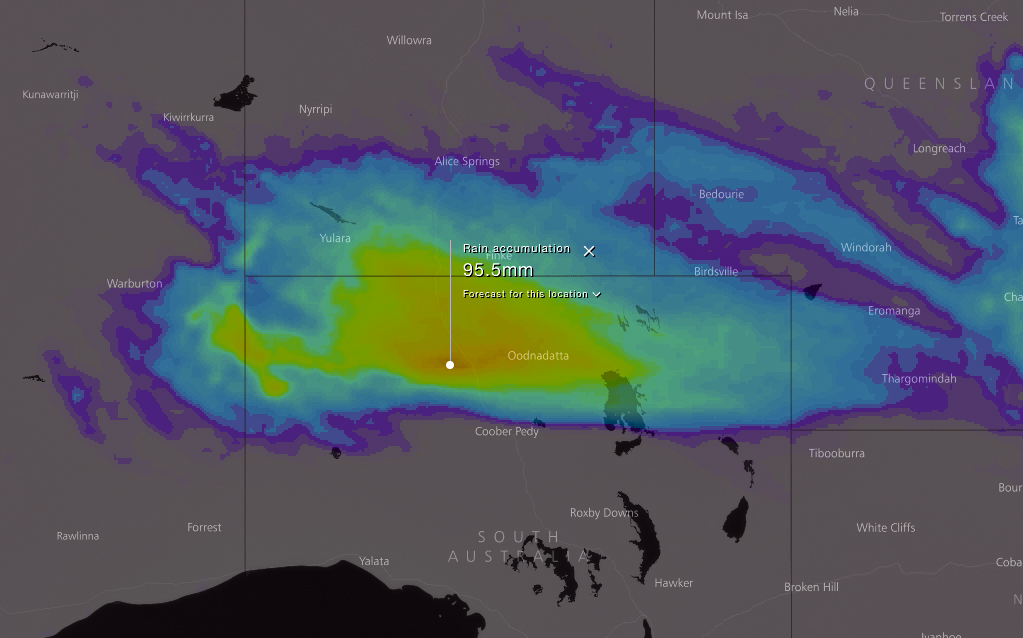 28 Sep

Central Australia to receive a Rain Dumping
Issued 7pm Thursday September 28th 2017.

It looks like Central Australia is about to receive some much needed offseason rainfall to liven up the area! Above image via WindyTV showing the next 6 days of rain (majority falling in the next 48hrs).
[wp_ad_camp_1]

A surface trough is expected to become established across Far Southern areas of the NT during Friday before slowly moving North during Saturday to be situated across the Central NT. Across Southern WA, an elongated high pressure region is expected to have a ridge extending into the Great Australian Bight, along with a strong moisture fetch from the Northern Indian Ocean. This combination is likely to pump high levels of moisture across SA into the Trough over the region.. producing showers and rain periods, while an increase in instability along the trough is expected to also help produce some isolated to possibly scattered thunderstorms which may locally enhance rainfall totals – particularly over the Southern NT.
[wp_ad_camp_3]
Falls of 25-50mm are likely during Friday, with localised higher totals possible. These kinds of 24hr falls across that area have the potential to produce flash flooding. The bulk of this is likely to occur over Northern SA with good falls also around Uluru and Alice Springs. During Saturday another 10-20mm is expected with the bulk of that likely occurring during the morning. Grand totals between 40 and 70mm are expected (whether or not they fall in gauges is another thing as there are very few official rain gauges in the region). Isolated higher totals are possible.
[wp_ad_camp_1]
This will eventually become part of a system that is expected to produce some good rainfall over parts of South-Eastern QLD.