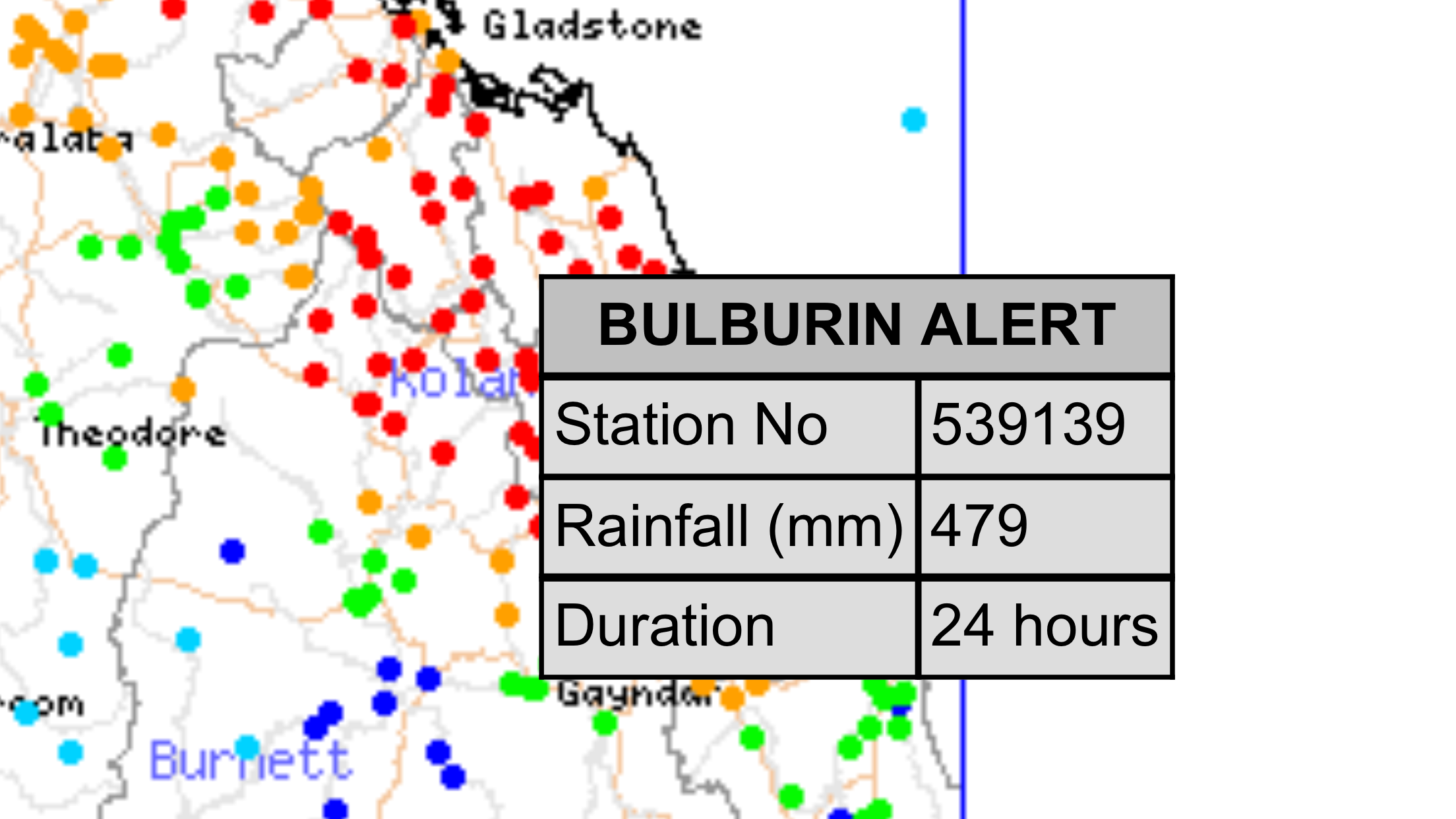 21 Oct

Central QLD Rain Summary
Central QLD (mostly across the Capricornia) has seen some of the most significant October rain in living memory after a 48hr deluge smashed records! Above image via BOM
SUMMARY: Showers and isolated storms across Sunday (October 16th) produce reasonable falls across the region (the region for this blog being Mackay / Bowen to Hervey Bay). The heaviest falls came from around Bundaberg where some partially stationary activity produced more than 100mm. During Monday and Tuesday, the heavens let loose, with moderate to heavy rain areas lashing the majority of the Bundaberg to Yeppoon region.. it started between Gladstone and Bundaberg where heavy falls and stationary storms produced phenomenal amounts of rain, this then slowly moved into Gladstone in the early hours of Tuesday and Rockhampton / Yeppoon during Tuesday whilst still lashing the Miriam Vale, 1770 region. Several stationary storms were identified, and these produced record breaking phenomenal amounts of rainfall across the region.
STATS:
There were 642 official rainfall gauges in the region, most of which were quiet due to the Central Coast & Whitsundays somewhat completely missing the rain event… of those 642 gauges though…
• 94 recorded 200mm+
• 44 recorded 300mm+
• 23 recorded 400mm+

• 5 recorded 500mm+
Out of the 5 that recorded more than 500mm across the rain event… Bulburin topped all of them with an incredibly 743mm, Makowata not so closely followed with 644mm, Miriam Vale 549mm, Westwood Range 542mm and Springfield 505mm. Its worth noting that SEVERAL unofficial reports of more 600-750mm around Miriam Vale were sent into the page and into local Facebook groups.
Across the days…
• 138 towns recorded at least 100mm in a single day
• 24 of those towns recorded at least 200mm
• 3 of those recorded at least 300mm
• and a town (Bulburin) recorded more than 400mm in a single 24hr period
Again, its worth noting that there were SEVERAL reports coming out of the Miriam Vale region of 400mm+ in a 24hr period. Its also worth noting that there are no official gauges at Turkey Beach, however there were dozens of reports sent into the page of people recording more than 300-350mm in 6hrs with their gauges overflowing!
Its also worth acknowledging Miriam Vale as the only town to record back to back 200mm days (268, 228), and Bulburin was the only town to record a 100mm treble (142, 479, 106).
Granted, the Bureau of Meteorology is analysing the data out of Makowata and Bulburin to 100% undoubtedly confirm the extreme rainfall totals (this is just a precaution and happens all of the time). However, if these totals were to stand. Bulburin will have the 2nd highest October daily rainfall in history for Australia (behind Pacific Heights, QLD in 1914 – 551mm). Makowata (389mm) will have the 8th highest for QLD in history and just outside the top 10 for Australia.
The phenomenal rainfall broke numerous records across the region, which isn't that surprising. It also lead Bundaberg to recording its 3rd 100mm day and the heaviest rainfall for the month – both since January 2013. Its also a record breaking month for Bundaberg, almost doubling the previous record! The rainfall also lead to significant flooding, with many rivers and creeks around the Kolan River, Baffle Creek and Lake Monduran. People were evacuated due to the flooding around Baffle Creek as levels neared record breaking proportions. Thankfully the flooding has since subsided back to minor flood levels and continuing to ease.