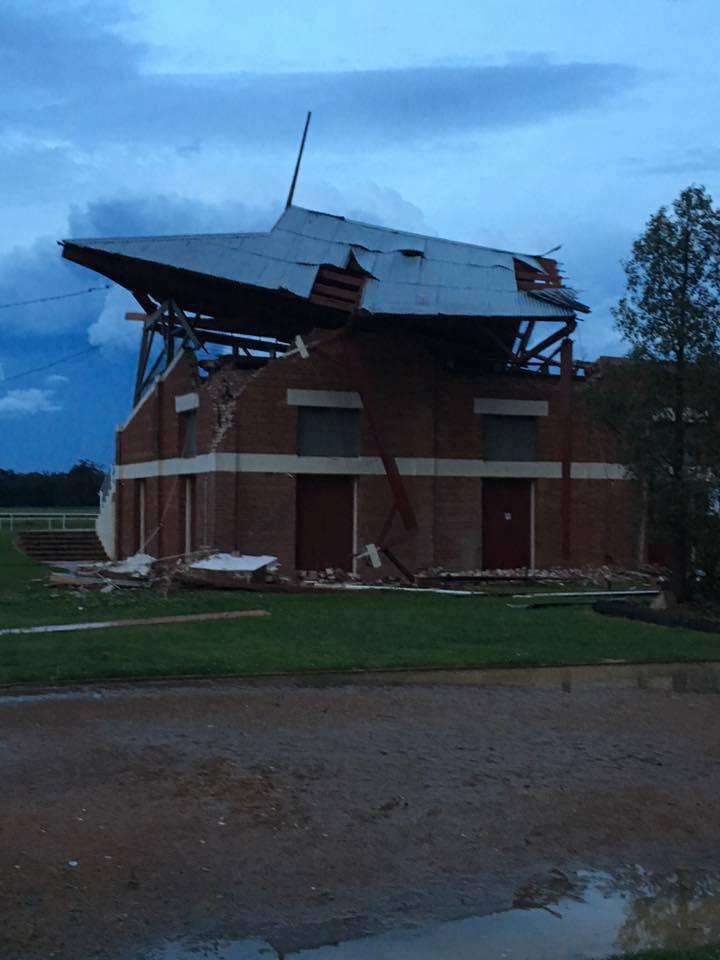 21 Oct

Clean up begins after Parkes Tornado and Young Supercell

The damage bill is expected to climb through both Young and Parkes in Southern/Central NSW after violent storms hit the region. Above image via Mike Phillips of the Grandstand at Parkes Racecourse

During Friday evening, a cluster of severe thunderstorms across the NSW SW Slopes and Plains + CW Slopes and Plains rapidly intensified. These storms developed into Supercells though the assistance of rotation in the atmosphere provided by a trough/low combination to the West and low level turning in the atmosphere through the region directly.

Parkes was the first town hit, with the Supercell roaring into town virtually smack on 7pm local time. While the town itself was battered by large hail up to 3cm and damaging to locally destructive winds which brought down trees, powerlines and blacked out at least half the time. The reports circulated around the possibility of a Tornado hitting the local racecourse. While the tornado was likely rain wrapped and hard to see, multiple reports came forward and these were backed up by damage photos which show clear tornado-like damage to the racecourse. Other houses suffered damage also, while cars were damaged from both the wind and hail.

Shortly after, another Supercell entered Canowindra, to the South-East of Parkes. While minimal reports have come out of Canowindra it would appear as though the cell weakened as it hit town. The view from afar though was certainly one of 'wow'.

 

At around 8:45pm a rapidly rotating Supercell directly hit Young. This supercell wasn't showing any signs of tornadic production – at least not as much as what Parkes showed. However the cell did produce an avalanche of hail with hailstones between golf ball and tennis ball size (4-6cm) confirmed by numerous locals in and around town. These hailstones smashed car windows, dented cars, shredded trees and smashed tiles/windows on houses.