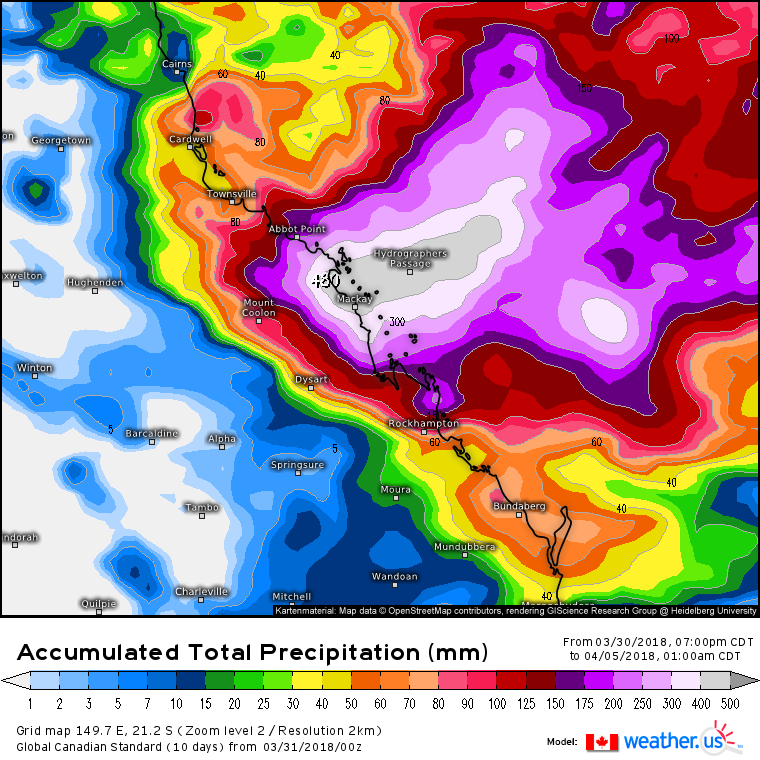 31 Mar

Coastal QLD placed on Flood Watch ahead of Iris impact
Coastal parts of QLD between Cooktown and Burnett Heads have been placed on a Flood Watch as conditions are likely to deteriorate over the coming days ahead of Ex Tropical Cyclone Iris nearing the Coast and producing heavy falls. Above image via weather.us showing the Canadian Model (seems to be the best representation of rainfall totals for now) for Coastal QLD.
[wp_ad_camp_1]
For the past several days, models have been unsettled with the rainfall prospects. The heaviest rainfall in these systems generally occurs South of the system itself as onshore winds wrap around the Southern and Western flanks of the system and draw moisture onto the Coast. While models are in agreement that over the next 48 hours (Sunday and Monday), Ex-Tropical Cyclone Iris is expected to move towards the North QLD Coast… its beyond that point that they are disagreeing greatly – some keep the system near the North QLD Coast, others wash the system out and some are drawing it back down towards the Central QLD Coast.
So what does this mean for rainfall? well it seems inevitable that the Central Coast and Whitsunday region is expected to cop the onshore winds and rain areas for the longest period of time. Falls of 150-300mm are being indicated by most models between St Lawrence and Bowen including Mackay, Airlie Beach, Proserpine and Sarina – this does include the potential for 100-200mm daily. There is also the potential for higher falls locally. This kind of rainfall has the potential to produce flash flooding along with river and creek rises which may exceed minor or moderate flooding depending on EXACTLY where they fall.
Models are also greatly varied for the Northern Tropical Coast and the Capricornia Coast. Falls of 50-100mm seem the most likely scenario for both areas, however if the low lingers further North for longer, then 100-200mm cant be ruled out along the Northern Tropical Coast.
Given thousands of families are going to be out and about for the Easter period, its advised to have plans in place in case the heavens open up for you. Just because its raining doesn't mean a holiday needs to be ruined, just go prepared and make the most of it! As for travelling home, there is the potential for many road hazards and cut roads, so please drive safely and to the conditions… and most of all, turn around don't drown!
***Note: Copyright material NOT for media use, broadcast or republishing without express permission from Higgins Storm Chasing***