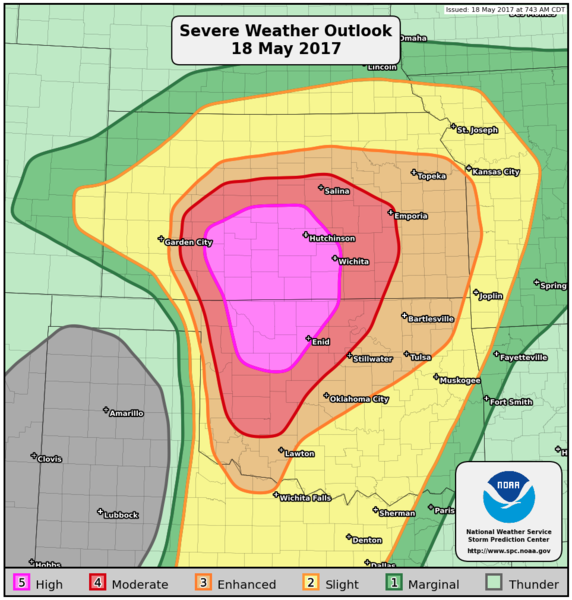 19 May

Very Dangerous Day ahead for the United States
Today (Thursday May 18th) has the potential to be a very dangerous severe weather day across the United States with a "High Risk" being issued by the Storm Prediction Center for the first time in 5 years across the Central/Southern Plains, with the words "Tornado Outbreak" being used. Above image via the Storm Prediction Center Public Outlook
A 30% hatched tornado risk has been issued by the Storm Prediction Centre which is very significant. This essentially means 1 in 3 storms within that area should produce a tornado and its likely they'll be strong. A 45% hatched hail risk has also been issued along with a 30% hatched wind risk.
[wp_ad_camp_4]
Synoptically speaking, a dry line across South-West Kansas, Western Oklahoma is forecast to combine with a warm from spreading West to East through Kansas to create an area of extreme instability and potent turning winds in the atmosphere. This combination is likely to trigger thunderstorms in the early to mid afternoon across North-Western Oklahoma near the dry-line trough and push them quickly into Southern Kansas where conditions are favourable for rapid Supercell development and a dramatically increased tornado potential.
[wp_ad_camp_1]
From the Storm Prediction Center and National Weather Service the threats are dramatic and justified… Giant hailstones greater than 4 inches in diameter (softball size / 10cm), destructive wind gusts of more than 80mph (130km/h) and numerous tornadoes, some likely to be long-tracked and strong. While there is some potential for storms to both develop too quickly and too close together which will lessen the overall threats… the outlook is beyond justified though.
With more than 1.5 million people under either a Moderate or High Risk, we can only hope that everyone stays safe and weather aware on what is likely in one way or another to be a very dangerous day.
[wp_ad_camp_3]