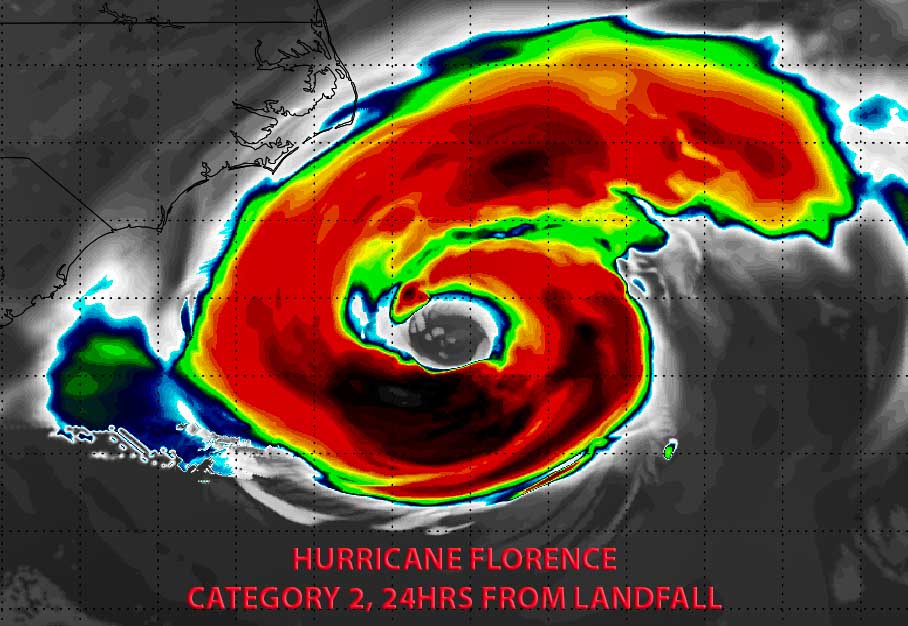 13 Sep

Dangerous Potential 24hrs Out From Life Threatening Florence Landfall
Issued 6:30PM Thursday September 13th 2018.

Hurricane Florence has thankfully weakened significantly over the past 6-12 hours, but the life threatening risk is still massive in regards to catastrophic flooding and storm surge. Above image: Simulated Satellite via HWRF / Tropicaltidbits.
[wp_ad_camp_3]
Over the past 12 hours or so, Florence has interacted with some unfavourable conditions that have allowed the system to thankfully weaken. It has significantly weakened from a Category 4, almost Category 5 beast, into a now Category 2 system. In saying that, the system is still likely to produce 110mph (175km/h) winds on landfall, with higher gusts likely. The issue was never about the wind though, thats just a side note with a system like this.
[wp_ad_camp_1]
[wp_ad_camp_4]
The big threat, has always been, and is still, the CATASTROPHIC FLOODING and EXTREMELY DANGEROUS STORM SURGE which are highly likely to cause a SIGNIFICANT risk to human and animal life. Residents are continuing to be ordered and pleaded to evacuate off the Coastline of both North Carolina and South Carolina. Why the system is still posing this horrific threat is because a ridge (as expected) has built to the North and West. This has helped cause the system to weaken, but its also expected to make the system slow down and even stall ON LANDFALL, and then cause Florence to hug the Coast as it tracks slowly South ALONG the Coast.
This will greatly increase the width of the storm surge threat and cause TORRENTIAL rainfall over North Carolina and VERY HEAVY FLOODING rainfall over South Carolina and through adjacent Inland regions of both States. Falls of more than 700mm are likely in isolated areas over North Carolina with widespread falls of 250-500mm from North of Charleston, South Carolina to Morehead City, North Carolina including Myrtle Beach and Wilmington. This rainfall is likely to combine with a 6-13/15ft storm surge along the Coastline which is likely to cause a significant and life threatening threat. The combination of these 2 events are expected to be unprecedented for the region and lead to entire buildings potentially being submgered, the geographic landscape of the North Carolina Outer Banks being changed forever, catastrophic flooding which may isolate areas for more than a week along with cut roads and highways, downed powerlines, downed trees and emergency assistance becoming extremely limited in the early aftermath.
We continue to urge people who haven't left, to leave. This kind of event hasn't been experienced before. Yes Hazel produced a bigger storm surge, yes Hugo was a stronger system, yes Floyd was horrific… but none of these systems produced this kind of rainfall and this kind of storm surge together, simultaneously.