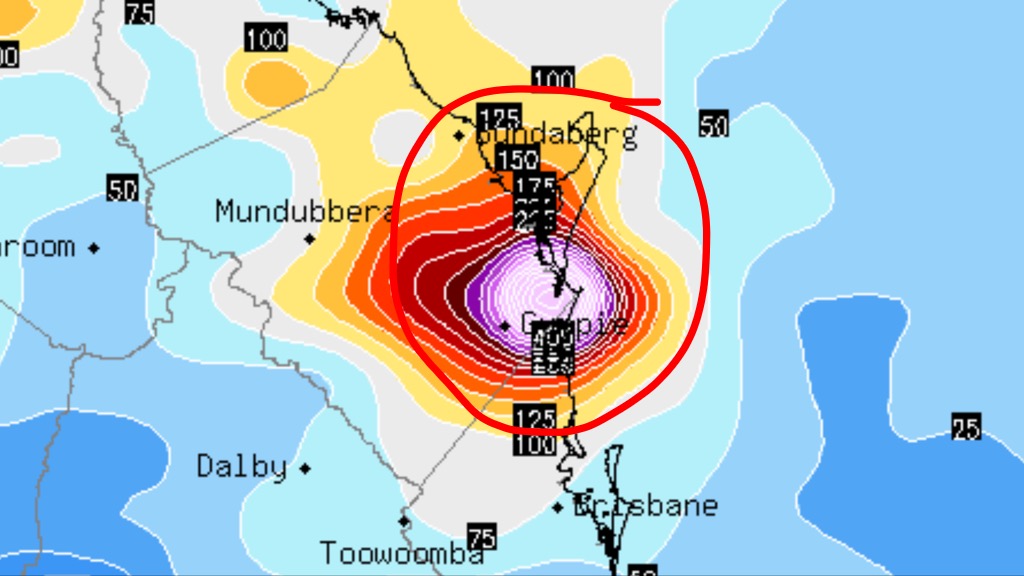 15 Oct

DANGEROUS Storm Potential Seventeen Seventy, Bundaberg to Sunshine Coast !

UPDATED Monday 16th October at 11am. PLEASE READ VERY CAREFULLY!

[wp_ad_camp_2]
"Worse case scenario" A very dangerous thunderstorm with extremely heavy rainfall up to 500mm has the "potential" to develop between about Seventeen Seventy, Bundaberg and the Sunshine Coast on Monday through to early Tuesday morning. (UPDATED: Brisbane has now been removed from the risk area). That also includes Miriam Vale, Hervey Bay, Fraser Island, Gympie and adjacent inland areas at risk. This type of storm could cause SEVERE flash flooding and place lives at risk. The current weather pattern along the South East Coast is producing "favorable" conditions for this type of storm to develop. Similar has happened in recent times to locations such as the Northern Gold Coast Hinterland, Caboolture, Sunshine Coast, Bundaberg and Rainbow Beach causing severe flooding. Above rainfall image UPDATED on Monday morning via BSCH.
[wp_ad_camp_4]
The Global Forecast System computer model has continually forecast the dangerous storm to develop during the past 20 consecutive data sets! In other words it has held this forecast now for more than 4 days straight. GFS is known to be accurate with forecasting these types of "potential" weather events… It's definitely not a guarantee it will happen though, however it is possible that it could occur. EC model is also showing the potential as well though a little further North than GFS with the focus more around the Fraser Island, Hervey Bay and Bundaberg regions. Other forecast models are also showing signs of the forecast potential.
Currently there is a surface trough along the South East and Fraser Coasts producing strong onshore winds with showers and rain areas. Models forecast this surface trough to greatly increase along the South East Coast during the next 24hrs with low level winds strengthening from the East. At the same time an area of Northerly winds develop in the mid to upper levels and this creates and area of increased uplift and turning with height. Warm moist air is fed in at high speed to a concentrated area causing a possible storm with very heavy rain to develop. The storm could then move slowly at first before becoming stationary over an area for a number of hours due to the combination of weather conditions.
HSC has successfully forecasted and warned these types of storm systems in the past so please don't discredit us by saying we are full of shit or scare mongering ok! We are only passing on this potential as we are seeing it from computer model forecast data. "Best case scenario" it doesn't develop at all or stays offshore.
If you live in these areas please keep a very close eye on current weather warnings and live updates during the next 24 to 48hrs. Being forewarned is forearmed. It may not happen but there is an elevated potential and risk it might!
[wp_ad_camp_4]