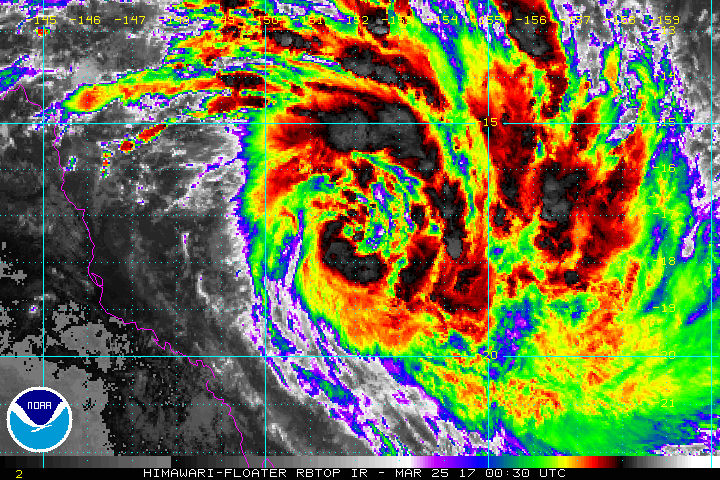 25 Mar

Debbie is born!
Tropical Cyclone Debbie has been officially named as a Category 1 system in the Coral Sea, approximately 500km North-East of Bowen. Above image via NOAA
Over the past 12-24hrs, strong and explosive convection has developed around the low level circulation centre of the system which has wrapped in and allowed the system to develop further. This intensification process and strength is in full alignment with global modelling.
Over the next 24-48hrs, the system is likely to push towards the Northern and Central Queensland Coastline where its CURRENTLY forecast to cross between Townsville and Mackay. A high pressure ridge over the South-West of Queensland is currently the key as to where this system may go. The faster this ridge strengthens, the earlier Debbie will track more towards the West. Global models are also remaining in agreement with the system reaching at least Category 3 strength, possibly Category 4 due to very warm sea surface temperatures of more than 30ºc and low vertical wind shear which will create a very idealistic environment for potentially rapid intensification (which is expected to occur during Sunday).
At this stage, the system is forecast to cross between Townsville and Mackay on either Monday afternoon/evening or early on Tuesday. Very destructive winds of more than 165km/h are likely near where the system crosses along with destructive winds extending a considerable distance from the centre due to its size and overall strength. Heavy to very heavy rainfall of more than 300mm in a 24hr period is likely, possibly more and overall falls of more than 500mm are likely from this system as it then tracks inland according to model agreement. How far inland it tracks will be a question better answered once it nears and crosses the Coast.