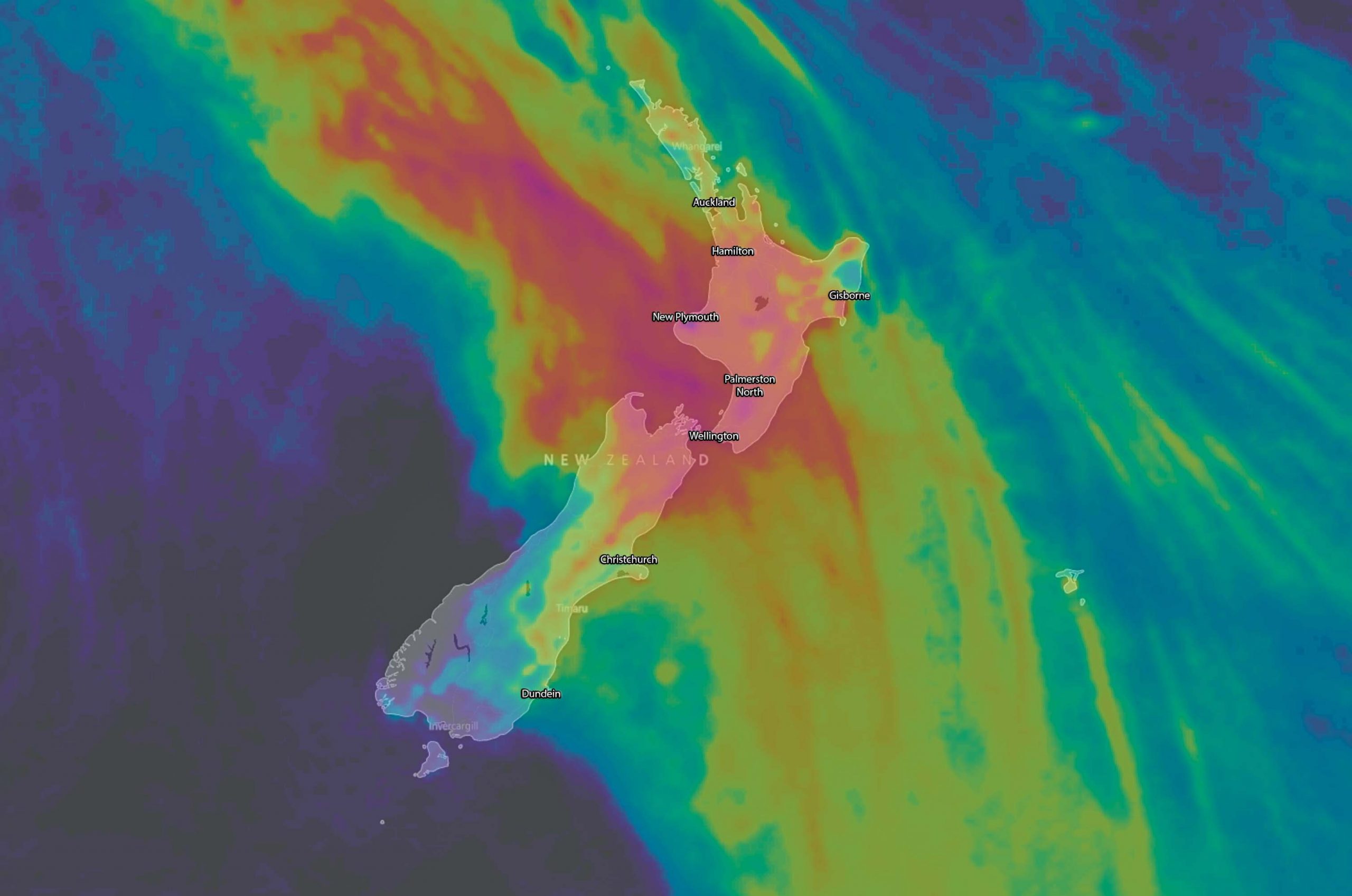 03 Apr

Debbie not done with yet!! Next stop – NZ
Who said Debbie was over?? New Zealand is now firmly in the cross hairs of Debbie as she eyes off the Country for a 3 day stop over, producing widespread severe and dangerous weather covering both Islands, however its the North Island thats most at risk. Above image 6 day rainfall via EC/WindyTV for New Zealand (pink >100mm, purple >300mm)
Across Tuesday, Wednesday and Thursday, widespread heavy rainfall with widespread falls of 100-200mm and isolated falls of up to 400mm are likely across the North Island, while the South Island should see falls of 50-150mm through areas North of Christchurch. This kind of rainfall is likely to result in flooding through areas over the North Island and Flash Flooding across the South Island. Along with the rainfall, is the wind.. damaging to destructive winds gusting between 100 and 140km/h are likely across large parts of the North Island as Debbie crosses the South Island. Dangerous seas and a storm surge are likely to add insult to injury.


[wp_ad_camp_3]
TUESDAY: During Tuesday, Debbie is forecast to be located well North-West of Auckland and remaining on a South-East track. All models are in agreement that a trough is forecast to develop across Northern parts of the North Island during the morning and remain there throughout the afternoon which will likely lead to showers and rain areas increasing, although nothing exceptional is expected rainfall total wise. A clash of winds (generated by a high South-East of Invercargill and Debbie North-West of Auckland) is expected to see gusts of 70-100km/h develop across the Taranaki Bight and Cook Strait during Tuesday morning, increasing to 90-125km/h, possibly higher by the evening. This will include Wellington. Nelson, Palmerston North and Whanganui. Dangerous seas of more than 7m are forecast to be well offshore from New Plymouth, with waves maxing at about 5m closer to the Coast making any ocean work treacherous.
WEDNESDAY: Debbie is forecast to be located West of New Plymouth and still tracking in a South-Easterly direction. Models agree that the trough located over the North Island during Tuesday should drag down towards Wellington and the South Island during Wednesday. Models also agree that a secondary surface low is likely to develop off the East Coast of the South Island during Wednesday, enhancing all severe weather elements across the region. This will likely lead to widespread heavy rain across the North Island where daily falls of 100-200mm are likely, leading to widespread flash flooding and some creek and river flooding. Rain areas are forecast to develop and increase through areas North of Christchurch as the day progresses into night. Falls of 50-100mm are likely across Wednesday through the Northern half of the South Island. Winds across the East Coast (Hastings to Christchurch) are forecast to increase, whilst remaining the same through the Taranaki Bight and Cook Strait with gusts of 90-125km/h, possibly higher. Seas are forecast to turn quite dangerous in the early hours of Wednesday morning, lasting throughout the day across the East Coast also (from Hastings to Christchurch) with waves to 6m likely. There is also a risk of thunderstorms in association with the trough/convergence line. Some tornado/waterspout potential cant be ruled out due to strong turning winds in the atmosphere. The highest threat for thunderstorms will be over the North Island and through areas North of Westport and Kaikoura on the South Island.
THURSDAY: Debbie is forecast to be located South-East of Christchurch and moving away from the country. Strong gale force winds may remain active over the Mountains on the South Island, through Taranaki Bight and Cook Strait along with parts of the South Island, however most of the rainfall is expected to ease apart from some scattered lighter showers. Open waters should remain rough, but conditions closer to shore should be calmer.

[wp_ad_camp_1]
[wp_ad_camp_1]