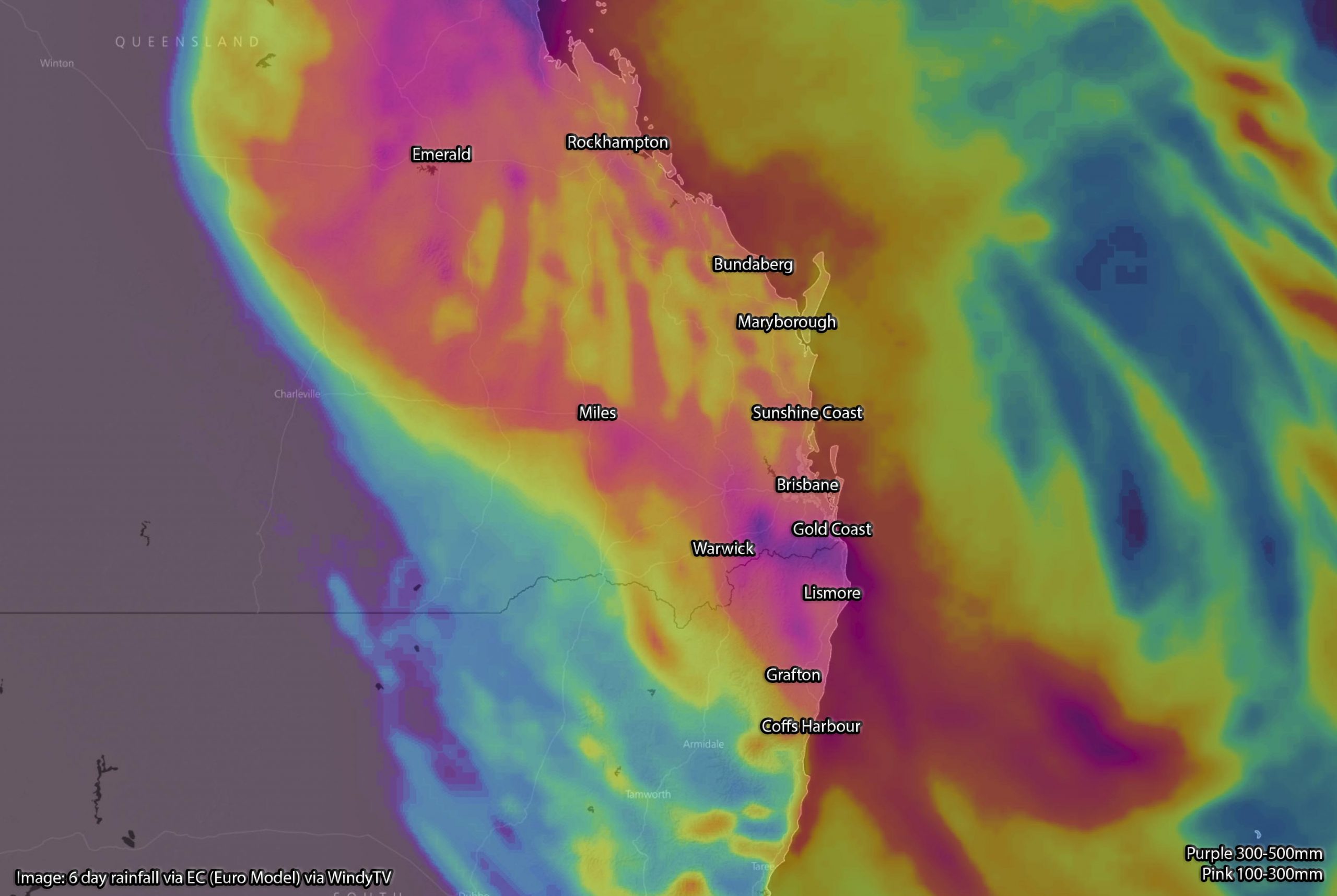 28 Mar

Debbie to drench Central and South-Eastern QLD
Debbie is forecast to leave a lasting imprint on large parts of Queensland with a deluge of rain set to drench Central Inland, Capricornia, Wide Bay, Darling Downs and South-East Coast during the next 48-72hrs (from Tuesday night until Friday morning). Above image 6-day rainfall via WindyTV
Models remain in full agreement that Debbie will weaken from a Category 2 Cyclone at 7pm AEST Tuesday March 28th to a Tropical Depression / Rain Depression during the early hours of Wednesday (March 29th) morning. The remnants of Debbie are expected to track inland towards Central Inland QLD before shifting back South-East over the Central Highlands and through the Capricornia, Wide Bay and South-East Coastal regions. Debbie is expected to move offshore from South-East QLD during Friday and NOT redevelop into a Tropical Cyclone due to very unfavourable conditions.
[wp_ad_camp_3]
Regardless of her strength, status or anything else… she's expected to send a deluge of rain over the entire South-Eastern quarter of Queensland hopefully filling dams, greening yards up and filling those tanks. On Wednesday, the majority of activity is expected to be over Central Inland QLD near the Ex-TC will be located, along with the Capricornia then spreading into the Wide Bay and possibly the Sunshine Coast later on due to a deep onshore flow. Widespread falls of 50-100mm are likely with localised falls of 200-300mm also likely – mainly over Central Inland and Capricornia / Wide Bay Coastal regions.
[wp_ad_camp_1]
On Thursday, as Ex-Debbie moves towards South-East QLD, rain areas are forecast to increase across the Northern Darling Downs (North of Dalby / Miles) and across large parts of the Wide Bay and South-East Coast even extending into the Northern Rivers of NSW. Widespread falls of 50-100mm are likely with localised falls of 200-300mm possible around the Gold Coast Hinterland Ranges.
Areas of severe flash flooding, river and creek rises which may lead to flooding are likely across the Capricornia and Central Inland QLD where roads may also be cut hindering travel. Its advised that people DO NOT drive through flooded waters. Flash flooding is likely across the Darling Downs, South-East Coast and Wide Bay with river/creek rises expected.