Dust storms are likely to impact expansive parts of Northern NSW and Southern QLD during Friday, reaching the Coast on Saturday as a dust haze as a strong surface trough moves through the region creating hot and dry conditions with strong to damaging winds. Above image showing the dust areas overlaid on a wind map for Friday afternoon via Windy.
A surface trough is expected to be postponed across South West & Southern Inland QLD as well as Northern & Central Inland NSW during Friday morning. As the day progresses, this trough is expected to move East and become situated from the Hunter through the NW Slopes and Plains into Southern & Central Inland QLD. This trough is forecast to generate widespread strong to damaging winds of 60-80km/h likely and 90-100km/h possible across Northern NSW and Southern QLD, with the highest gusts most likely around the Ranges. These winds will be very favourable for widespread dust storms across this area during the day.
Dust should first kick up across Eastern SA, Far North West VIC, Western NSW and South West QLD during the morning. It should then move through Inland NSW and South West / Southern Inland QLD during the late morning and early afternoon – reaching the (NSW) NW Slopes and Plains, CW Slopes and Plains Northern Tablelands, (QLD) Darling Downs and possibly the Central Highlands areas during the afternoon. Models are also indicating the potential for dry thunderstorms across Inland NSW which would likely be a source for damaging wind gusts of over 90km/h as well as dry microbursts which will exaggerate dust locally. Dust should reach the Coast overnight Friday into Saturday and linger throughout Saturday across Coastal areas (areas East of the Ranges) from Newcastle to Bundaberg.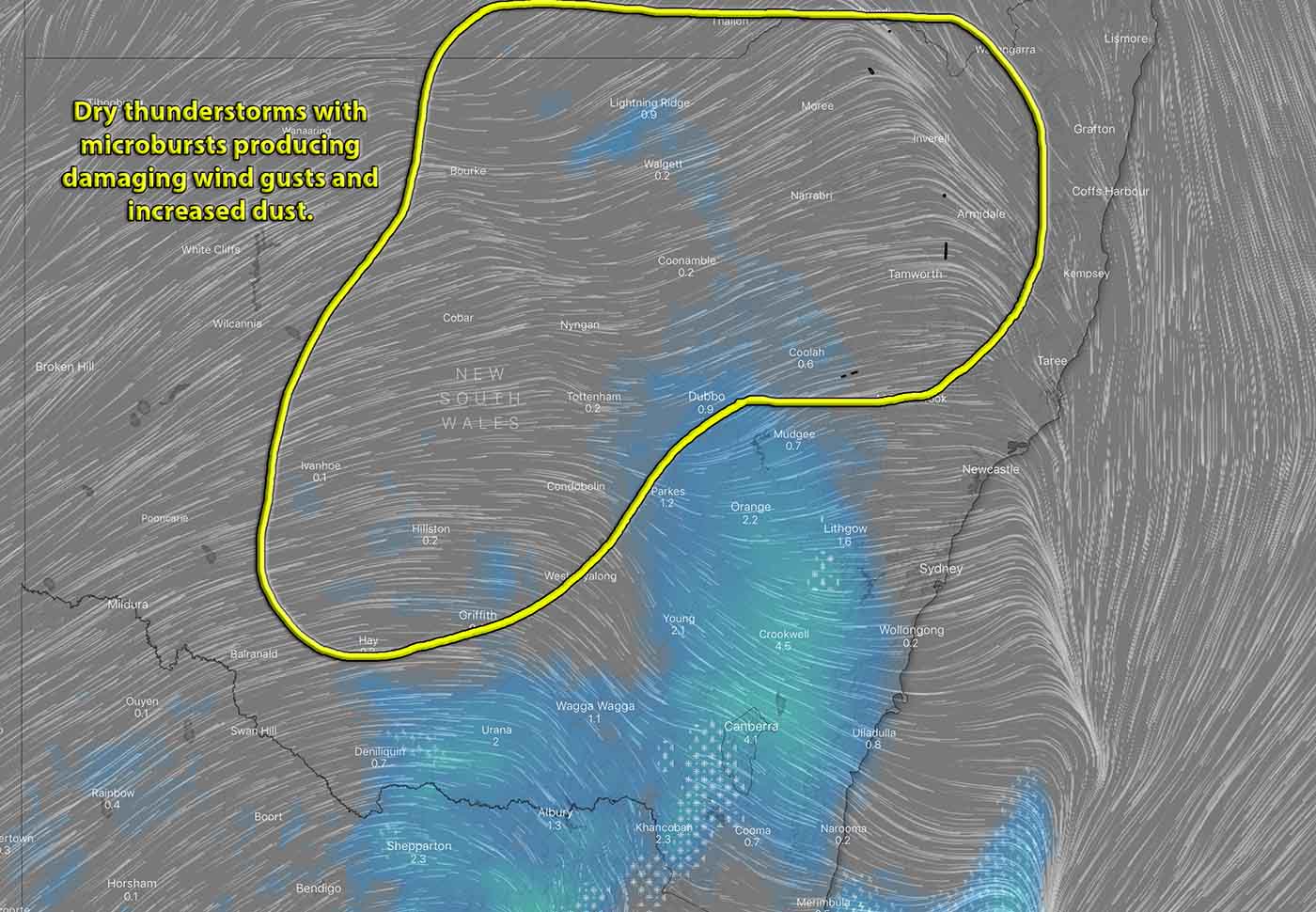 This dust is likely to cause issues for people with breathing problems. For those East of the Ranges, there is every chance the air will be clear for you when you go to bed on Friday night, and then you wake up to intense dust haze on Saturday morning – so its advised to have everything required to cope, already in place and easily accessible.
This setup, whilst extremely favourable for dust storms, is also extremely favourable for widespread dangerous fire conditions. Extreme to locally catastrophic fire dangers are in place for the North West Slopes and Plains, Darling Downs, Warrego & Maranoa with severe fire danger potential across the (NSW) Hunter, Mid North Coast, Northern Tablelands, North West and (QLD) South East Coast, Wide Bay & Central Highlands. Click for Catastrophic Fire Blog.