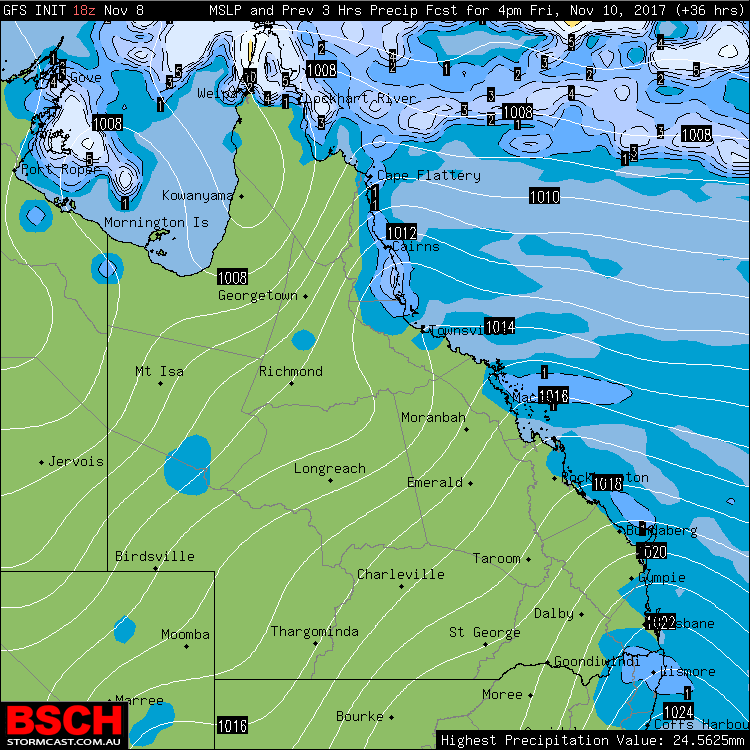 09 Nov

Eastern QLD: Cooler temps, windy with no storms for the next week
Issued 9/11/17:

After a very active period of thunderstorms across Central and Southern parts of Queensland conditions will be much more settled now for the next 7 days. A slow moving large high pressure system in the Tasman Sea will dominate much of the state for an extended period of time. Good news for those cleaning after severe storms caused extensive damage across parts of the state especially in Bundaberg. Above image: MSL pressure chart for Friday via GFS / BSCH.
Below average temperatures for November are forecast across the Eastern half of the state until mid next week. In the South East, conditions will be rather cool for this time of year with maximums between 20 to 25C. Minimums are likely to dip into the single digits across the Granite Belt.
Winds from the South East will tend fresh and gusty at times along the coast while tending slightly lighter East South Easterly over inland districts.
A surface trough will however trigger showers and storms through the Western and Northern inland parts of the state on Thursday and Friday this week before contracting further West out of the state on Saturday.
Onshore winds are likely to produce the chance of some showers along the coast each day for the next 7 days.
The next storm activity is expected to develop across Western and Southern inland parts of the state on Thursday and Friday next week. This is then forecast to shift East into Central and South East districts during next weekend.