Issued 15th May 2019.
A tropical low developed near the Solomon Islands on the 9th of May and tracked South West across the Coral Sea into a favourable environment for cyclone development.
The out of season cyclone Ann developed in the Northern Coral Sea on the 12th of May. It was the latest a cyclone has developed in the Coral Sea since TC Pierre on the 16th May 2007.
TC Ann intensified further against global forecasts become a category 2 for around 12hrs early on May 13th. She also became the strongest cyclone to develop in the Coral Sea this late in May in 26 years. The system continued to track West across the Coral Sea towards North QLD. Below image of when TC Ann peaked at category 2.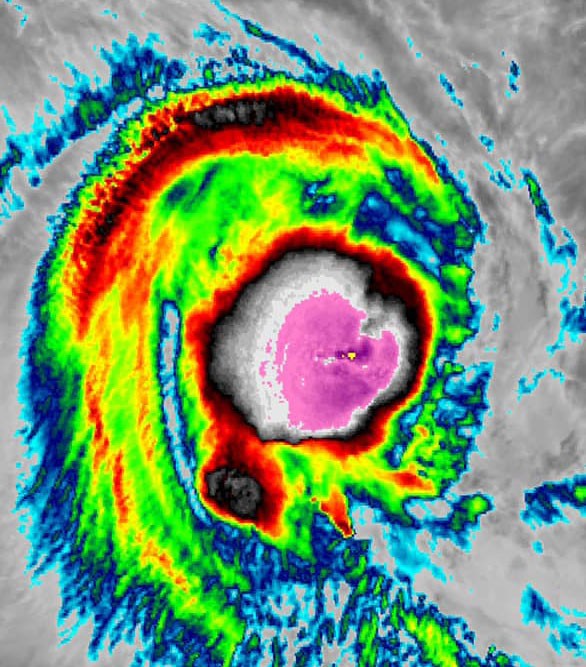 During the day an upper trough impacted the system with much cooer Southerly surface winds and much drier low to mid level moisture which caused a rapid weakening back to a category 1.
On May 14th the cyclone was downgraded to an EX TC or Tropical Low. The strong convection had dissipated largely due to dry air intrusion leaving a low level circulation centre. EX TC Ann continued to be steered towards North QLD under the influence of a sub tropical ridge to the South.
EX TC Ann crossed the Peninsula Coast at Lockhart River at 12noon the 15th of May 2019. The strongest wind gust of 89kms hr was recorded 500kms South of the system at Arlington Reef offshore from Cairns. The system had tracked closer to Willis Island 400kms East of Cairns where a wind gust of 85kms hr was felt.
At Lockhart River the pressure dropped from 1010hpa to 1006hpa within a few hours. Wind gusts went from S at 33kms hr to NE at 48kms hr within 1 hour. Only 6mm of rain has been recorded.
Cooktown has recorded 60mm in 30hrs due to a trough and convergence rain area on the Southern side of the low.
Thunderstorms are developing between Weipa and Lockhart River as the system moves West.
EX TC Ann will continue to track West during Wednesday and Thursday across the Gulf of Carpentaria reaching the Western Gulf near Nhulunbuy on Thursday afternoon. Scattered showers and thunderstorms some with moderate to heavy rain are expected across the far Northern NT during Thursday night and Friday.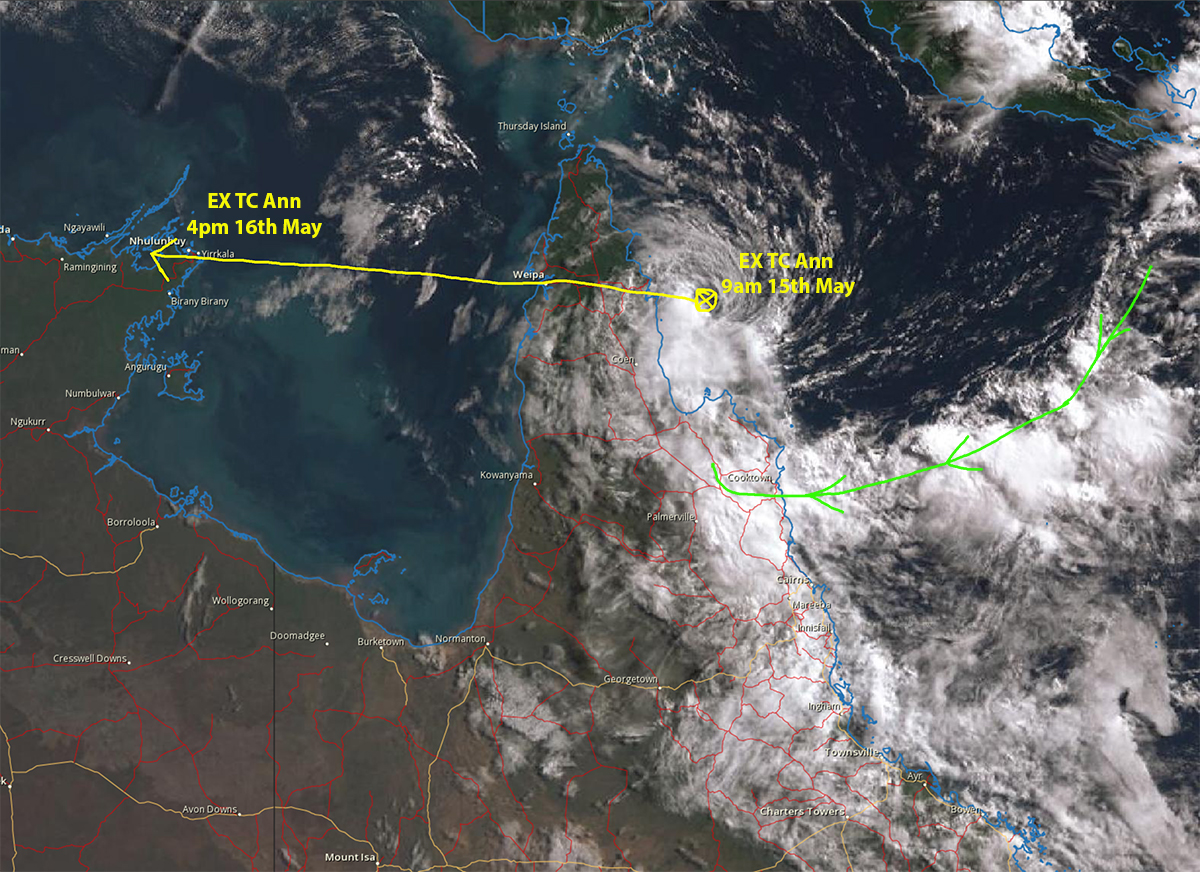 The BOM had issued cyclone watch and warning for parts of the North QLD Coast but downgraded the warnings to a severe weather warning. They are still calling for heavy rain to 150mm in 6 hrs and damaging winds to 90km hr but we are yet to see any of this occur. Below image: Observations when EX TC Ann passed over Lockhart via BOM.