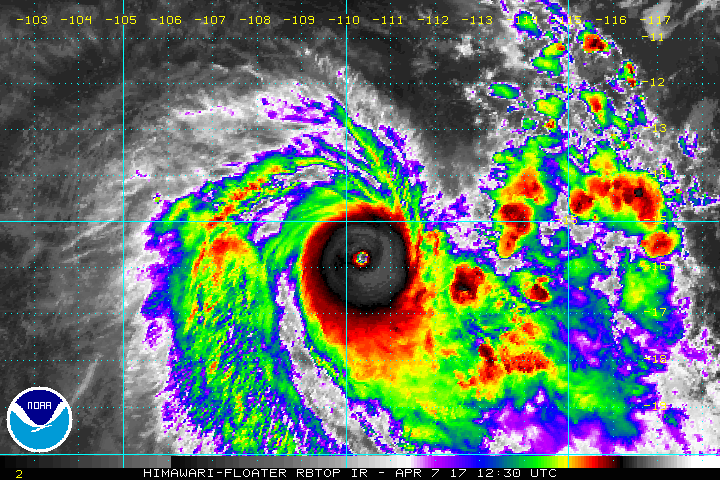 07 Apr

Ernie becomes a Category 5 monster!
In true cyclone fashion, nothing is ever as it seems.. Ernie has produced some of the most rapid intensification possible to go from Tropical Low to Category 5 monster status in a matter of 19hrs! Above image via NOAA
Early on Friday morning (2am AWST), Invest 94S was casually drifting around the Indian Ocean, around 1100km North-West of Port Hedland or 1300-1400km West-North-West of Broome. By 3am, Ernie was officially named, with ALL global models indicating the system despite being in very favourable waters with minimal vertical wind shear and very warm 28-29ºc waters would only reach Category 2 status at best.
By 9am AWST, Category 2 status was reached, by mid afternoon Category 3 severe strength was skipped and the system was already deemed Category 4 strength with 230km/h winds. By 9pm Friday night (a tiny 19hrs after being nothing), Category 5 status was obtained with winds gusting to 285km/h. This officially makes Ernie the strongest system of the 2016-17 season.
[wp_ad_camp_3]
So how did it go from nothing to something so huge in such a short period of time? Well this is almost identical to the infamous Cyclone Marcia. Both systems have resembled very similar qualities, thankfully Ernie is away from everyone and NOT going to impact a soul. Both systems are very similar with incredible poleward outflow push and absolutely zero dry air intruding in on the eye. This allows the system to harness the most power possible from the very warm oceans and very favourable wind shear. Lightning has remained evident in the eye wall region all day, this indicates that the eye is continuing to produce explosive convection which is allowing for further consolidation and intensification rather than being washed out which can occur in larger systems as more energy is required due to their widespread nature. The slow movement of less than 10km/h has allowed the system to keep holding onto these favourable conditions.
[wp_ad_camp_4]
While its interesting to see just how far this system can go, as stated above, its staying away from all souls as it lingers around 1000km North-West of Port Hedland and away from the Cocos Island/Christmas Island region. The system is still expected to move away from WA over the next few days and still expected to weaken as it enters a more unfavourable environment.