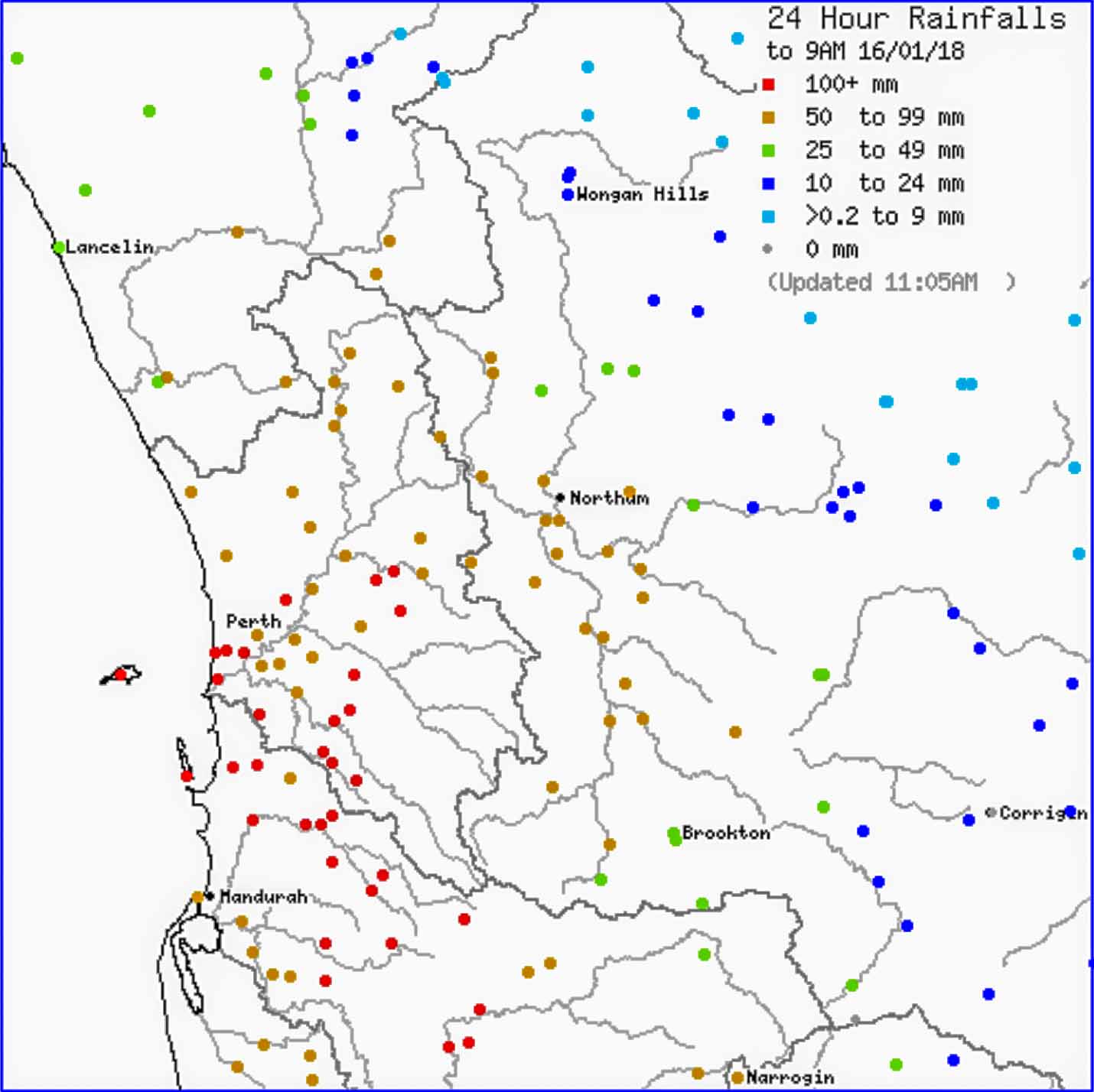 16 Jan

Ex-TC Joyce Delivers Record Breaking Rain to SW WA
Over the past 24hrs, South West parts of WA have been given a change of seasons. The typically warm to hot and dry conditions at this time of year which see January as one of the driest month's were replaced by colder and wetter conditions more typical of Winter. Above image via BOM – 24hr rainfall for the Perth region.
Good rainfall was expected for the region as Ex Tropical Cyclone Joyce, who previously made landfall over the Western Kimberley Coast and then again over the Pilbara Coast, tracked down the Western WA Coast and moved by SW WA and Perth during Monday. While the rainfall was expected to match or possibly even exceed January monthly average's, models weren't exactly indicating widespread significant rainfall (even for Winter standards) where several locations not only broke January records… but some obliterated them by 2 or 3 times the previous record. Some locations even broke January monthly records off 1 day of rainfall!
Perth was the focus of the weather given the population, with 96.2mm falling from 9am Monday to 9am Tuesday, this on top of the nearly 8mm prior to 9am Monday gave the city a little under 104mm and one of the wettest 24hr January periods in history.
Elsewhere more than 100mm was recorded at 30+ stations (not including those further North on previous days) and all of those with documented records had them broken! While others also recorded remarkable rainfall and totals that likely obliterated any unofficial records. Some of these include:
• Marradong 163mm

• Saddleback Road Bridge 149mm
• Dwellingup Forestry 147mm (2nd wettest Jan day ever)
• Huntly 144mm
• Rottnest Island 142mm (almost triple the previous daily record)
• Bickley 139mm (more than the previous monthly record, 2.5x the daily record)
• Karragullen North 139mm
• Roleystone 139mm
• Swanbourne 139mm (almost 2x the previous daily record, and 1mm shy of the monthly record)
• Oneil Road 138mm
• Mount Solus 134mm
• Gordon 132mm
• Karnet 131mm
• Mount Curtis 129mm
• Jandakot AP 119mm (smashed the previous daily Jan record).
With further lingering showers and rain areas across the next 24hrs through SW WA, and the assumption that at least 1 more system will move through the region over the next 3 weeks.. it looks like a fair chunk of the SW pocket of WA should see its wettest January ever!