Issued on 26th June 2018.

Widespread follow up rain is currently showing forecast potential across parts of Queensland and NSW from this Sunday through to Tuesday. Above image via BOM.
Over the next 4 days widespread showers and rain areas are forecast across parts of Central, Southern and South East QLD with the heaviest falls likely on Wednesday. Showers are then expected to persist from Thursday to Saturday. Rainfall totals of 10 to 25mm are likely during this time. Below image via BOM.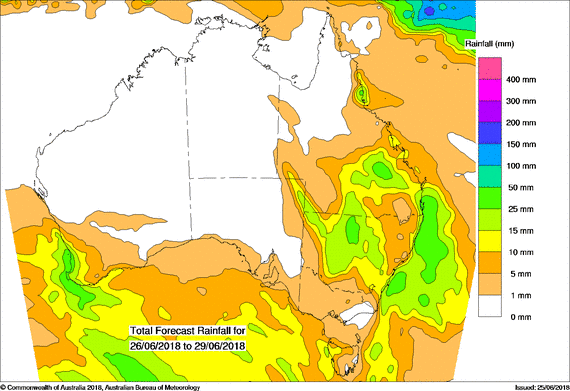 On Sunday and Monday global models are currently suggesting a low pressure trough system will develop through Southern inland Central inland and parts of Western districts with scattered showers rain areas and storms. This may then progress East on Tuesday and reach the coast. Its not locked in and either are the totals but its promising to see the potential existing in forecasts both at this time of year and after a long dry spell which has caused drought.
In NSW during the next 4 days large parts of the state are likely to see rainfall. The better falls of 10-25mm are expected to remain through inland parts of the state. Showers, rain areas and isolated storms will start in the North West today then spread across most of the state during Wednesday and Thursday. Friday and Saturday should be fine through most districts just the chance of a few light showers through the Eastern interior on Friday then across the far north on Saturday.
On Sunday and Monday there is the potential for a trough to develop across Northern and Eastern districts bringing a return of showers and rain areas. Again these are not locked in just yet and hopefully the forecast can either hold and increase in potential as time progresses. Large parts of the state are severely drought affected ATM and all rain no mater how small will be welcomed by farmers and landowners.
Detailed accurate daily rainfall and storm forecasts are available across QLD and NSW through our
premium membership service HERE!