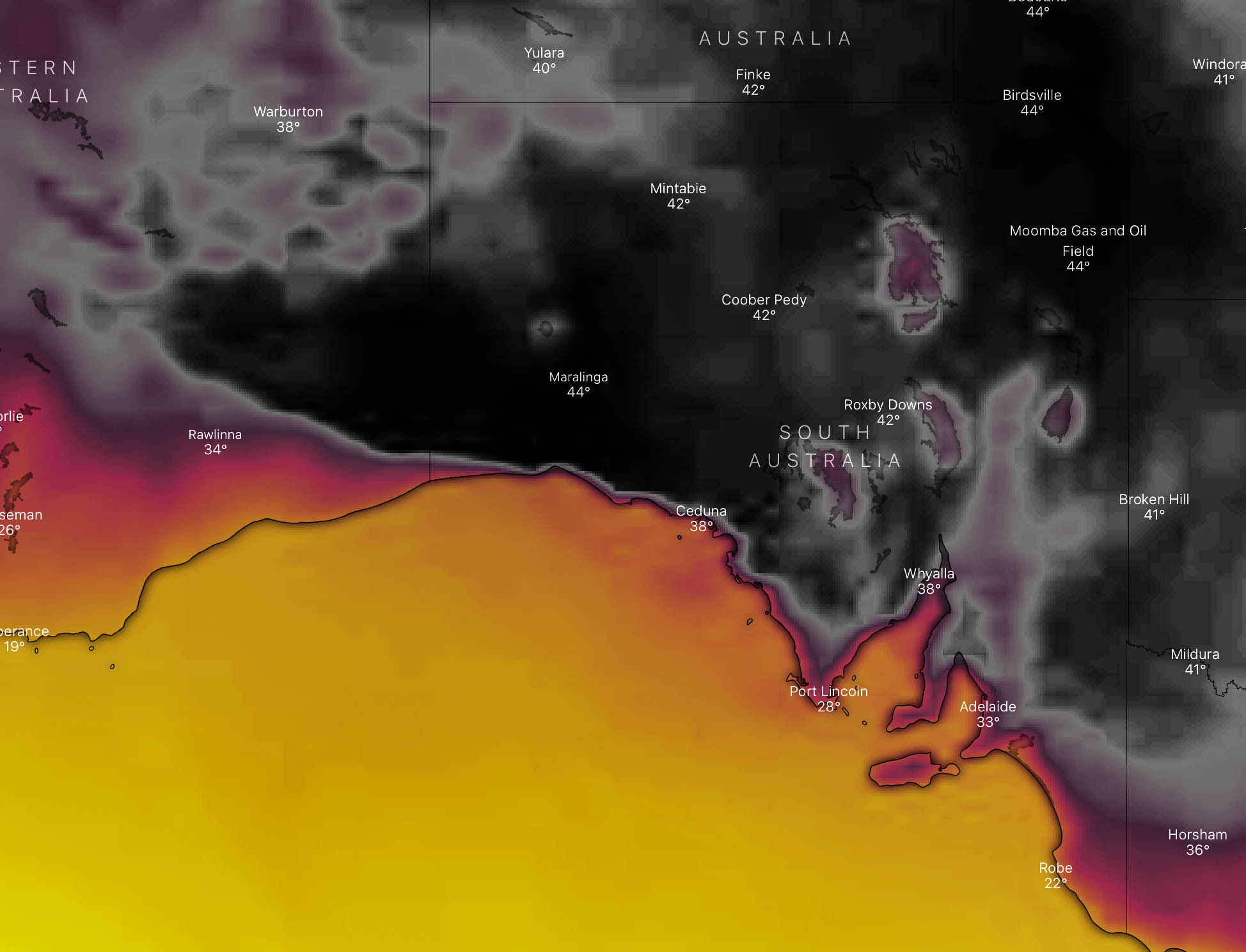 26 Nov

Friday & Saturday: RECORD-Challenging Heat to Impact WA, SA, NSW, VIC!
SIGNIFICANT record-challenging heat on both an individual location and State-level is expected to impact South East WA and large parts of South Australia during Friday. Temperatures are expected to climb to around 50ºc in South East WA which could challenge the WA State-Record for November which currently stands at 48ºc, as well as the National Record for November IF it were to occur over an automated weather station, which currently stands at 48.7ºc. Maximums are expected to climb well into the mid 40s across North East SA, Central and Western SA areas with localised temperatures into the high 40's across Western SA. These temperatures are also expected to challenge localised records for November and while the State record may not be challenged on Friday, it most definitely will be challenged on Saturday. Above image (cover image) – peak heating along the Bight Coast via Windy.
During Saturday, the heat is expected to shift out of Western SA and Eastern WA and move into Northern and Eastern SA as well as large parts of Inland NSW and North West VIC. Peak temperatures are expected to reach the high 40s across a large portion of Northern SA with localised maximums into the high 40s across Eastern SA. This will most certainly challenge November records across numerous locations as well as the State record of 47.9ºc likely being challenged as well (and a fair chance of being broken, not just by 1 but potentially multiple locations). Widespread maximums into North West VIC and Western NSW are expected to reach the mid to locally high 40s with the Victorian State Record of 45.8ºc being challenged as well as numerous locations across South West NSW and North West VIC seeing individual station records being challenged or in some cases, likely broken.
This kind of heat is very dangerous to wildlife as well as producing a significant increase to heat stroke, heat stress and heat related illnesses for humans, especially pregnant woman, young children and the elderly. Please leave water out for animals that may seek refuge in and around your home, please encourage animals to seek refuge around your property if they are not a danger to you or your family. Please also check on those who are most susceptible to the heat as well as neighbours and family members.
This heat will continue to shift Eastwards across large parts of NSW and the Southern half of Queensland during the weekend and well into next week as a second wave of extreme heat coincides with the first wave – leading to no reprieve occurring. Numerous records are expected to be broken across these areas as well.