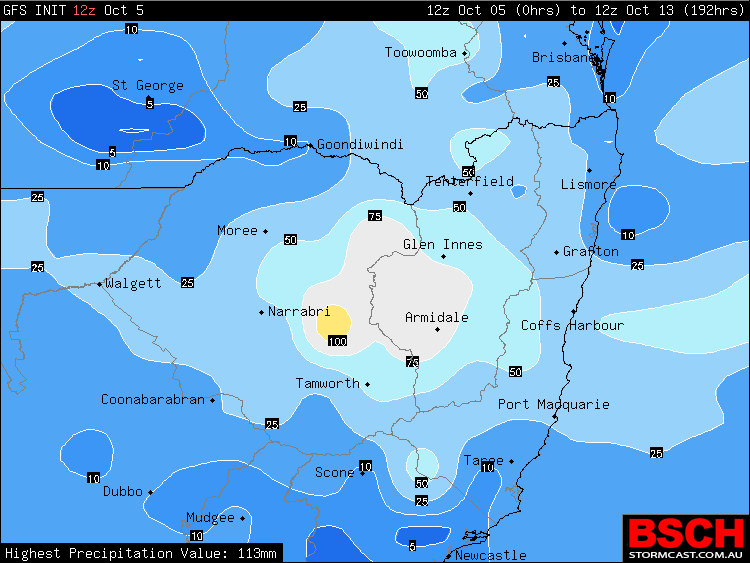 06 Oct

Good Rain coming for Northern parts of NSW
Over the next 7 days, Northern parts of NSW are expected to see some of their best rain in a while as constant showers and storms become active over the region. Above image: 7 day rainfall via GFS / BSCH
[wp_ad_camp_1]
From Friday, until at least the following Friday (October 6th to the 13th). A surface trough is likely to become firmly established over Northern Inland NSW, with another lingering over North-Eastern NSW. These surface trough's are likely to combine with a series of upper trough's moving across the region to deliver instability each day which is likely to lead to not only scattered showers, but thunderstorms which pose a heavy rainfall risk.
Despite good showers and thunderstorm expected during Friday, Saturday, Tuesday and Wednesday… the more widespread activity is expected over Sunday and Monday (October 8 and 9) as a more widespread trough feature is expected to sweep across NSW and VIC, linked to an upper trough. This should deliver scattered to widespread thunderstorms across Northern VIC / Inland NSW and then Eastern NSW on the respective days, although showers are likely across Northern NSW on both days, with falls of 25mm+ possible on the Sunday.
[wp_ad_camp_3]
While each day overall is likely to deliver rather low totals… these totals are expected to add up, and with the addition of thunderstorms increasing localised falls (possibly by a lot, given the heavy rain threat) then scattered falls of 50mm+ seem like a good chance, along with isolated higher totals. These areas have missed a lot of the recent rain which swept through Southern QLD along with systems prior to that, so if some of this rain can find the tanks and dams it will be a blessing for those who receive it.
[wp_ad_camp_1]