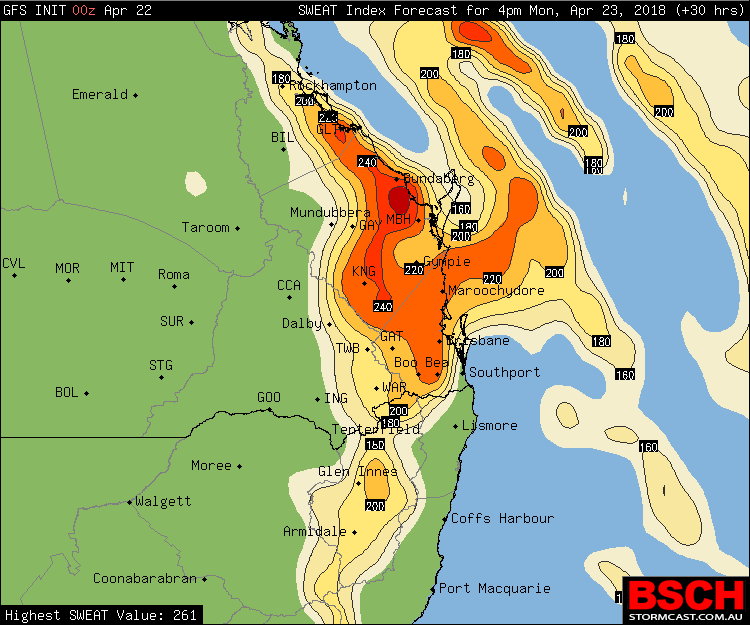 22 Apr

[UPDATED] Hailstorm threat for NENSW and SEQLD on Monday
South East QLD and North East NSW are seeing the potential for one of the more active hail days of the soon to be finished storm season as a cold pool moves overhead on Monday. Above image via BSCH showing severe weather threat indices for Monday.
[wp_ad_camp_1]
Its not too common that we see a forecast that would be more suited for Victoria or Southern NSW, over the South East QLD and North East NSW region, but that appears to be the case for Monday. A very weak surface trough is forecast to become positioned along or near the Ranges through NENSW and SEQLD. This will continue to produce an onshore South East flow over both areas during the day (similarly to the last week or so) and this will combine with strong upper trough moving directly overhead.
[wp_ad_camp_3]
For Monday, we are seeing reasonable energy levels in the atmosphere – especially over the Wide Bay and Northern Rivers regions. This energy will allow thunderstorms to develop a little better with the updrafts reaching elevated heights. What that means is that storms are likely to tap into the much colder air much easier. Models are also indicating that storms are going to be very slow moving towards the North to North East. This setup means that any storms that do develop are likely to contain hail, and given the slow movement we could easily see noticeable hail accumulations directly under storms where it could hail for 15 or 20mins and cover the entire ground making it potentially look like snow. There is a chance of some severe cells too which are more likely to be over the Northern Rivers and Northern Tablelands areas, which could lead to localised areas of large hail. Heavy bursts of rain are another threat, but the noted threat for the day is definitely hail.
[wp_ad_camp_1]
Southern Inland parts of the South East Coast (i.e the Scenic Rim) and Northern Rivers are at the highest risk for thunderstorms given the reasonable or even very good moisture levels. While there is a threat for the Wide Bay and Sunshine Coast / Brisbane Valley, a lack of moisture caused by a tongue of dry air intruding is expected to hinder potential. That doesn't mean storms won't occur, just they appear to be far more likely over NENSW than the Wide Bay.


***Note: Copyright material NOT for media use, broadcast or republishing without express permission from Higgins Storm Chasing***