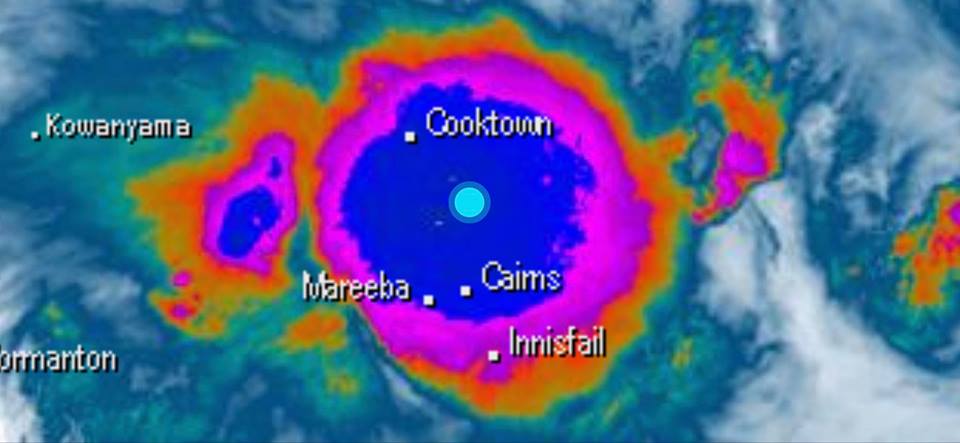 27 Jan

Half A Metre Of Rain Overnight Floods Tropical NQLD!
Tropical North QLD has just been drenched beyond belief with almost half a metre of rain falling overnight which has produced record flooding! Above image via Weatherzone showing the rain bomb over the region last night.
Its normal for North QLD to receive excessive amounts of rainfall during the monsoon season. Rainfall totals that the rest of Australia could only imagine seeing once in their lifetime's, if ever at all.. But last night was a combination of excessive rainfall on top of saturated grounds which has proved too much for even the wet tropics of QLD and this has lead to extreme flooding across the region!
The focus is around the Daintree and Mossman areas where converging rain areas produced up to half a metre of rain overnight. The Daintree River at Bairds lost its gauge, likely washed away, after it broke the 1956 record of 15.32m with a 15.40m recording. The Daintree River at Daintree Village broke its 1901 record of 12.4m with 12.6m as well. Locals have reported river rises in the region like something they've never seen before, with rates of up to a metre in less than hour occurring throughout various times of the night prior to peak levels being achieved. Thanks to rainfall easing earlier this morning, river levels are starting to drop quickly with most other areas seeing no more than moderate flooding for a brief period of time. This won't climate the threat altogether though as we are expecting further excessive rainfall totals to occur on what is now not just saturated, but flooding grounds, over the Tropics over the next week.
Some the bigger 24hr totals..
• Whyanbeel Valley 472mm
• China Camp 425mm
• Whyanbeel Creek 416mm
• Saddle Mountain 387mm
• Mossman South 378mm
• Bairds 375mm
• Black Mountain 370mm
• Cairns Airport Alert 316mm
• Cairns Racecourse 282mm
• Cairns Airport 277mm – Highest daily total in 10 years
• White Cliff Point 263mm
• Kamerunga Bridge 258mm
• Hills Creek 240mm
• Low Isles 239mm – Highest daily total in 10 years
• The Boulders 234mm
• Brimnsmead 220mm
• Clyde Road 220mm
• Mount Sophia 220mm
• Copperlode Dam 219mm
• Peets Bridge 219mm
• Flaggy Creek 218mm
• Mona Mona 210mm
• Saltwater Creek 205mm
• Falls of 130-180mm across the South Cairns region
• Falls of 100-200mm across the Innisfail region
• We have seen reports of in excess of 500mm across localised areas and up to 700mm in some areas in the past 24 hours as well – albeit from unofficial gauges, however the flooding in these areas does support those claims.
High 2-day (48 hour) totals:
• Whyanbeel Valley 621mm
• Whyanbeel Creek 572mm
• China Camp 556mm
• Bairds 533mm
• Mossman South 497mm
• Black Mountain 488mm
• Saddle Mountain 458mm
• Peets Bridge 448mm (only location to have back to back 200mm days)

• Cairns Airport Alert 391mm
Additional Notes:
• Mona Mona and Flaggy Creek have now recorded 3 straight 100mm days with both locations up to around 450mm for the past 3 days.
• The Cairns Airport observation of 277mm was just 1mm shy of the the January 2009 total of 278mm. If this was exceeded, it would've been the heaviest daily total since January 1994 – 25 years ago! Certainly an impressive feat given the region usually sees one or two "high end" heavy rain days per year, sometimes more if tropical cyclones are in the vicinity.