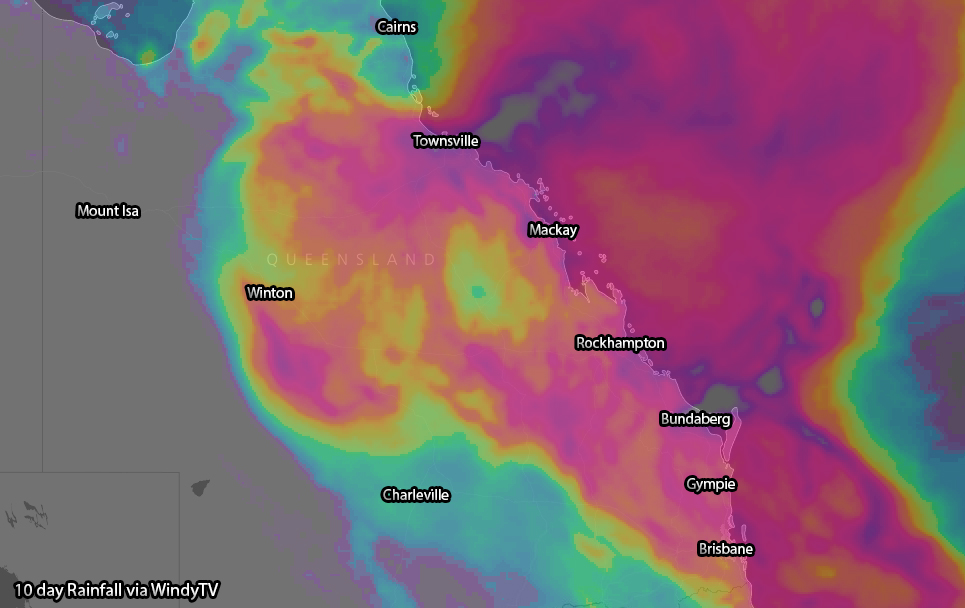 25 Mar

Heavy rain ALERT and FLOOD WATCH Eastern/Central QLD – Updated Forecast
** RE-UPDATED FORECAST – CLICK HERE FOR DETAILS **

This is an updated forecast of the potential significant rainfall associated with Tropical / Severe Tropical Cyclone Debbie which is likely to cross the Northern/Central QLD Coastline. Above image via WindyTV (forecast 10 day rainfall. Grey >500mm, pink >200mm)
Models have had a major shift over the last 24-48hrs and have since maintained heavier rainfall further East than previously expected. The ultimate reason for this is due to Cyclone Debbie, or what would be the remnants of Debbie, remaining situated mostly likely East of Winton now. Some models are indicating that the system could briefly head further West than Winton although these same models are now tracking back across the Central Highlands and this comes into alignment and agreement with models who don't track it past Winton but keep it further East.
[wp_ad_camp_2]
The immediate focus for heavy rain which will LIKELY result in significant flash flooding, some creek and river flooding cutting roads and potentially major highways is expected to be between the North of Townsville and as far South as St Lawrence + adjacent inland regions to the Ranges. These areas may see as much as 400mm in a single 24hr period, for 2 days in a row. However these kinds of falls are likely to be isolated, more widespread falls of 200mm+ are likely both days (Monday and Tuesday) with consistent falls occurring across Wednesday onwards as onshore winds continue to feed into Debbie.
[wp_ad_camp_4]
The second focus will be over Central Inland QLD which may see falls of 100-200mm and isolated higher falls. These areas will be solely reliant on Debbie's final track. Locally higher falls are possible and this could cause some serious issues due to flooding. The same focus will also be spread over the Capricornia and POSSIBLY into the Wide Bay where falls of more than 500mm are possible along the Capricornia Coast and up to 200mm+ across inland parts of the region and into the Wide Bay. Again, major flash flooding, creek and river flooding are all likely.
These models may change again, and if they do, further updates or new blogs will be issued. This is a timely reminder to NOT under any circumstances drive in flood waters. The rain IS COMING, its time to prepare now INCASE you are flooded in.