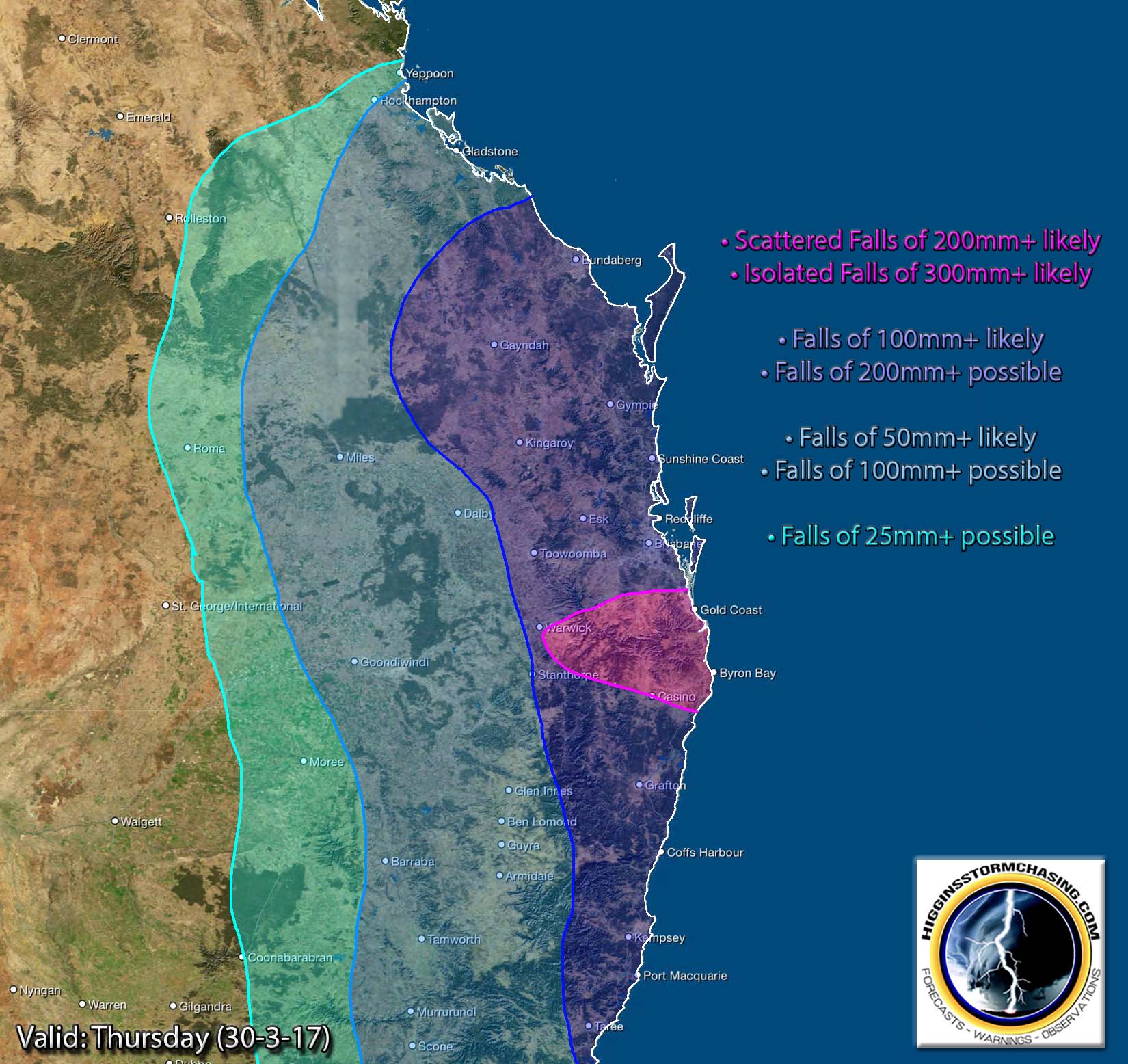 30 Mar

Heavy Rain, Flash Flooding, Severe Weather to lash South-Eastern QLD!!!
South-Eastern QLD is about to be put under the pump by the remnants of Severe Tropical Cyclone Debbie as the region cops a 36hr onslaught. Above image: HSC Premium Members Rainfall map for Thursday
While there is an extensive list of severe weather in store for the South-East QLD Coast, Wide Bay and Burnett, Darling Downs, Granite Belt, Capricornia and even extending into the Northern Rivers, Northern Tablelands and Mid North Coast of NSW… the focus will be on the heavy rain due to its widespread nature.
Widespread falls of 100mm+ are LIKELY to impact areas along and East of the Great Dividing Range from Gladstone to Port Macquarie. This INCLUDE Brisbane, Gold Coast, Gold Coast Hinterland, Sunshine Coast & Hinterland, Gympie, Maryborough, Bundaberg, Ipswich, Scenic Rim and many other places. There is also the potential for isolated to even scattered pockets of 200mm+ across these same regions, and up to 300mm or more around the Border Ranges such as Upper Springbrook. This kind of rainfall is LIKELY to produce Flash Flooding, especially for known flood spots. Rivers such as the Mary, Brisbane, Fitzroy and Bremer should be okay!! Rivers and Creeks may see rises, but nothing too extraordinary.
Falls of 50mm+ are possible around the Darling Downs, Northern Inland NSW and though remaining areas of the Capricornia, however this will solely depend on the final track of Debbie as areas West and North of her will see much "calmer" weather in the grand scheme of things.
[wp_ad_camp_1]
What else is expected???
There is a risk of damaging to destructive winds along the elevated Ranges such as the Great Dividing Range and Granite Belt regions, D'Aguilar Ranges, Border Ranges and Sunshine Coast Hinterland. There is also the possibility of damaging to destructive winds along the direct Coastline due to the intense onshore wrap. These destructive gusts should be localised while strong to damaging winds should impact most places.
There is also a risk of waterspouts and tornadoes! Yes we get them, yes they are known to occur with these systems (example 1A being Ex-TC Oswald which spawned at least 6 tornadoes). The intense wind profile of the system coupled with a convergence area offshore is expected to create an idealistic turning profile for waterspouts to develop. The onshore draw will pull these cells which contain waterspouts onshore and once they hit land they are classed as tornadoes. They aren't a guarantee, but with high helicity there is a very elevated risk!

The image below indicates the amount of turning in the atmosphere, the more negative the number, the more turning and more potential for tornadic activity. No its not exact, but it shows the entire area is under some sort of potential – the greatest potential will be on the Coastline.
[wp_ad_camp_3]
We URGE people DO NOT drive through flooded waters!!!! If its flooded, forget it!! Don't panic either, this is a 36hr system, our rivers and creeks can handle it. Flash flooding WILL occur, but it also WILL ease eventually (thats why its flash). Most importantly, stay safe, it will be a rough day.