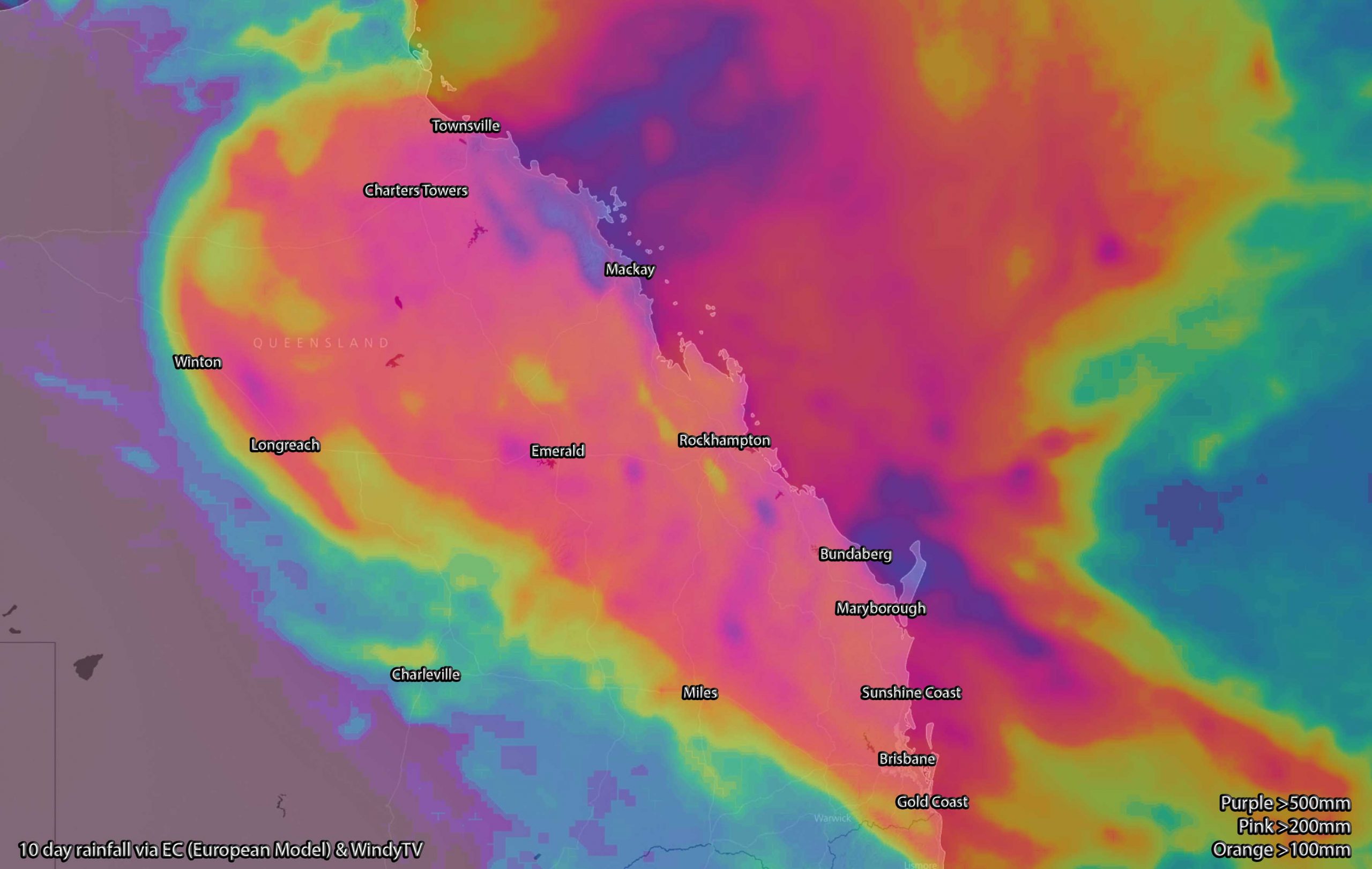 27 Mar

Heavy Rain & Flooding to lash large parts of QLD – Update 3
Significant amounts of rainfall leading to flooding is expected to lash an area from the Gold Coast to Townsville and inland to Winton and Miles over the next week as Debbie and the remnants of Debbie hit and move through QLD. Above image via WindyTV (10 day rainfall)
The immediate concern and threat for flooding rain is over the Townsville / Tully area down to St Lawrence and inland across Northern Inland QLD. Despite Debbie containing destructive to very destructive wind gusts and a widespread swath of damaging wind gusts the biggest threat of this system will be the torrential rainfall that is likely to fall over not only the Central and Northern Coastal regions of QLD but extending further South and further inland. Falls between the above mentioned areas are likely to exceed 500mm across the next 3 days with widespread daily totals of 200mm+ likely and isolated daily totals of 400mm+ likely. This kind of rainfall WILL cause significant flash flooding, cut roads and highways which WILL isolate communities and cause creek and river rises.
[wp_ad_camp_1]
The next threat area is over Central Inland, Central Highlands and Capricornia – areas from Gladstone to Mackay back inland towards Longreach and Winton. Debbie is forecast to track inland across Central Inland QLD before a ridging pattern steers her back towards the Coast and in a South-Easterly direction. During this period, deep onshore flow created by both the monsoon trough and Debbie / the remnants of Debbie is likely to produce significant rainfall both over an area which has previously seen high rainfall totals (being the Capricornia) and an area which is unable to hold large rainfall totals in a short period of time (being inland QLD). Falls of 100-300mm are likely across large parts of this area with localised falls to 500mm possible between Tuesday and Saturday. This kind of rainfall will lead to significant flooding, town isolation and creek/river rises.
[wp_ad_camp_4]
The final threat area will be over parts of the Darling Downs, South-East Coast and Wide Bay. Debbie is currently forecast (according to all global models) to move offshore somewhere South of Bundaberg. This will bring heavy rain to the region from Tuesday/Wednesday onwards with some localised high totals expected. Falls of 100-200mm are likely with daily falls of 100mm+ likely also. Localised falls of 300mm+ cant be ruled out however they are more likely from the Sunshine Coast North. There is a defined line through the Northern Darling Downs where areas South of this line will struggle to see much, while areas North could be subject to some localised flash flooding and river/creek rises.
This is a reminder to NOT drive through flooded waters, take the necessary precautions NOW so that you can ensure your safety and well being by either leaving or being stocked with supplies to outlast potential isolation.