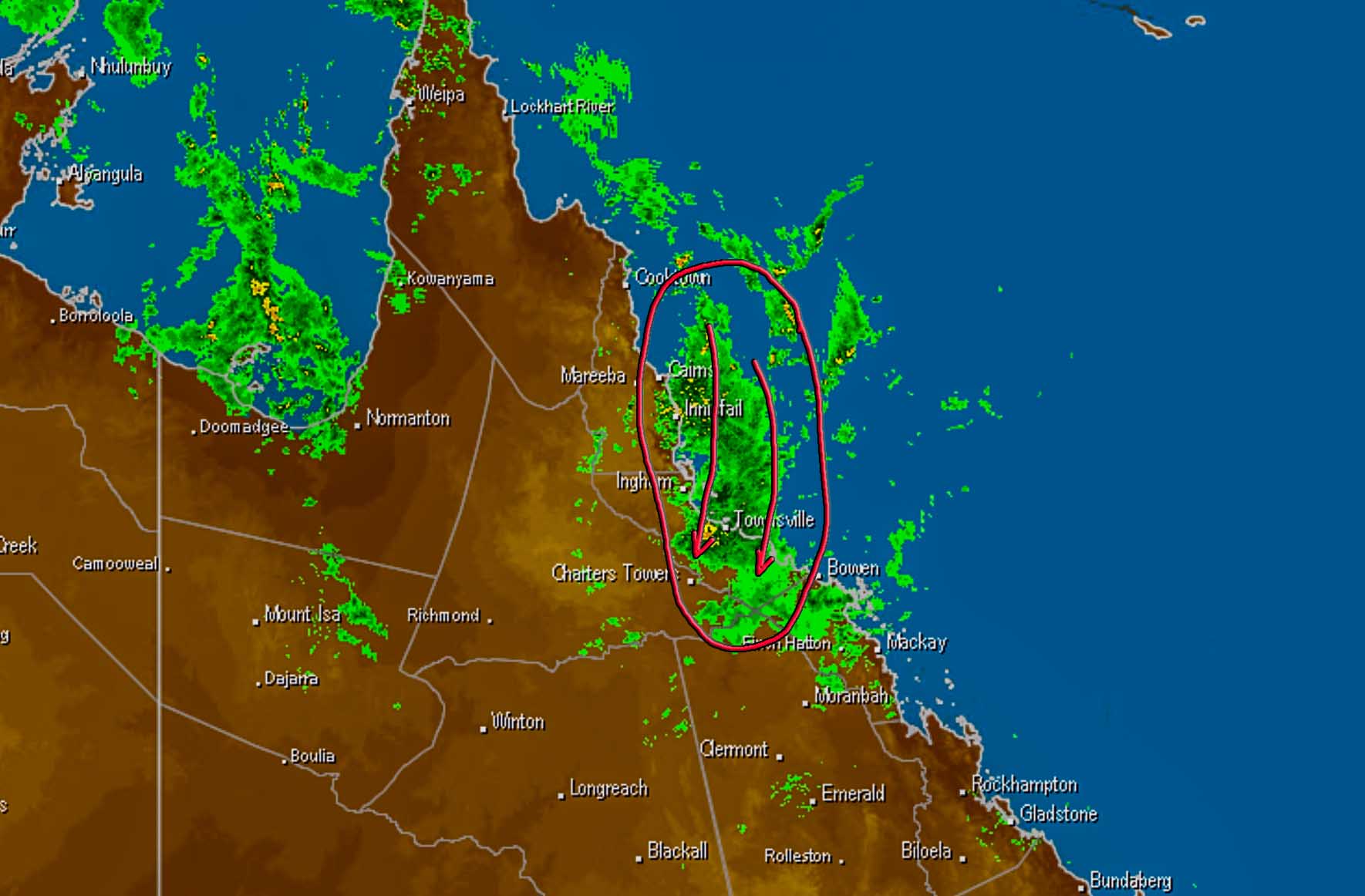 30 Jan

Heavy Rain Focus Over Townsville For Wednesday
Townsville is now the target for the heavy rain after more than 800mm has fallen North of Mackay over the past 3 days, and 700mm+ over the area North of Townsville! Above image via Weatherzone.
[wp_ad_camp_1]
Over the past 24hrs, rainfall totals have been excessive again! This has come from a combination of orographic lifting, which has enhanced rainfall near and surrounding mountainous or elevated terrain along with training over the same areas for several days. We indicated this in the blog last night, that despite 100-200mm already falling over some areas – another 100-200mm was possible overnight, and thats exactly what happened. Some of the big falls for the 24hrs to 9am include:
• Sandy Plateau 375mm (back to back 350mm+ days now)
• Paluma 370mm
• Paluma Alert 331mm
• Forbes Road 275mm
• Ridge lands 273mm
• Stafford Crossing 249mm
• Upper Bluewater 243mm
• Eungella 230mm
• Paradise Lagoon 215mm
• Peter Faust Dam 215mm

• Woolshed 209mm
[wp_ad_camp_3]
Across the last 3 days, this has lead to some MASSIVE totals!
• Sandy Plateau 848mm
• Paluma 760mm
• Stafford Crossing 714mm
• Paluma Alert 692mm
• Forbes Road 684mm

• O'Connell 639mm
Its worth noting that Stafford Crossing and Paluma have both recorded 3 straight days of 160mm+, while Sandy Plateau "only" recorded 85mm on day 1, followed by back to back 350mm+ days.
The heavy rain focus is now clearly over Townsville, with models indicating that its expected to stay over the region during the majority of today, if not all of today. Falls in the vicinity of 200-300mm cant be ruled out based on what has happened on previous days, however 100-200mm is far more likely across the larger region. Heavy falls should start to return to the Cairns to Cardwell region as well, even if they do only start up again overnight tonight and into tomorrow morning. These kinds of falls over the Townsville region will lead to some rivers well and truly exceeding major flood levels, along with widespread areas of flash flooding. Townsville has already picked up 260mm over the past 4 days, with falls of 400-500mm occurring just outside of the city in the same time period. Major flooding is ongoing at Giru and Mt Piccaninny with flood waters there continuing to rise.
[wp_ad_camp_4]