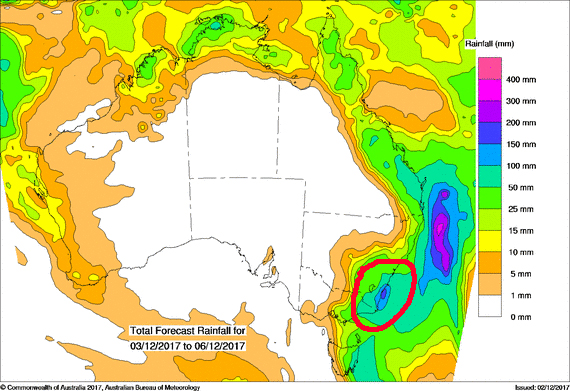 03 Dec

Heavy Rain likely across NSW South & Central Coast!
It looks like areas from Sydney to the VIC Border are expected to be under the pump with another round of heavy rain expected over the next 48-72hrs as a low pressure region develops! Above image BOM 4 day rainfall showing 100mm+ possible for the NSW South Coast.
[wp_ad_camp_1]
A low pressure trough is expected to be active off the NSW Coast, this is helping to push all instability off the Coast also and keeping conditions relatively tame (especially over South-East NSW) compared to the last few days. However this trough region is expected to combine with an upper level trough over the next 24hrs (Sunday night and across Monday), leading to likely development of low pressure circulations off the Coast. Most of these will weaken after only a few hours, however models are in agreement that one will become dominant later on Monday and across Tuesday as it moves South, parallel with the Coast.

What does this mean? these low's are likely to draw deepening onshore winds onto the NSW Coast and Central Coast throughout Monday and Tuesday, possibly extending into early Wednesday. This deepening onshore flow will help produce rain areas with embedded thunderstorms across the region leading to some heavy totals.
[wp_ad_camp_3]
Across the NSW Central Coast (Newcastle to Wollongong) it seems like it'll be a one hit wonder with Monday being the sole day for rain. Falls of 25-50mm are generally expected with isolated higher totals likely. The better falls will generally be further South. Across the NSW South Coast and adjacent inland regions towards the Ranges, it looks like conditions will deteriorate later on Monday and last across Tuesday with 48hr totals of 50-100mm likely and isolated to possibly scattered higher totals likely also. This may lead to flash flooding and river / creek rises (especially with recent good rainfall over the last week).
[wp_ad_camp_4]