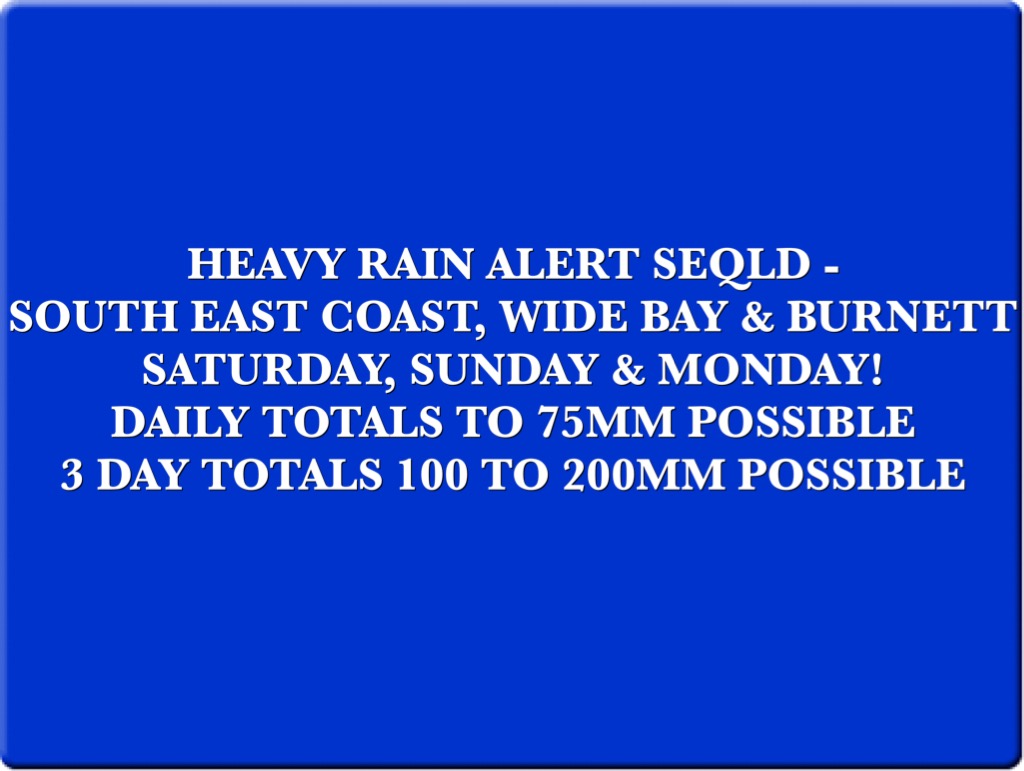 12 Oct

Heavy Rain Possible SEQLD – Sat, Sun, Mon!

Issued Oct 12th 2017. This forecast may change slightly and further updates will be issued.

[wp_ad_camp_2]
Heavy rain with 3 day totals of between 100 and 200mm are "possible" across parts of South East Queensland during this weekend. At this stage the heaviest falls look more likely between about Brisbane and Bundaberg "closer" to the coast. Good 3 day rainfall totals of between 50 and 100mm are still forecast pretty much right across the South East Coast, Wide Bay and Burnett districts. Subscribe here to HSC for the latest high resolution SEQLD rainfall and storm forecast maps!
A surface trough along the South East Coast coast is expected to develop during Saturday with warm moist onshore winds feeding into an upper trough of cold air above. This generates widespread areas of unstable lift and as a result scattered showers, rain areas, isolated storms occur with moderate falls possible.
On Sunday the trough is forecast to strengthen further along the coast and we could even see a weak surface low develop near Fraser Island. This greatly increases the onshore flow feeding into the upper trough. In turn scattered showers and rain areas increase further with moderate to locally heavy falls more likely.
During Monday the possible low washes out but a deep trough with strong onshore flow remains across the region along with the upper trough. Scattered showers and rain areas likely to continue with moderate falls possible.
Note: Areas of heavy rain are highly dependent on where wind convergence areas develop but there is a risk right across both districts. These are very difficult to forecast more than 24hrs ahead due to their finicky nature because they move around a lot. Any heavy rain and flash flooding warnings for these systems normally come down to on the day itself when live radar and observations show immediate threat areas. Below image: Rainfall forecast totals via Pivotal Weather / CFS raw computer model data. Yellow = 100mm+, Red = 50 to 100mm.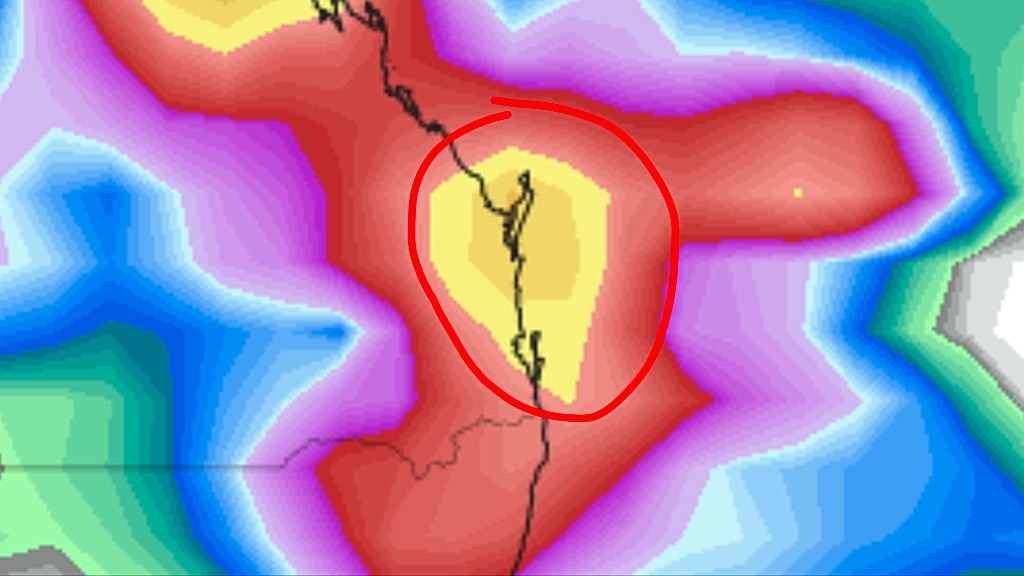 [wp_ad_camp_4]